Returned to lender The Met accepts temporary loans of art both for short-term exhibitions and for long-term display in its galleries.
Reconstruction of the marble funerary stele of Paramythion and Pheidiades, Variant B
Vinzenz Brinkmann German
Ulrike Koch-Brinkmann

Not on view

This reconstruction shows the preserved colors on a Classical Greek funerary monument; in its pristine original state, it would have had an even fuller range of polychromy. On either side of the slender vessel, known as a loutrophoros, are painted funerary offerings such as small ointment containers, with coiled bands in the background. The couple holding hands—who are named in inscriptions—and all other painted elements are visible under ultraviolet light. Traces of red ocher, red minium, blue azurite, and golden-yellow ocher have been identified through ultraviolet-visible absorption spectroscopy and visible-induced infrared luminescence photography.

" A slender vessel known as a loutrophoros is represented on this grave stele topped by a palmette. On either side of the vase are funerary offerings: small oil containers and rolled-up cloth fillets. Only the loutrophoros has been modeled by the sculptor in low relief. All the other objects and decorative elements, the crown of the depicted stele, the rolls of cloth strips used to decorate the grave, and the small vessels containing oil for the funerary offerings, were rendered in paint, including the pair of figures on the loutrophoros who extend their hands to each other and are labelled as Paramythion and Pheidiades in an inscription in Greek

Traces of red (red ocher and minium), blue (azurite), and golden yellow (yellow ocher) are preserved and were identified with the help of Ultraviolet-visible absorption spectroscopy (UV-Vis spectroscopy) and visible-induced infrared luminescence imaging (VIL).

Every detail is visible in ultraviolet light. The band of fabric wound around the neck of the loutrophoros has a three-dimensional effect. In this way, the polychromy creates the impression of spaces in which the individual painted objects can be rendered with light and shadow.

The reconstruction variant B shows only the preserved colors, while the figures revealed in UV lights are rendered only in outline. It is hypothesized that at least five more colors were originally used. Variant A restores all the color on the basis of analogy with other examples."

Vinzenz Brinkmann and Ulrike Koch-Brinkmann



Reconstruction, Variant B, 2008:

artificial marble, natural pigments (chromatographically calibrated) in egg tempera

H. 92 cm.

Liebieghaus Skulpturensammlung (LiebieghausPolychromy Research Project), Frankfurt am Main, and Ludwig-Maximilians-Universität, Munich, Leibniz Prize O. Primavesi 2007, inv. St.P 703



Scientific methods employed:

Ultraviolet-induced visible luminescence imaging (UVL) (Schott KV 418)

Ultraviolet-reflected imaging (UVR) (Schott UG1 or Schott BG12)

Optical stereoscopic microscopy (10–50x, Zeiss and Olympus)

Raking light imaging (Schott KL1500)

Black and white imaging in visible light (VIS)

Color imaging in visible light (VIS)

Photomicrograph (with microscope or macro objectives)

Visible-induced infrared luminescence imaging (VIL)



Scientific evaluation:

Doerner Institute 1960, Christian Wolters, Vinzenz Brinkmann, Doris Lauenstein-Senff, Richard Posamentir, Heinrich Piening, Ulrike Koch-Brinkmann

Pigments used in the reconstruction:

blue: azurite; light red: red ocher, minium; red: red ocher; yellow: yellow ochre



Acknowledgements:

Klaus Vierneisel

Staatliche Antikensammlungen und Glyptothek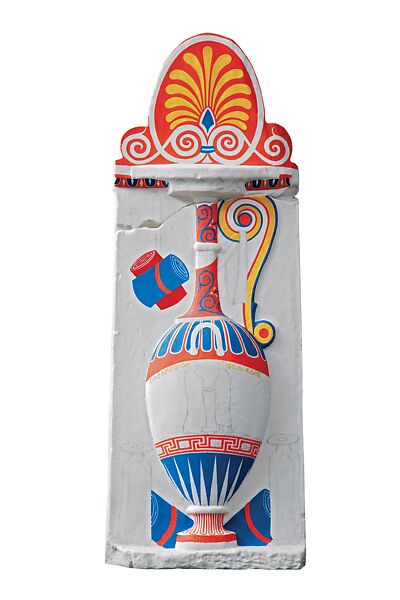 This artwork is meant to be viewed from right to left. Scroll left to view more.