Returned to lender The Met accepts temporary loans of art both for short-term exhibitions and for long-term display in its galleries.
Reconstruction of a marble statue of the goddess Artemis from Pompeii, Variant A
Vinzenz Brinkmann German
Ulrike Koch-Brinkmann

Not on view

As early as 1762, art historian Johann Joachim Winckelmann used the well-preserved colors on the statue of Artemis from Pompeii as evidence that ancient marble sculpture was colorful. The wide range of pigments represented on the reconstruction was identified through ultraviolet-visible absorption spectroscopy, ultraviolet-induced visible luminescence, and visible-induced infrared luminescence. These include Egyptian blue; pink madder; kaolin mixed with lead white; orange and red ocher; hematite; cinnabar; umber; and two yellow pigments made from lead and ocher.





"In 1762, two years after the discovery of this marble statue of Artemis, goddess of the hunt, in Pompeii, Johan Joachim Winckelmann observed the paint that was still well preserved. In his Geschichte der Kunst des Altertums (1764), this statue, which Winckelmann at first considered to be Etruscan, is his primary evidence for the polychromy of Greek sculpture. Shortly before his death, Winckelmann realized that the statue was to be associated with early Greek art. Today we know that the figure is a creation of the Early Imperial period, after a Late Hellenistic original that in turn quotes stylistic features of late Archaic sculpture (500-480 B.C.).


Artemis wears a long pleated garment over a short-sleeve shirt. A shorter knee-length cloak is draped over the top and buttoned at the shoulders. She wears sandals on her feet and stands with her weight on her bent left leg. Her head is crowned with a band of rosettes. Three additional examples of this Artemis type have been identified dating to the Roman period.


The colors used have been identified with the help of ultraviolet-visible absorption spectroscopy (UV-Vis spectroscopy), Ultraviolet-induced visible luminescence imaging (UVL), and Visible-induced infrared luminescence imaging (VIL). Egyptian blue, brilliant pink madder, red cinnabar, red iron oxide, red hematite, lead yellow, yellow ocher, and kaolin mixed with lead white have all been detected in the clothing of the original.


The goddess wears a red blouse and, over it, a white dress and white mantle. The dress and the mantle are both decorated with bands of pink at the edges. An orange-brown ocher is preserved on her hair, and traces of color between the toes indicate that the skin was colored with a light brown pigment. A similar color palette can be found in Hellenistic terracotta statuettes and contemporary wall-paintings from Pompeii.


The reconstruction Variant A shows only the traces of color that could be securely identified, with the color applied for a relatively flat effect. Variant B, which was developed in 2018 for the Winckelmann Museum in Stendal, completes this intermediary stage: the face and the hair are fully realized in paint. The garments and the hair are enhanced with a light-and-shadow effect in the manner of contemporary Roman wall-painting."


Vinzenz Brinkmann and Ulrike Koch-Brinkmann





Reconstruction Variant A, 2010:


Vinzenz Brinkmann and Ulrike Koch-Brinkmann


marble stucco on plaster cast, natural pigments (chromato-graphically calibrated) in egg tempera


H. 116 cm.


Plaster cast: Georg-August-Universität Göttingen, Archaeological Institute and Collection of Plaster Casts, Joren Ruppel


Liebieghaus Skulpturensammlung (Liebieghaus Polychromy Research Project), Frankfurt am Main (on loan from the Ludwig-Maximilians-Universität, Munich, Leibnitz Prize O. Primavesi 2007, inv. LGLH Z04)





Scientific methods employed:


Ultraviolet-induced visible luminescence imaging (UVL) (Schott KV 418)


Ultraviolet-reflected imaging (UVR) (Schott UG1 or Schott BG12)


Optical stereoscopic microscopy (10–50x, Zeiss and Olympus)


Raking light imaging (Schott KL1500)


Black-and-white imaging in visible light (VIS)


Visible-reflected imaging (VIS)


Photomicrograph (with microscope or macro objectives),


Ultraviolet-visible absorption spectroscopy (UV-Vis spectroscopy)


Visible-induced infrared luminescence imaging (VIL) (Schott RG830 ARRI, LoCoster)





Scientific evaluation:


Vinzenz Brinkmann, Ulrike Koch-Brinkmann, Heinrich Piening





Pigments used in the reconstruction:


blue: Egyptian blue; red: red ocher, hematite, cinnabar; pink: rose madder; yellow: light yellow Cypriot ocher, lead yellow, orpiment; white: kaolin, lead white; black: soot; flesh tone: kaolin, brown iron oxide; hair: orange-yellow ocher (French ocher)





Acknowledgements:


Oliver Primavesi


Museo Archeologico Nazionale, Naples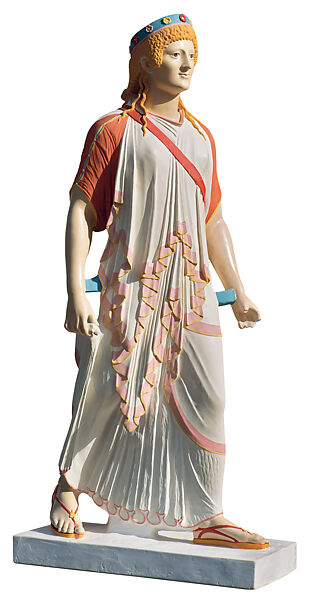 This artwork is meant to be viewed from right to left. Scroll left to view more.