Returned to lender The Met accepts temporary loans of art both for short-term exhibitions and for long-term display in its galleries.
Reconstruction of a marble finial in the form of a sphinx
Vinzenz Brinkmann German
Ulrike Koch-Brinkmann

Not on view

The original color on the marble sphinx is unusually well preserved. Scientific analyses, photographs with ultraviolet and infrared light, false-color photographs, and archaeological comparisons allow an almost complete reconstruction of the elegant designs in luminous and precious natural colors. Information is missing regarding additional detailing, such as fine lines subdividing the feathers, which may have been the final step in the original painting process.



"The figure of a sphinx, which originally crowned the so-called Megakles stele in The Met's collection, is depicted in a squatting posture with the buttocks slightly raised and the face turned towards the viewer of the tomb monument. Colors are remarkably well preserved. Some consolidation had been executed in 20th century with a material that produces a visible luminescence when exposed to UV light.

The reconstruction is based on the scientific and archaeological research of the staff of the Metropolitan Museum in New York and the Liebieghaus Polychromy Research Project Frankfurt am Main. Ulrike Koch-Brinkmann and Vinzenz Brinkmann were responsible for the execution of the color reconstruction.

Please see the Met Perspectives essays on the main exhibition page for further information about the scientific research and the process of reconstruction."

Vinzenz Brinkmann and Ulrike Koch-Brinkmann



Reconstruction 2022:

Vinzenz Brinkmann and Ulrike Koch-Brinkmann

marble stucco on PMM, natural pigments (chromatographically calibrated) in egg tempera

3D-printing in PMMA: Ralf Deuke, Voxeljet

Liebieghaus Skulpturensammlung (Liebieghaus Polychromy Research Project), Frankfurt am Main, inv. St.P 966



Scientific methods employed:

X-ray fluorescence spectroscopy (XRF)

Scanning electron microscopy (SEM)

Ultraviolet-induced visible luminescence imaging (UVL) (Schott KV 418)

Visible-induced infrared luminescence imaging (VIL)

Ultraviolet-reflected imaging (UVR)

Multiband imaging (MBI), also known as multispectral imaging (MSI)

Stereomicroscopy in visible light (10–50x, Keyence)

Raking light imaging (Nikon SB-910 flash),

Color photography in visible light (VIS)

False color image processing (iDStretch)

Photomicrograph (with Keyence microscope or macro objectives)

3-D scan in photogrammetry (Scott Geffert and The Met Imaging Department)

Ultraviolet-visible absorption spectroscopy (UV-Vis spectroscopy)



Scientific evaluation:

Marco Leona, Federico Caro, Elena Basso, Dorothy Abramitis, Vinzenz Brinkmann, Ulrike Koch-Brinkmann, Heinrich Piening



Pigments used in the reconstructions:

blue: azurite; red: cinnabar; green: malachite; yellow: Cypriot ocher, lead yellow, dark yellow French ocher; white: kaolin, lead white; black: charred bone; flesh colors: lead white, red and yellow iron oxide

gilded copper sheet, gilded copper wire, gilded tin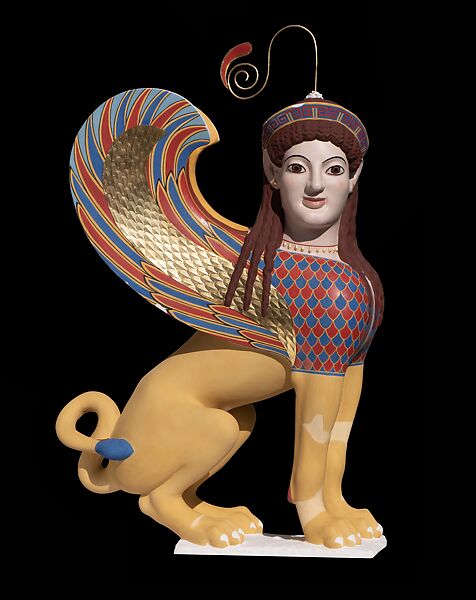 This artwork is meant to be viewed from right to left. Scroll left to view more.