Returned to lender The Met accepts temporary loans of art both for short-term exhibitions and for long-term display in its galleries.
Ensemble
Design House Who Decides War
Designer Everard Best American

Not on view

MINDFULNESS 1. The practice of maintaining a nonjudgmental state of heightened or complete awareness of one's thoughts, emotions, or experiences on a moment-to-moment basis:




Everard Best, or Ev Bravado, began designing his one-of-a-kind streetwear-inspired fashions while in high school, using skills he learned from his father, a tailor. His intricately handworked denim caught the attention of the designers Heron Preston and Virgil Abloh. After collaborating with them, Best launched his own label, Who Decides War, under the name Mrdr Brvdo in 2016. In this ensemble, he elevates repurposed denim through couture-like treatments, spending more than forty hours meticulously shredding, appliquéing, and embroidering the otherwise quotidian fabric.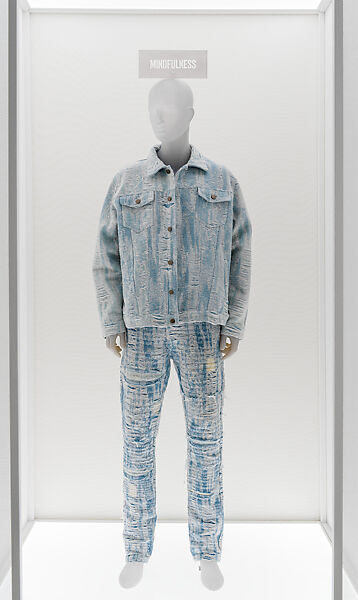 This artwork is meant to be viewed from right to left. Scroll left to view more.