On loan to The Met The Met accepts temporary loans of art both for short-term exhibitions and for long-term display in its galleries.
King Yihk'in Chan K'awiil on a palanquin
On view at The Met Fifth Avenue in Gallery 999
A scant few works carved in wood in antiquity survive to the present day. This remarkable lintel—the horizontal support that once spanned the doorway into the inner sanctum of a massive temple—presents a celebration in the wake of Tikal's victory over rival Naranjo. Tikal's king, Yihk'in Chan K'awiil, appears in profile at center carried on a palanquin seized from his rival, bearing a round shield and holding a scepter with the figure of K'awiil, the lightning god and a symbol of rulership. The king is dwarfed, however, by the god looming behind him: this being, face shown in profile, has the markings of a jaguar deity, including a feline ear and spots on the thigh. A beaklike projection in front of his nose identifies him as Hummingbird Jaguar. One of Naranjo's patron deities, he has been taken captive and is being paraded through Tikal.




El rey Yihk'in Chan K'awiil en su palanquín
Dintel 2, Tempo IV, Tikal, Guatemala, 747 d. C.
Madera de zapote


Actualmente, solo se conservan unas cuantas piezas labradas en madera en la antigüedad. Este notable dintel –sostén horizontal de la entrada de una cámara sagrada de un gran templo– celebra la victoria de Tikal sobre su rival, Naranjo. El rey de Tikal, Yihk'in Chan K'awiil, se muestra de perfil en el centro, encima de un palanquín que arrebató a su enemigo, con un escudo redondo y un cetro con la imagen de K'awiil, dios del rayo y símbolo del poder. Sin embargo, la figura del rey se empequeñece cuando aparece detrás de él un dios con marcas de deidad jaguar, incluyendo la oreja felina y manchas en el muslo. La protuberancia parecida a un pico frente a su nariz lo identifica como Colibrí Jaguar. Se trata de un dios patrono de Naranjo que ha sido tomado como prisionero y obligado a desfilar por Tikal, el reino vencedor.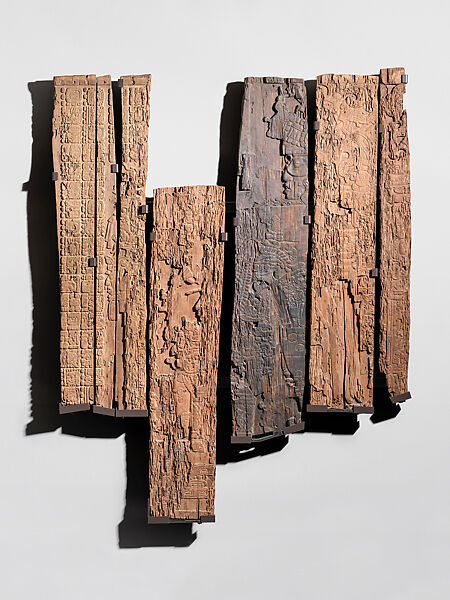 This artwork is meant to be viewed from right to left. Scroll left to view more.