Dress
Not on view
This formal dress is believed to have belonged to a young girl. Until the last quarter of the eighteenth century, children were dressed as miniature adults, with girls being put into corseted bodices from about three years of age, graduating to adult dress when they reached twelve or thirteen. This gown is made from an extremely costly silk, woven with (69.79.3), and would have been worn for a formal occasion.
Children's dress was to undergo a major revolution in the eighteenth century. In 1693, the English philosopher John Locke published his Thoughts Concerning Education, examining, among other things, how children should be dressed. Locke argued against constricting clothes that were too warm or tightly fitted. However, it was French philosopher Jean-Jacques Rousseau's novel Émile, published in 1762, that would have far-reaching consequences in the area of children's dress.
Traditionally young children and toddlers, both boys and girls, were dressed in simple frocks. When a boy reached four years of age, he was breeched. This meant that he would be dressed in a replica of a man's three-piece suit, consisting of coat, waistcoat, and breeches reaching to the knee, as worn in the portrait of Daniel Crommelin Verplanck of 1771 (49.12). Girls were dressed in the adult style of clothing from about the age of two. They would wear a tight-fitting boned bodice laced at the back, with a long full skirt over a petticoat; at twelve they would change to fashionable dress, with the bodice being replaced by stays (a corset) over which was worn a robe, petticoat, and stomacher.
Rousseau's ideas, with their emphasis on the importance of a carefree childhood, were extremely popular. They were immediately adopted by many fashionable mothers, including the duchess of Leinster, who raised twenty-one children in strict accordance with his ideals. Rousseau advocated keeping children in frocks for as long as possible and then allowing them to wear loose-fitting clothing that did not constrict their movements.
Toward the end of the 1770s, a new type of dress for boys began to emerge. Knee breeches were cast off in favor of trousers, which were emerging for the first time as acceptable fashionable dress. Trousers, buttoned together at the waist, were accompanied by a short jacket, an outfit that became known as a skeleton suit and usually worn with a soft fall collar shirt. At the same time it became fashionable for young girls to wear light unboned muslin frocks, short sleeved with a natural waistline and adorned with a simple ribbon sash about the waist. These new styles of dress can be seen in the portrait of the Sackville children (53.59.3) and are particularly interesting as they were a precursor to what would become fashionable adult dress by the end of the century.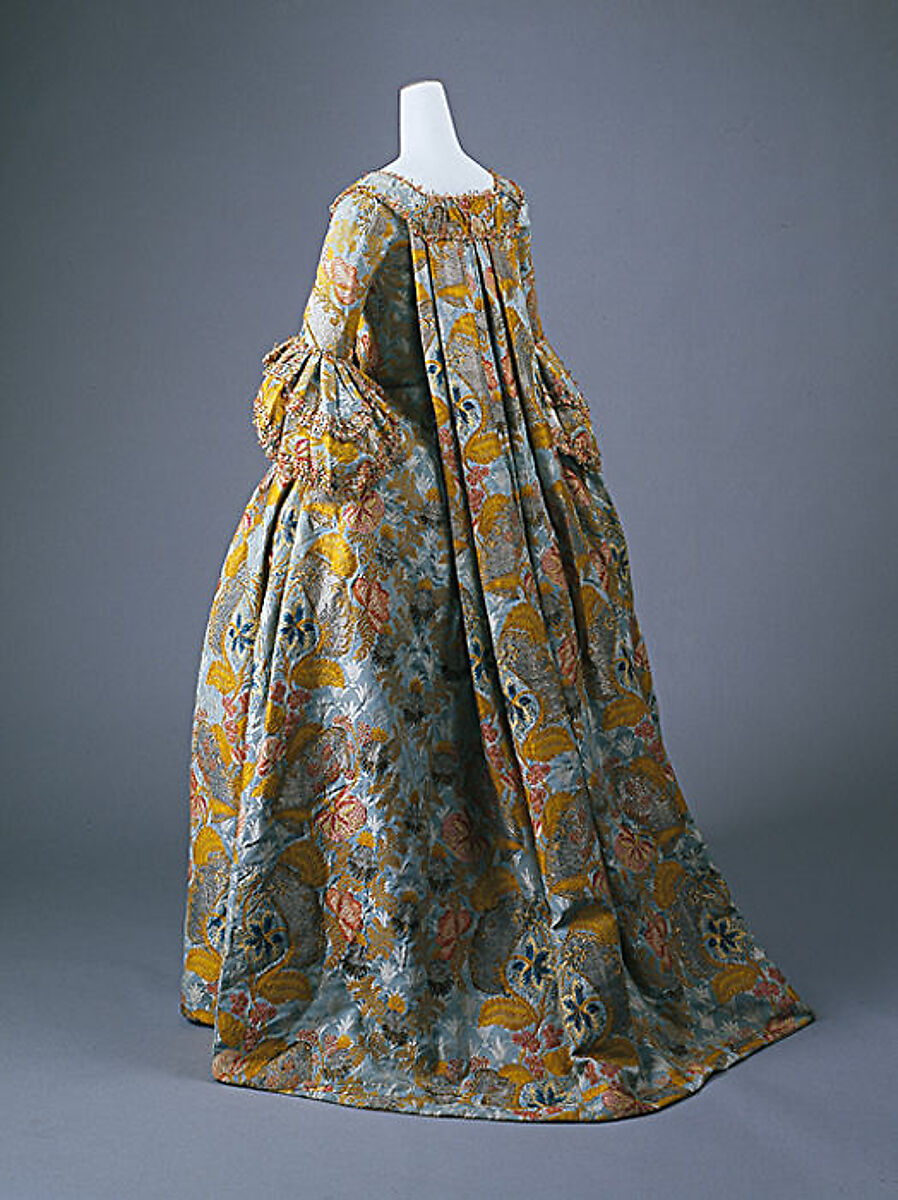 This artwork is meant to be viewed from right to left. Scroll left to view more.