Ensemble
Design House Giorgio Armani Italian
Designer Giorgio Armani Italian

Not on view
Giorgio Armani broke into prêt-à-porter in the mid- to late 1970s and almost instantly invented the androgynous and charmingly minimalist aesthetic for which he has been celebrated for the last thirty-plus years. His unique concept of employing natural earth-toned fabrics in simple yet impeccable constructions has linked him to the puristic ideals of Bauhaus theory and earned him the label of postmodernist.

Armani created the now iconic unstructured jacket for his men's collections during the mid-1970s period, when menswear was rigidly padded, reinforced, and stiffly shaped. He demonstrated the rather hyperbolic method of tearing out a jacket's lining to create his more relaxed signature fit in Martin Scorsese's Made in Milan (1990), but by that time he had been fully crafting both men's and women's casual chic clothing out of waxed linens, cottons, and summer weight wools for fifteen years.

Armani's influence on women's fashion bridges social and cultural arenas; the designer was inextricably linked to the "dress for success" movements in the late 1970s as a pioneer of workplace fashions for the newly employed female workforce. He created alternatives to both the relaxed sexiness of American design and the remnants of French ultra-femininity by exposing his female clientele to the chic and authoritative yet sexy business suit. Whether paired with wide-cut palazzo pants, culottes, or a full pleated skirt, as pictured here, Armani supplied women with his unstructured jacket designs, newly adapted to a female shape as early as 1977. This piece was designed in 1979, the same year that Giorgio Armani received the Neiman Marcus Fashion Award for translating the luxurious fabrics and understated cuts of his runway collections to the consuming masses worldwide.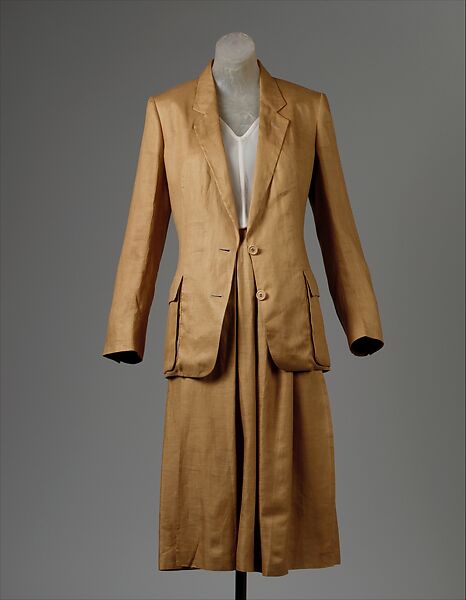 This artwork is meant to be viewed from right to left. Scroll left to view more.