Evening dress
Designer Norman Norell American

Not on view
Though the cocktail party of the 1950s graced middle- and upper-class residences, creating a more prominent market for women's cocktail clothing and accessories in New York department stores, the "Junior" or "Miss" collections of these retail giants developed and promoted lines of cocktail clothing as well. Sororities and college clubs began celebrating the cocktail hour by the latter half of the decade and, modeling their aesthetic after the twenty-something actresses in films such as Cat on a Hot Tin Roof (1958) and Breakfast at Tiffany's (1961), female collegians identified their own garments for cocktailing, the most popular of these the "little black dress."
Norman Norell, who, by the early 1960s, had become one of the most globally respected New York fashion designers by perfecting a classic silhouette complete with couture-quality finishing details and exquisite paillette and bugle-bead embroidery techniques, created simply tailored evening sheaths and impeccably cut day suits that reflected both a refined mature sensibility and a youthful spirit. This Norell "little black dress" is the quintessential cocktail sheath of the early 1960s, championing a playful leisurely aesthetic while still propagating a certain formality inherent in cocktail dressing. Designers like Ceil Chapman and Nettie Rosenstein were creating beautiful late day and evening dresses for the American market, but Norman Norell had his eye on the international scene; he combined the American invention of "day-to-evening" dressing with the subtlety and simplicity of French early evening garb. Priced comparably to the French couture, the visionary Norell dress became both the immortal symbol of mid-century bourgeois sociability and the champion of youthful flirtation.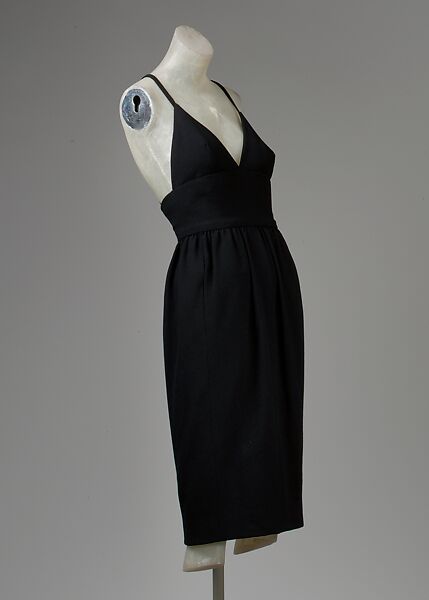 This artwork is meant to be viewed from right to left. Scroll left to view more.