Evening dress
Design House Missoni Italian

Not on view
After an exodus from the (then) conservative patrons of the Florentine runway in the wake of the 1967 Pitti Palace show, Ottavio (Tai) and Rosita Missoni settled in Milan to collaborate with the textile mills, knitters, and weavers of Capri and Treviso, who produced lush raw materials for their eclectic collections. The duo, who proudly claim their children as designers to continue the Missoni legacy, have been hailed for the succinct combination of art and industry inherent in each of their garments. Dubbed "haute bohème" by Anna Piaggi in her tribute article "The Missoni Look" in Missonologia: The World of Missoni (1994), the family-owned company smartly interpreted the newfound informality of custom clothing of the late 1960s, producing shifts, shirtdresses, wide-cut palazzo pant ensembles, and later slinky bodysuits, all in signature knits often supplemented by Lurex or eye-catching metallic elements. Typical Missoni patterns like stripes, geometrics, and abstract florals are executed in kaleidoscopic colors and provide a timeless chic, which is said to have been the essence of the Missonis' intent.

Rosita admittedly finds inspiration in the early designs of Gabrielle Chanel; the simple, liberated shift for which the couturière first found success appears time and again in Missoni collections, though the muted black of Chanel's iconic "Ford" dress of 1926 is certainly transformed in the Missoni palette. Art historians find an undeniable link between the planar shapes and colorful juxtapositions of Missoni garments and the textile prints and weaves of the Bauhaus, and early twentieth-century Constructivists like Russia's Liubov Popova.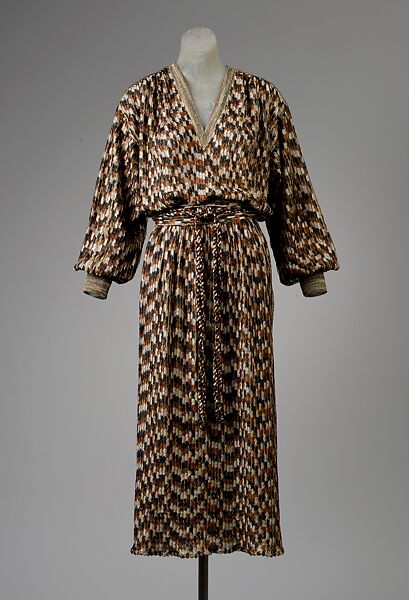 This artwork is meant to be viewed from right to left. Scroll left to view more.