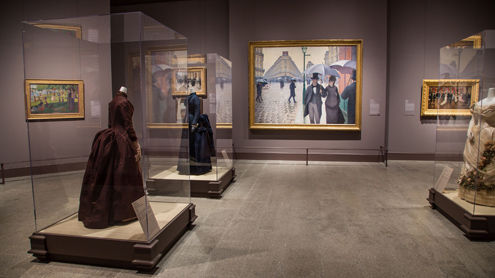 For the leading critics of the Impressionist age, modernity was an urban phenomenon. The newly widened boulevards of Haussmann's Paris, like its grand ballrooms and gilded theater boxes, offered new vistas and venues to see, and places to be seen. Many of the paintings that punctuate the Impressionist era are, appropriately, a pavement-walker's paradise.
Few works are more evocative of modern life or present a more powerful "portrait" of the newly renovated French capital than Caillebotte's Paris Street; Rainy Day (Art Institute of Chicago, 1877) in which the anonymity and sterility of the city unfurl beneath a tightly choreographed ensemble of gray silk umbrellas. This picture presides over a gallery of works that highlight the parade of fashion in the city: on the street, after church, at soirées, and at the theater, as depicted in such signature paintings as Renoir's The Loge (The Courtauld Gallery, London, 1874) and Cassatt's In the Loge (Museum of Fine Arts, Boston, 1878).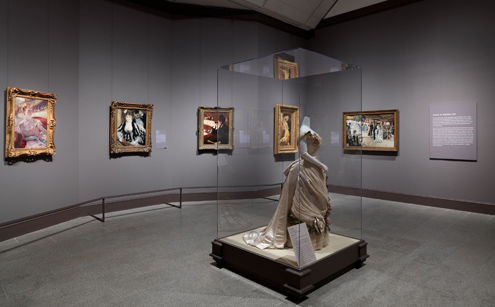 The last Impressionist exhibition took place in 1886. Seurat debuted the Grande Jatte—and his pointillist technique. This monumental park scene (represented here by the final study of 1884, now owned by the Metropolitan), gave memorable form to the striking bustled silhouette of the day, as showcased by two sumptuous silk day dresses from the Museum's collection. The painting also announced the end of an era. The next generation of artists—the Post-Impressionists—would champion evocation over description, imagination over observation, and timeless sentiment over the fleeting whims of fashion.