The exhibition opens with large-scale figure paintings of the 1860s that responded to the tenor of the times and the urging of critics who clamored for pictures that were every bit as stylish and elegant as Haussmann's newly renovated Paris. Artists from Monet to Tissot gravitated to contemporary dress as the key to invigorating threadbare traditions with modern sentiment.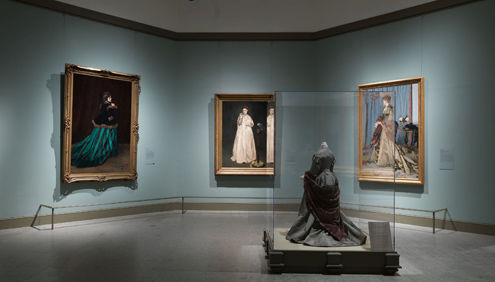 In their various bids for distinction, they chose full-length formats that privileged the latest styles over individual facial features, and, inspired by Charles Baudelaire's definition of modernity—"the ephemeral, the fugitive, the contingent"—they sought to capture the "look of the moment," consulting popular carte-de-visite photographs and fashion illustrations. Such practices held sway as artists refashioned figure painting and set forth their own renditions—some designed to please and others to provoke—of "the woman of our time, the French woman, the Parisienne."
Critics were quick to assess the trend, variously mocking society portraitists as mere "étoffistes" (fabric makers) or, instead, the "current vice" among such innovators as Manet of "valuing a head no more than a slipper." These distinctions come to the fore in the first gallery, where Manet's Young Lady in 1866 (The Metropolitan Museum of Art, 1866) and Monet's Camille (Kunsthalle Bremen, 1866) and Madame Louis Joachim Gaudibert (Musée d'Orsay, 1868, paired with a period ensemble from the Metropolitan's collection) confront pictures by Carolus-Duran and Tissot, with their glossy specificity, tailored to popular taste.