Empire of Signs: Galleries 206–218
This exhibition is not about China per se but about a collective fantasy of China. It is about cultural interaction, the circuits of exchange through which certain images and objects have migrated across geographic boundaries. Moreover, it points to the aesthetic importance of exploring all the products of our cultural fantasies. As opposed to censoring or disregarding depictions of other cultures that are not entirely accurate, it advocates studying these representations on their own terms, appreciating them from the outset as having been infused with creativity, and discovering in this complex dialogue of elided meanings, a unified language of shared signs. For the designers in this exhibition, China represents a land of free-floating symbols, a land where postmodernity finds its natural expression. Like Marco Polo or Gulliver, they are itinerant travelers to another country, reflecting on its artistic and cultural traditions as an exoticized extension of their own, mythical, fictional, and fantastical, their China exists only in their imaginations. When quoting Chinese artifacts or costumes, these designers are not reproducing literal copies or accurate facsimiles. Rather, they reinterpret them through seemingly paradoxical postmodern constructions.
---
Anna May Wong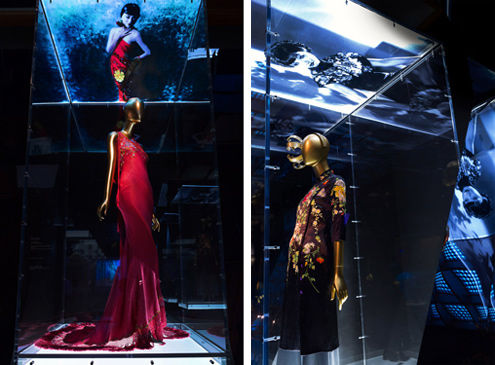 In terms of shaping Western fantasies of China, no figure has had a greater impact on fashion than the Chinese-American actress Anna May Wong. Born in Los Angeles in 1905 as Huang Liushuang ("yellow willow frost"), she was fated to play opposing stereotypes of the Enigmatic Oriental, namely the docile, obedient, submissive Lotus Flower and the wily, predatory, calculating Dragon Lady. Limited by race and social norms in America and constrained by one-dimensional caricatures in Hollywood, she moved to Europe, where the artistic avant-garde embraced her as a symbol of modernity, The artists Marianne Brandt and Edward Steichen found a muse in Anna May Wong, as did the theorist Walter Benjamin, who in a 1928 essay describes her in a richly evocative manner: "May Wong the name sounds colorfully margined, packed like marrow-bone yet light like tiny sticks that unfold to become a moon-filled, fragranceless blossom in a cup of tea." Benjamin, like the designers in this gallery, enwraps Anna May Wong in Western allusions and associations. In so doing, he unearths latent empathies between the two cultures, which the fashions on display here extend through their creative liberties.
---
Film and Music Presented in This Gallery
Daughter of the Dragon, 1931
Directed by Lloyd Corrigan
Paramount Pictures
Courtesy of Universal Studios Licensing LLC
Limehouse Blues, 1934
Directed by Alexander Hall Paramount Pictures
UCLA Film & Television Archive
Piccadilly, 1929
Directed by E. A. Dupont British International Pictures
Courtesy of Milestone Film & Video and British Film Institute
Shanghai Express, 1932
Directed by Josef von Sternberg Paramount Pictures
Courtesy of Universal Studios Licensing LLC
The Toll of the Sea, 1922
Directed by Chester M. Franklin
Metro Pictures Corporation
UCLA Film & Television Archive
"These Foolish Things"
Composed by Harry Link, Holt Marvell, Jack Strachey; performed by Billie Holiday