The Nomads of Central Asia—Turkmen Traditions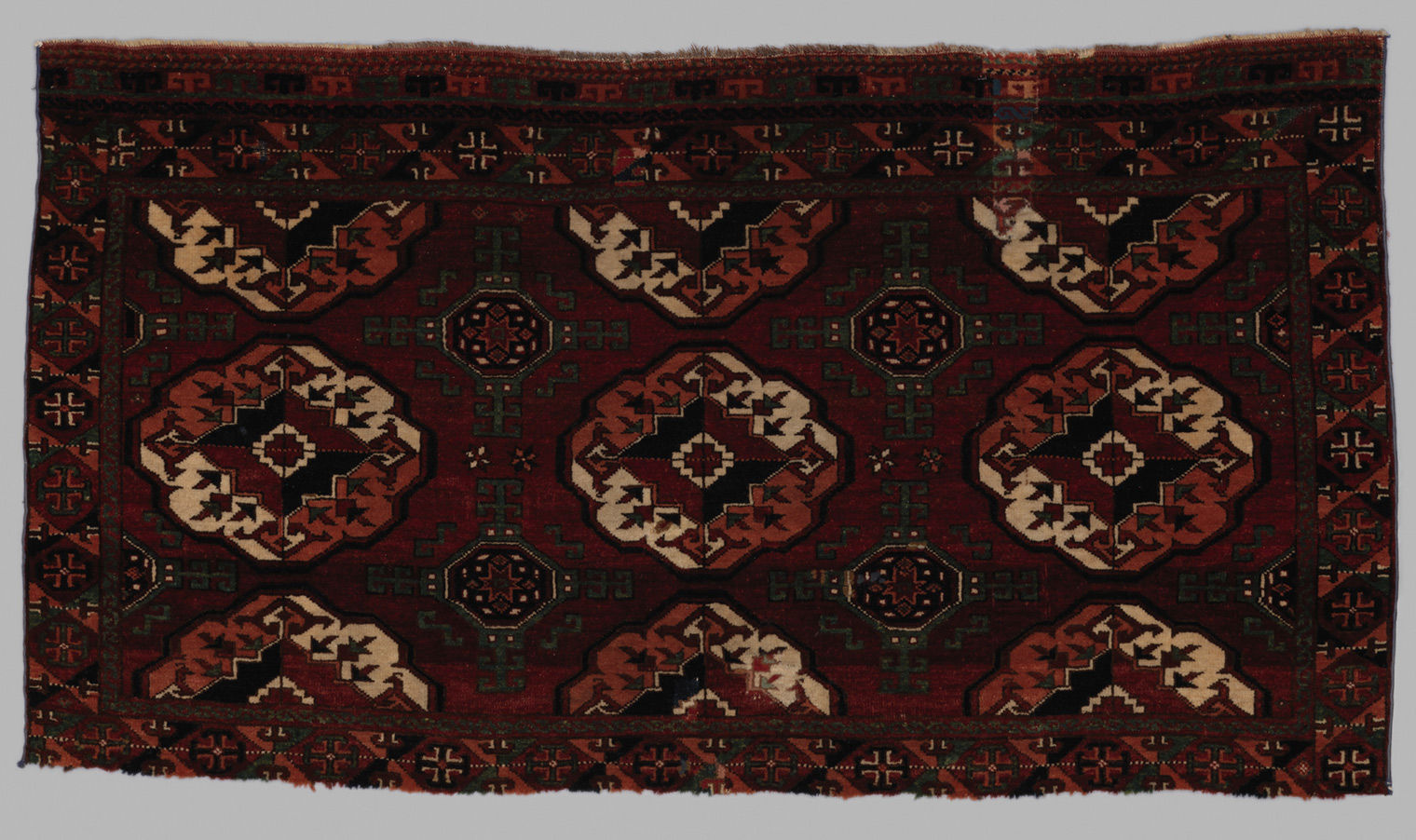 Storage bag face, early 18th–19th century. Central Asia, probably present-day Turkmenistan. Arabatchi tribe. Wool (warp, weft, and pile), cotton (weft); asymmetrically knotted pile; 29 1/2 x 54 1/2 in. (74.9 x 138.4 cm). The Metropolitan Museum of Art, New York, The James F. Ballard Collection, Gift of James F. Ballard, 1922 (22.100.40a,b)
Collection Area: Islamic Art
Subject Areas: Visual Arts, World History
Grades: Elementary School
Topic/Theme: Art as a Primary Resource
---
Goals
Students will be able to:
identify ways art of the Turkmen people of Central Asia reflects nomadic life; and
understand the functional and symbolic role objects play in their lives.
---
National Learning Standards
Visual Arts
NA-VA.K-12.4 Understanding Visual Arts in Relation to History and Cultures
NA-VA.K-12.6 Making Connections between Visual Arts and Other Disciplines
World History
NSS-WH.5-12.6 Era 6: The Emergence of the First Global Age, 1450–1770
NSS-WH.5-12.7 Era 7: An Age of Revolutions, 1750–1914
---
Common Core State Standard
English Language Arts
CCSS.ELA-Literacy.CCRA.SL.1 Prepare for and participate effectively in a range of conversations and collaborations with diverse partners, building on others' ideas and expressing their own clearly and persuasively.
---
Questions for Viewing
The Turkmen nomads of the eighteenth to early twentieth century moved throughout the year to ensure their livestock had pastures to graze and water to drink. What might you enjoy about this lifestyle? What, if any, drawbacks might a nomadic lifestyle present?
As nomads who moved with herds of sheep throughout the year, the Turkmen had easy access to wool, which they used to make a large range of everyday items, from portable furnishings to animal trappings. What goods or products does your community make out of wool?
What natural resources are available where you live? How do they support your daily life?
Imagine creating a wool bag like this. What steps might be involved? What skills or qualities might someone need to create such a bag? What special skills are valued in your community?
Bags like this were hung inside the Turkmen dwelling, where they were used for storage. Look closely at the photograph of a Turkmen interior (below). What other goods furnish this home? If you could only keep what you could carry, what items would you choose? Why?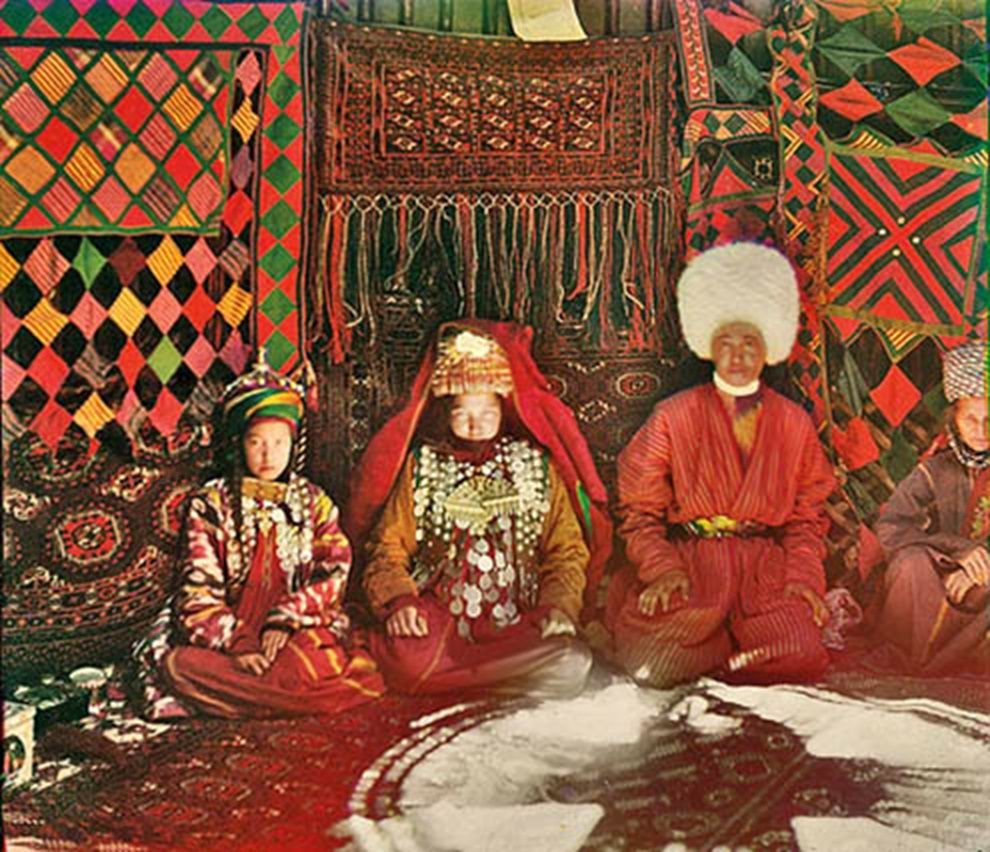 A Turkmen family, about 1910–15
---
Activity
Activity Setting: Classroom
Materials: Graphite, colored pencils, markers, paper for sketching, at least three 5 x 7–inch note cards per student, a hole punch, one skein of yarn, and scissors
Subject Areas: Visual Arts, World History
Duration: 120 minutes
Small quartered medallions (guls), such as the one on this bag, convey the identity of each Turkmen tribe. Although Turkmen guls are similar, each is unique. Compare and contrast the guls featured on this bag with other Turkmen guls (below). (You may also refer to the flag of Turkmenistan, which features the five distinct guls of the five main tribes.) What do the designs share in common? What makes each unique?

Comparison of the Arabatchi (detail) and Salor (detail) guls in the Museum's collection
What shared interests, beliefs, or ties bring people together in your community? What visual cues, if any, convey membership in each group? Design a quartered medallion for a group you belong to (your family, your class at school, a club, etc.). Consider how the colors you select, shapes you choose, and type of line you use will best express key qualities of this group. If you are a member of swim team, for example, instead of focusing on water or swimsuits, think of ways line might show fluidity, speed, or strength. Sketch four to five possible designs for your medallion and present them, along with a written or verbal description of your decision-making process, to a peer. Create three different versions of the design he or she identified as the strongest, each on a separate 5 x 7–inch note card. (Make the image as large as possible on the card.) Select your favorite medallion and add color with markers or colored pencils. Next, cut out the design and punch a hole at the top. Thread a piece of yarn through the hole and tie the ends together to create a necklace (make sure the loop of yarn is big enough to fit over your head). When everyone is wearing his or her necklace, look closely at the medallions and form groups based on similarities in subject or design. Discuss the features or qualities each "community" has in common and present your findings to the rest of the class.
---
Resources
Department of Islamic Art. "Turkmen Jewelry." In Heilbrunn Timeline of Art History. New York: The Metropolitan Museum of Art, 2000–.
Diba, Layla S. Turkmen Jewelry: Silver Ornaments from the Marshall and Marilyn R. Wolf Collection. New York: The Metropolitan Museum of Art, 2011.
Ekhtiar, Maryam D., and Claire Moore, eds. Art of the Islamic World: A Resource for Educators. New York: The Metropolitan Museum of Art, 2012.
Mackie, Louise W., and Jon Thompson. Turkmen, Tribal Carpets and Traditions. Washington, D.C.: Textile Museum, 1980.
---
Objects in the Museum's Collection Related to this Lesson
Robe, first half of the 19th century or earlier. Turkmenistan. Silk and cotton (lining only) with embroidery; 47 3/4 in. (121.3 cm). The Metropolitan Museum of Art, New York, Purchase, Hajii Baba Club and The Page and Otto Marx Jr. Foundation Gifts, in memory of Newton Foster, 1999 (1999.141)
Tent door hanging (ensi), early 19th century. Central Asia. Turkoman/Saryk. Wool, cotton; 74 x 54 in. (188 x 137.2 cm). The Metropolitan Museum of Art, New York, The James F. Ballard Collection, Gift of James F. Ballard, 1922 (22.100.42)

Amulet, late 19th–early 20th century. Present-day Uzbekistan. Silver, fire gilded with false granulation and twisted wire and beaded wire decoration, gilded and silver appliqués, chain-link and cone-shaped pendants with slightly domed and cabochon-cut carnelians and turquoise beads; 9 1/2 x 10 1/2 in. (24.1 x 26.7 cm). The Metropolitan Museum of Art, New York, Gift of Marshall and Marilyn R. Wolf, 2008 (2008.579.12)

Camel trapping, 19th century. Turkmenistan. Wool embroidered with silk; 26 3/4 x 57 1/2 in. (67.95 x 146.05 cm). The Metropolitan Museum of Art, New York, Gift of Irma B. Wilkinson, in memory of Charles K. Wilkinson, 1989 (1989.383)

Tent door surround, 19th century. Central Asia, Turkmenistan. Wool, goat's hair; 52 15/16 x 51 in. (134.5 x 129.5 cm). The Metropolitan Museum of Art, New York, The James F. Ballard Collection, Gift of James F. Ballard, 1922 (22.100.37)

Fragment of a storage bag, first half of the 19th century. Central Asia, Turkmenistan. Wool (warp and weft), cotton (weft and pile), wool (pile), silk (pile); asymmetrically knotted pile; 32 1/2 x 49 3/16 in. (82.5 x 125 cm). The Metropolitan Museum of Art, New York, The James F. Ballard Collection, Gift of James F. Ballard, 1922 (22.100.43)
---
Author: Claire Moore, The Metropolitan Museum of Art, 2012