This magisterial work is a self-portrait of the 35-year-old artist Adélaïde Labille-Guiard (1749–1803) alongside two of her pupils.
In 1783 Labille-Guiard gained admittance to the Royal Academy of Painting and Sculpture. By decree of the French king, the elite institution allowed only four women members at any given moment.
Why were there so few women artists?
Convention dictated that a woman's artistic pursuits should be limited to drawing as a private pastime. Figure painting was deemed the purview of men.
This self-portrait was shown in 1785 at the Paris Salon, a prestigious biennial exhibition where artists' reputations were made—or ruined.
It audaciously signaled the artist's ambition at a time when the notion of a professional woman artist went against society's gender roles.
Labille-Guiard shows herself in her studio, at work on a large canvas.
The artist pauses, paintbrush poised over her palette, and gazes outward.
On her lap she balances a mahlstick, used to steady a painter's working hand.
She announces her authorship with a prominent signature on the easel's shelf.
At the same time, she forms an intimate trio with two of her students—Marie Marguerite Carreaux de Rosemond (left) and Marie-Gabrielle Capet (right)—asserting her role as a teacher of aspiring women artists.
The work is virtually unprecedented in the history of European painting. Before Labille-Guiard, few women in France had been admitted into the privileged ranks of the Academy, and she was one of only a small number to oversee a teaching studio in the 18th century.
Aspiring women artists encountered significant obstacles to professional success. They were barred from the Academy's celebrated life-drawing class. In 1787, a royal decree effectively banned women and girls from artists' studios in the Louvre.
In her painting, Labille-Guiard seemingly offered a response to those who questioned the propriety of a professional woman artist.
Notice this bust in the background. Carved in a classicizing style, it depicts Labille-Guiard's father, a merchant. Made by French Neoclassical sculptor Augustin Pajou (1730–1809), it was also on view at the same Salon.
Next to it stands a figure of a vestal virgin—an ancient Roman maiden who vowed to remain chaste—by Jean-Antoine Houdon (1741–1828).
These sculptures underscore her devotion to her father and her feminine modesty, preemptively silencing any who might question her virtue.
Labille-Guiard painted in the Neoclassical style, as popularized by Jacques-Louis David (1748–1825) and his male students in the late 18th century.
Hallmarks of the style include a smooth, polished finish and clearly defined contours, as seen in David's 1788 portrait of the Lavoisiers.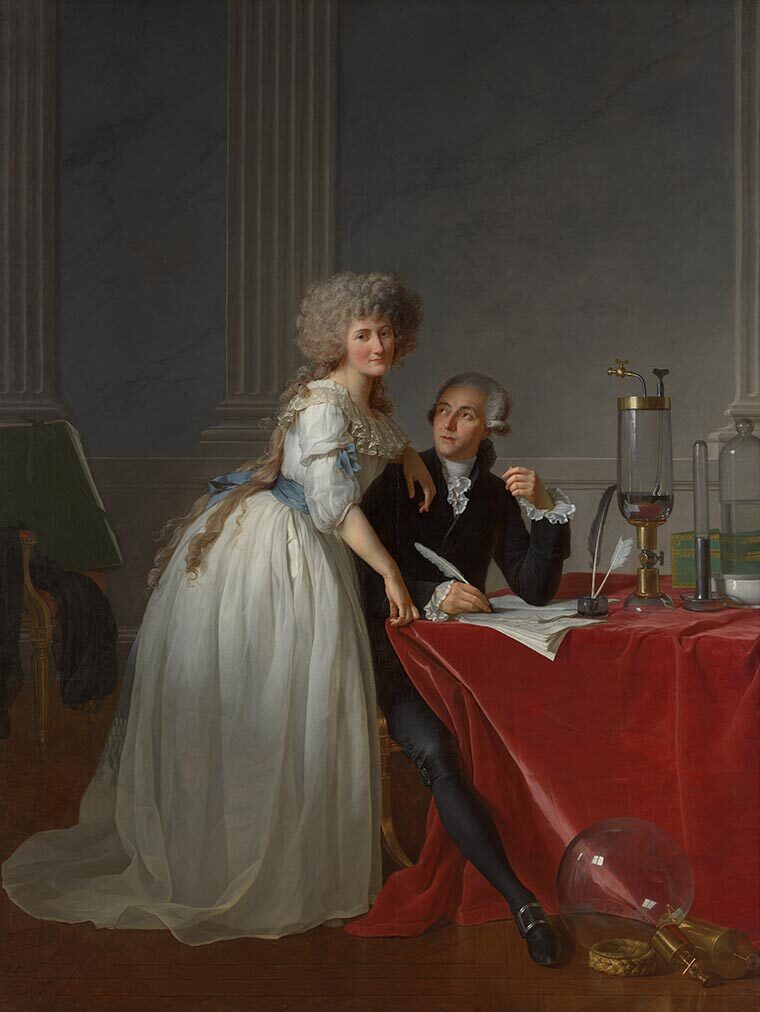 Labille-Guiard showcases her command of this style in her masterful rendering of a range of materials.
Notice the plumage of her straw hat, captured in delicate, feathery brushstrokes …
the shimmering silk folds of her fashionable robe à l'anglaise …
and the reflective sheen of the parquet wood floor.
The Neoclassical style was associated with masculinity, and critics responded in kind. They praised Labille-Guiard's portrait for the "vigor" and "force" of its handling.
At least one reviewer assumed it was painted by a man.
The canvas measures some 7 by 5 feet; its figures are life sized. Its ambitious scale and Labille-Guiard's use of oil paint represent a departure from her earlier portraits—mostly miniatures or pastels.
With this work, Labille-Guiard publicly claimed mastery of the Neoclassical style at the Salon. Her unambiguously feminine self-portrait is a powerful assertion of women's rising status in the arts on the eve of the French Revolution of 1789.