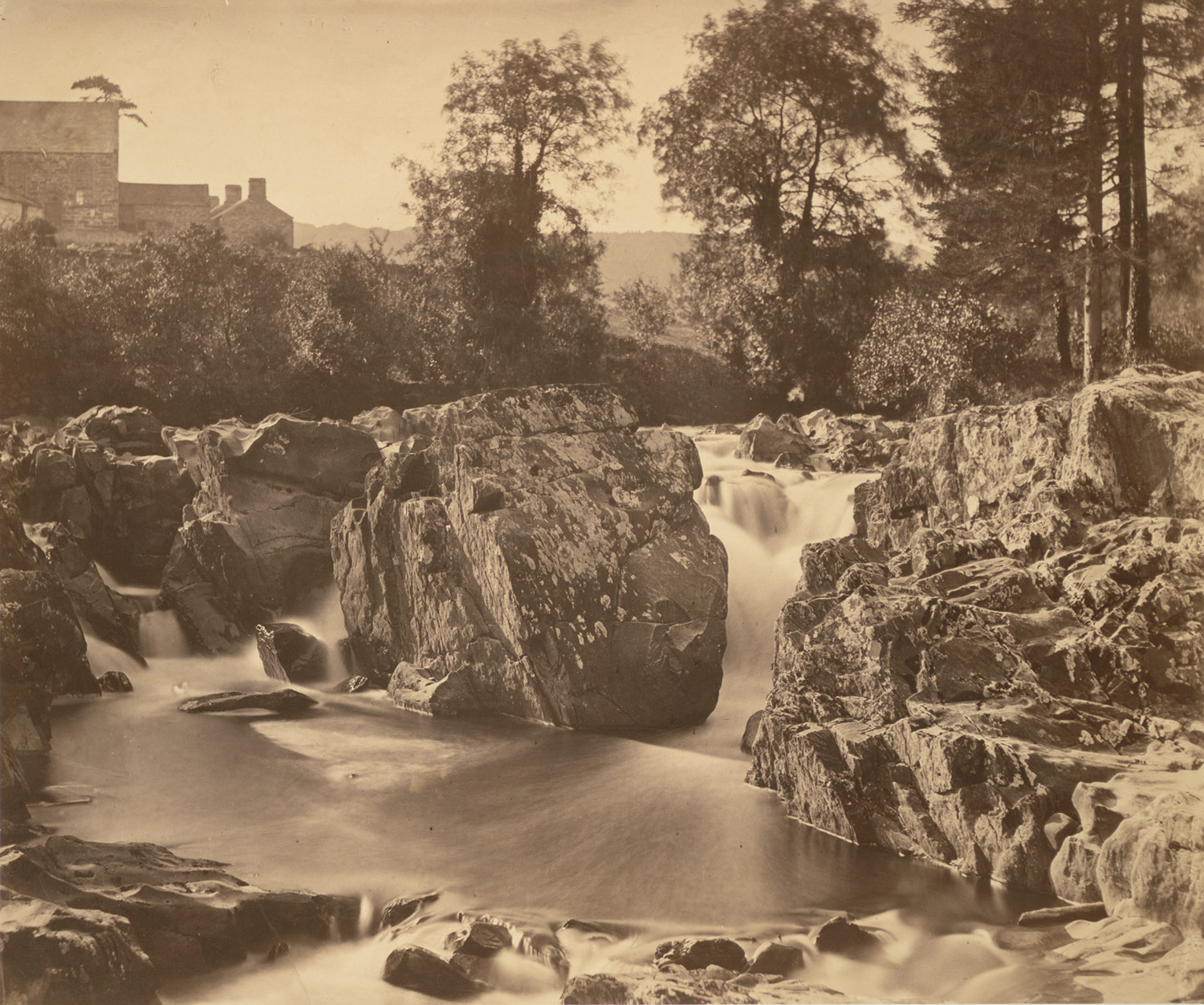 ---
Falls of the Llugwy, at Pont y Pair, 1857
Roger Fenton (British, 1819–1869)
Albumen silver print from glass negative; 14 1/16 x 16 7/8 in. (35.8 x 42.9 cm)
Purchase, Louis V. Bell Fund and Mrs. Jackson Burke Gift, 1988 (1988.1027)

In autumn 1857, Fenton traveled to the small village of Bettws-y-Coed, in North Wales, a favorite summer haunt of anglers and watercolorists, tucked in the lush gorge of the Llugwy River near its confluence with the Conway. There, in the nearby rocky streams, wooded hollows, and mountainous expanses, Fenton found the subjects of some of his finest landscape photographs.
For this picture, Fenton stood precisely in the position described in Thomas Roscoe's guidebook Wanderings and Excursions in North Wales (1853), perched on an outcropping with his back against one pier of the old stone bridge in the center of town: "I passed over [the Pont-y-Pair] to the opposite bank … and took my station upon one of the rocky projections looking up the river. It was some time since any rain had fallen, and the stream was comparatively shallow, exposing the rude masses of granite that stood midway in the channel, and laying bare to their foundations the broad deep chasms which the rushing waters had formed in their headlong descent." By photographing from below the level of the upstream river, Fenton immersed himself deeply in the natural elements, intensifying the experience of the falls. The dynamic structure of Fenton's composition—zigzagging bands of water, rock, vegetation, and sky—is also noteworthy, adding a dynamism to the rushing river while only hinting at the village buildings beyond.
Related