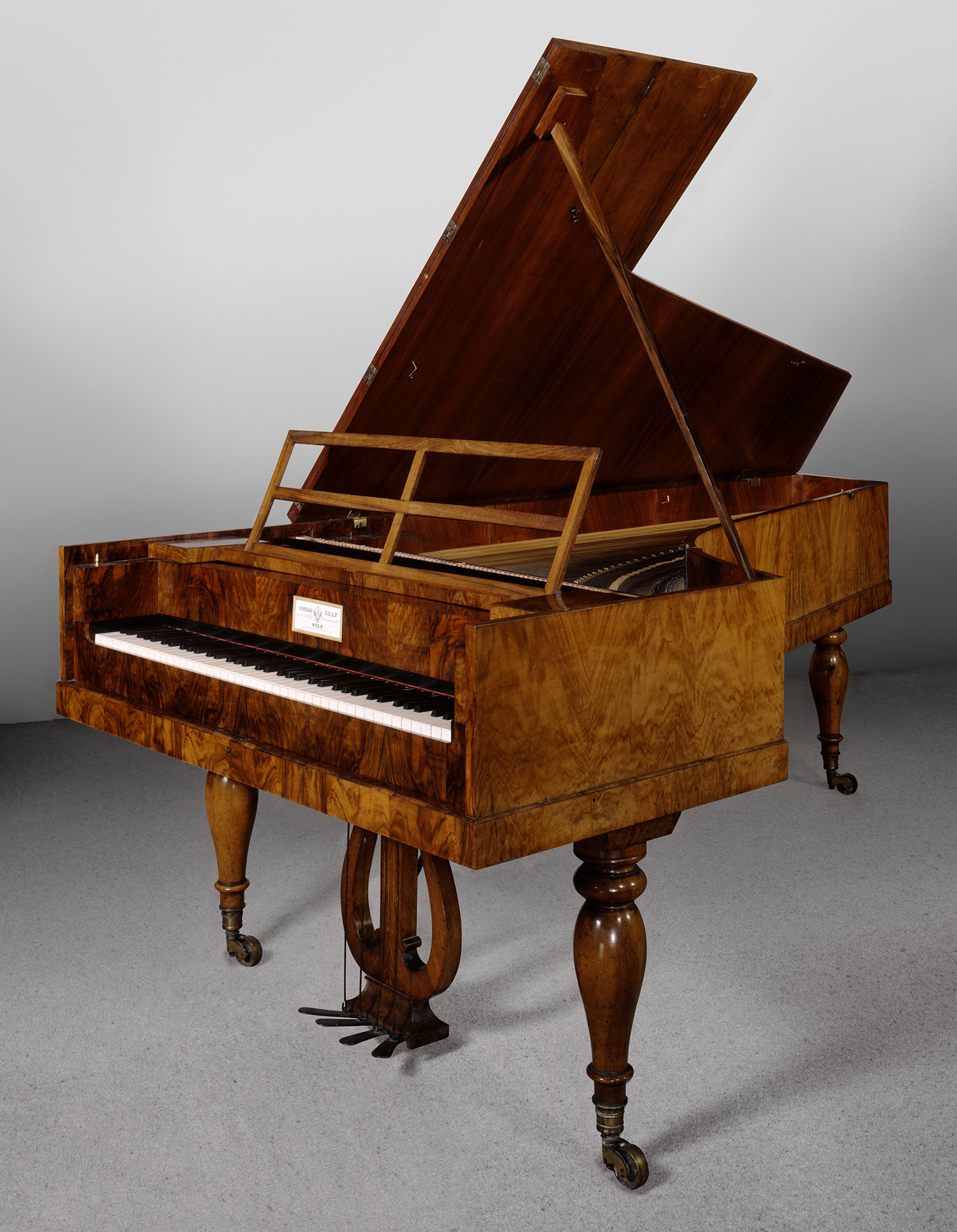 ---
---
Related Multimedia
Excerpt from Impromptu in G Flat Major, D. 899, Op. 90, No. 3, by Franz Schubert (1797–1828) played by Michael Tsalka at The Metropolitan Museum of Art, August, 2012.
Fortepiano, ca. 1838
Conrad Graf (Viennese, 1782–1851)
Vienna, Austria
Oak, spruce, veneer, and walnut; L. 93 1/2 in. (237.5 cm), W. 49 3/16 in. (125 cm), D. of case 13 in. (33 cm)
Purchase, Amati Gifts, in memory of Frederick P. Rose, 2001 (2001.272)
Conrad Graf, maker of this six-and-one-half octave piano (eighty keys), was one of the most important fortepiano makers in Vienna between 1822 and 1842. In 1824, Graf was appointed Austrian court keyboard instrument maker and in 1835 received a gold medal at the Austrian Industrial Products Exhibition. Composers such as Beethoven, Czerny, Schubert, Schumann, Kalkbrenner, Mendelssohn, Chopin, Liszt, and Brahms, as well as the empress of Russia, the queen of Saxony, and the archduke and archduchess of Austria, owned Graf pianos. This instrument was probably made the year before Robert Schumann's Graf piano, a period that includes many of the greatest works of the piano repertoire.
The walnut-veneered oak case is constructed almost entirely of wood (there is no metal frame, as in the modern piano). The piano has four pedals to control the dampers (allowing tones to be sustained or silenced), two moderators to change the timber, and an una corda (soft pedal).
Related