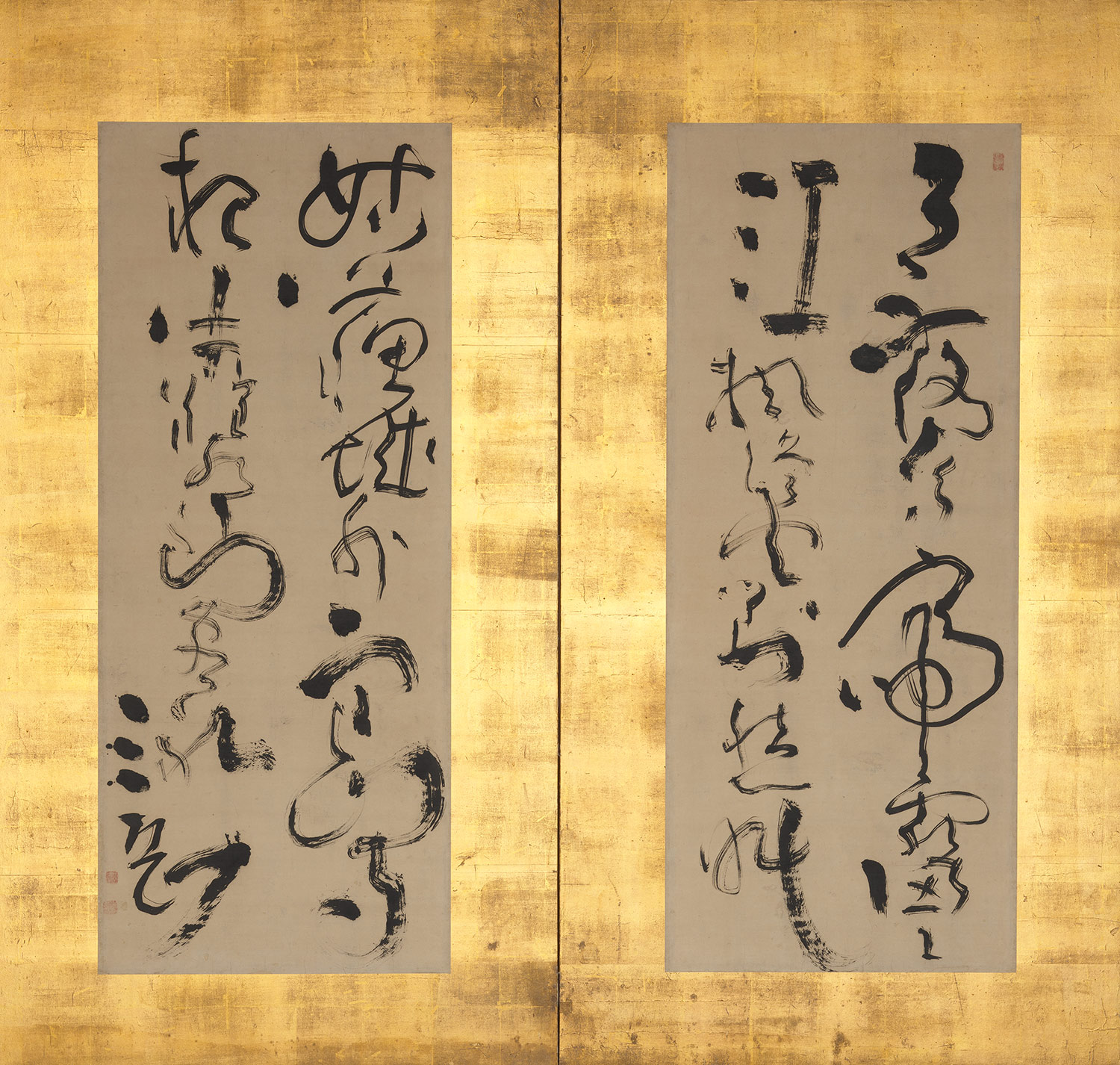 ---
Calligraphy of "Maple Bridge Night Mooring" by Zhang Zhi, Edo period (1615–1868), ca. 1770
Ike Taiga (Japanese, 1723–1776)
Two–panel folding screen: ink on paper; 68 3/4 x 72 3/4 in. (174.6 x 184.8 cm)
Signed Sangaku and bearing three seals: Zenshin Sôma Hô Kyûkô, Ike Mumei in, and Nigaku Dôja
Purchase, Friends of Asian Art Gifts, 2008 (2008.66)
Onto two sheets of paper that were then pasted to the gilt panels of a folding screen, Ike Taiga, one of Japan's most prolific literati artists, inscribed a famous Tang poem, "Maple Bridge Night Mooring," a quatrain of seven-character lines that was composed by the eighth-century Chinese poet Zhang Zhi. In translation, the poem reads:
The moon sets, crows sing, and frost fills the sky.
Maple trees along the river and fires in fishing boats face me, sleepless with lament.
The bell of Cold Mountain Temple (Hanshan-si), outside Suzhou, tolls;
At midnight, the sound reaches this boat.
Taiga's calligraphy is flamboyant and diverse, with a sophisticated compositional scheme. The characters are large and small, the ink is wet and dry, and the lines are thick and thin. The work has a powerful spiritual tension that is communicated in its fluctuating verticality. It is probably among Taiga's best in Chinese-style calligraphy (karayô).
Related