Recent Acquisitions
The Bodhisattva Kannon (Avalokiteshvara)
Aaron Rio, Associate Curator
Kannon is a compassionate bodhisattva and one of the most popular and most frequently depicted deities in Japanese Buddhism. Here he wears flowing robes and is draped with sashes. Originally, its surface would have been decorated with layers of lacquer, pigments, and mostly likely gold leaf, though today its cypress wood core is completely revealed. The sculpture represents a technical and stylistic transition. Its ample proportions harken back to sculpture of the 900s, while the artist's approach to the figure's posture and drapery suggests a date to the next century.

The manner of carving the head and most of the body out of a single block of wood represents a late modification of the so-called ichiboku-zukuri method at a time when many Japanese Buddhist sculptors were transitioning toward the more efficient multi-block, or yosegi-zukuri, technique.
Bodhidharma in Red Robes
Aaron Rio, Associate Curator
This imagined portrait of Bodhidharma in red robes is a recently rediscovered work by Kano Masanobu (ca. 1434–ca. 1530), founder of the Kano school, which dominated Japanese painting for four centuries, from the artist's late career through the 19th century. Although today he is most closely associated with Chinese style ink landscapes, Kano Masanobu was in his own day known for his versatility and equally renowned as a painter of portraits and Buddhist icons. He probably received the commission for this image of Bodhidharma—the 5th-century Indian monk credited with transmitting Zen Buddhist teachings to China—from a Zen temple, where portraits of Bodhidharma were displayed during various religious services, sometimes in combination with images of other patriarchs. The efficacy of such pictures pivots on an artist's effective description of the gaze of the patriarch, who conveyed to East Asia an essential Zen message of self-reflection in pursuit of awakening. In Masanobu's picture, the Zen master meets the adherent with a penetrating gaze and exhausted mien, calling to mind the nine years he is said to have sat in meditation, staring at the wall of a cave. Masanobu's singular talent as a portraitist is also evident in his punctilious handling of Bodhidharma's physiognomy, carefully detailed using a complex layering of only three pigments—ink, vermilion, and ochre.
Wine container (Hu)
Zhixin Jason Sun, Brooke Russell Astor Curator of Chinese Art
This wine container illustrates a major innovation of China's bronze tradition in the late years of the Eastern Zhou dynasty when craftsmen, inspired by the nomadic art of the steppes, began to embellish monochromatic bronzes with sumptuous surface décor of colorful inlays. This demonstrates a critical shift in the function of bronze vessels from serving as ritual objects to serving as vehicles for the display of wealth and status. The well-balanced form, exquisite ornamentation, and exacting craftsmanship of this piece tell an inspiring story not only about the art of ancient China but also its contact with other parts of the world.
Mending Clothes by Daylight
Joseph Scheier-Dolberg,
Oscar Tang and Agnes Hsu-Tang Associate Curator of Chinese Paintings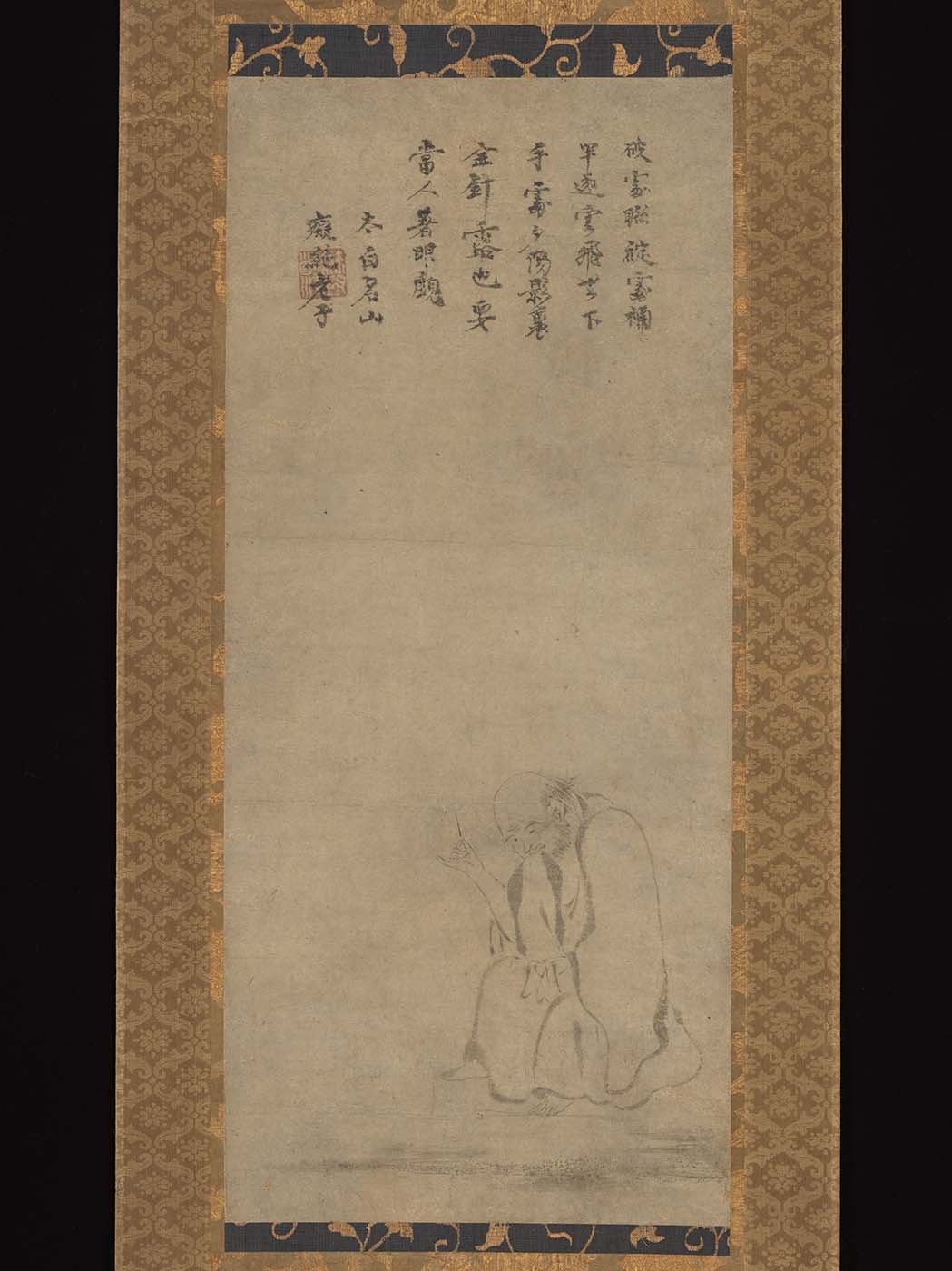 This austere image of a monk mending his robes in the sunlight is an exceptionally important example of "apparition painting," an artistic type that emerged in the monasteries of Chan (Japanese: Zen) Buddhism during the twelfth century. Chan doctrine teaches that all images are illusory, and paintings such as these, in which ink is applied so lightly that the picture seems to flicker and fade before the viewer's eyes, are among the most eloquent artistic manifestations of that belief. Using dilute ink for most of the picture, the artist has applied dark tones only to the eyes of the main figure and the needle in his hand, imparting special emphasis to these key narrative and emotive elements. The result is a painting that appears indistinct at first but is revealed upon closer examination to be alive with intensity. The brushwork is assured and steady; see, for instance, the fine line that indicates the single thread hanging from the monk's needle, executed in a single stroke and with a minute dip to indicate the pull of gravity. The face of the monk, rendered with supreme economy of brushwork, captures a sense of concentration and humanity. All of these factors combine to make this an eloquent expression of the playful, elegant minimalism of medieval Chan Buddhist art.

The painting's importance is significantly enhanced by the presence of an inscription by Chijue Daochong (1169–1250), one of the most prominent Chan abbots of the thirteenth century. From 1219 until his death in 1250, Chijue held a succession of powerful abbacies in the power centers of Chan Buddhism, including Lingyin Monastery in Hangzhou and Tiantong Monastery in the Taibai Mountains of Shaanxi Province; the signature on this inscription locates him in Shaanxi, so it must have been written during his time there, from 1239 to 1249. In Chan Buddhism, calligraphy by a prominent monk was seen to be invested with the authority and presence of the master, which makes this an object of significant religious and charismatic power. It was likely brought to Japan in the thirteenth or fourteenth centuries as part of the first wave of transmission of Chinese Chan ideas, artworks, and people.
Ancient Ritual Bronzes
Eleanor Hyun, Associate Curator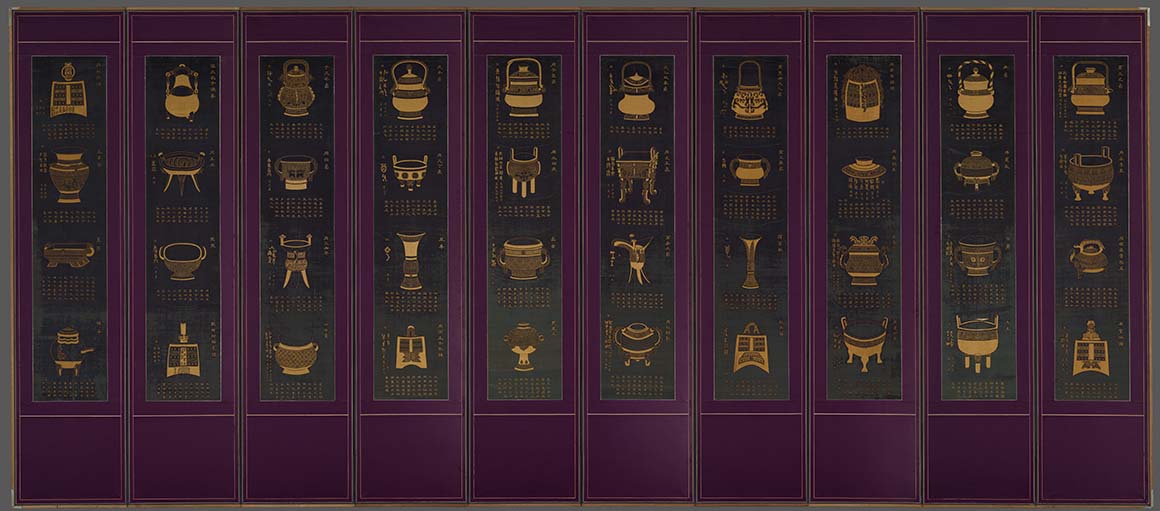 This is rare, embroidered screen illustrating archaic Chinese bronzes. As a Confucian dynasty, state rituals and familial ancestral rites were essential acts representing the bedrock of Joseon political and social life. Ancient Chinese bronzes were revered as symbols of Confucian statecraft. In the 18th century, bronzes appear in Korean still-life painting and in the 19th century bronzes become the primary subject of such paintings and embroideries. Judging from the subject matter, high technical skill, and quality of materials, this screen was likely produced by court artisans.
Embroidered screens depicting bronzes represent an interesting intersection of various media: three-dimensional bronzes are depicted in two-dimensional forms via embroidery. The manner in which these bronzes are illustrated also points to another medium: printed books. From the bronze forms and the inscriptions, the screen finds its source material in the printed compendia of Chinese bronzes that circulated in the region.
This kind of embroidered screen also represents a nexus of male and female spheres. Women were the primary producers of embroidered arts, but this subject is intimately linked to the male sphere of Confucian ritual and statecraft. As embroidered screens grew in demand, men entered the textile arts and created workshops, many were situated in Anju, Pyeong'an Province in present-day North Korea.
Goddess Durga Slaying the Demon Mahisha
John Guy, Florence and Herbert Irving Curator of the Arts of South and Southeast Asia
The warrior goddess Durga is celebrated in Hindu India as the supreme protectress of devotees. As an expression of the wrathful aspect of Parvati, Shiva's consort, she epitomizes shakti, or divine female energy. The goddess assumed a multi-armed form, known as Mahishasuramardini, to wield weapons lent to her by male gods unable to subdue the demon Mahisha. Disguised in buffalo form, the demon assailed Durga, only to be slain by her cosmic weaponry.
Vaishravana, Guardian of Buddhism and Protector of Riches
John Guy, Florence and Herbert Irving Curator of the Arts of South and Southeast Asia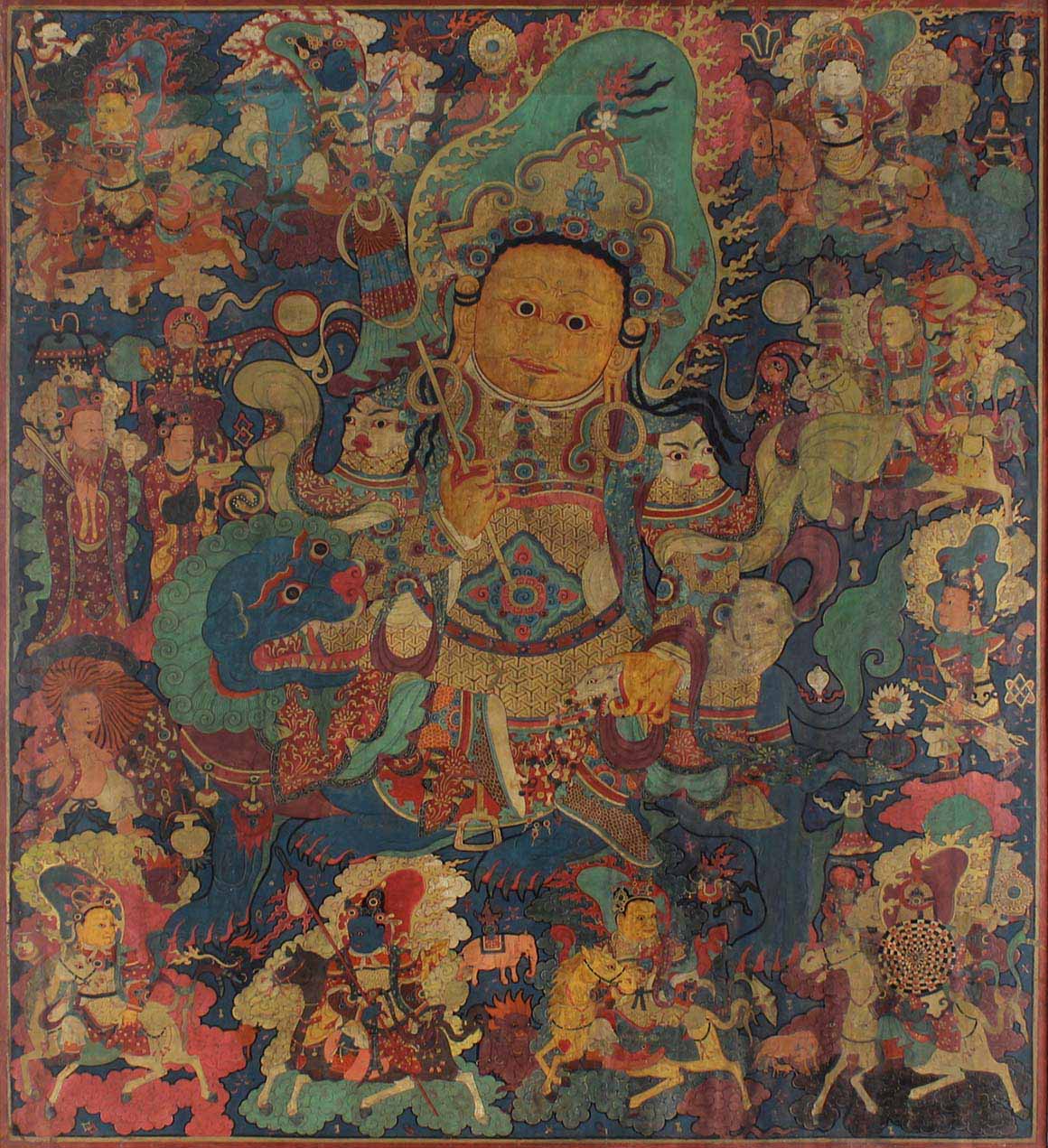 Vaishravana is a complex Buddhist deity who embodies many strands of thought and belief. Tibetans understand him foremost as the premier of the four guardians of the cardinal directions (lokapalas), associated with the North. In this role he serves as a protector (dharmapala) of Buddhist law. Here we see Vaishravana seated on his snow-lion mount in a stormy atmosphere, accompanied by his generals, the eight Lords of the Horses (asvapati), each riding a storm cloud. Central is Vaishravana himself, dominant is scale and represented emerging from a tumultuous skyscape. He is dressed as a warrior-king in full battle armor with a patterned tunic suggestive of chain-mail armor, mounted with a large lozenge chest-plate with pearl-and-lotus medallion and Chinese-style lion-face protective lappets on the shoulders. Decorated high boots point to his Central Asian ancestral connections. This celebrated Tibetan deity is rarely represented outside of monastery mural programs, such as those seen at Shalu and Gyantse monasteries, in 14th and 15th century respectively. In both pictorial and aesthetic terms, this painting is unrivalled in its sophisticated integration of iconographic complexities into a single coherent visualization of this deity.