Mechanical table
Jean-François Oeben French, born Germany
and Roger Vandercruse, called Lacroix French

On view at The Met Fifth Avenue in Gallery 539
This table has long been recognized as one of the masterpieces of Jean-François Oeben, cabinetmaker to Louis XV (1710–1774).[1] It was made for Oeben's most important client, the king's mistress Madame de Pompadour (1721–1764). The main charge of her coat of arms, a tower, appears at the top of the gilt-bronze mount at each corner. On the vase at the center of the marquetry top is the ducal coronet (Madame de Pompadour was given the title "duchesse-marquise de Pompadour" in 1752). The top, a tour de force of Rococo design, shows allegorical trophies of her chief interests-architecture, music, painting, gardening, and, last but not least, love-within a scrolling foliate border, executed with dazzling skill in marquetry of etched, stained, and natural mahogany, rosewood, holly, and other woods. Combining an extraordinary design with marquetry of great sophistication, the top is one of the finest panels in all of Oeben's furniture.

Oeben's skills are also apparent in the elaborate mechanism that allows the top to slide back as the large drawer below moves forward. With the drawer open, the table could be used for either reading or writing. A central arched panel, hinged at the front, rises by means of a hidden ratchet support and contains a rectangular panel, which can be rotated and fixed in position so that either side faces forward. One side of this panel is lined with blue moiré silk; the other contains a panel of imitation Japanese lacquer. Flanking this are two flaps, which are inlaid with large tulips overlapping ribbon-bound borders and which cover two shaped compartments veneered with tulipwood. A concealed button releases a shallow drawer below the reading-and-writing panel. One of the most unusual features of this table is the treatment of the legs, each of which is pierced with three openings framed with a gilt-bronze rim. This detail is unique in Oeben's work.

Madame de Pompadour ordered a number of pieces of furniture from Oeben in 1761, but it is not clear that this table was among them. This group was left unfinished on Oeben's death in 1763 and completed by his brother-in-law, Roger Vandercruse (called Lacroix; 1728–1799), whose stamp (R.V.L.C.) along with Oeben's and also "JME," the monogram of the guild, are found on the underside of this table. It cannot be identified in the inventory prepared after Oeben's death, either in the list of ten items awaiting delivery to Madame de Pompadour or in his large stock of completed and partly completed furniture, mainly because of the brevity of the entries.[2] Madame de Pompadour died in April 1764, and the inventory of her possessions presents the same problem.[3] Whether she ever took possession of this table has not been determined.

Oeben made a number of similar tables with sliding tops and drawers, sometimes fitted as combination writing and toilette tables. The related tables by Oeben are in the Musée du Louvre, Paris; the J. Paul Getty Museum, Los Angeles; the Huntington Art Gallery, San Marino, California; the National Gallery of Art, Washington, D.C.; the Rijksmuseum, Amsterdam; the Residenzmuseum, Munich; the Victoria and Albert Museum, London; the Bowes Museum, Barnard Castle, Durham; and the Museu Calouste Gulbenkian, Lisbon.
For such a well-known piece of furniture, this table has a surprisingly vague history until the early twentieth century. It may have belonged to Madame de Pompadour's brother and principal heir, the marquis de Marigny, although there is no evidence to support this idea.[4] In the catalogue of the 1928 sale of Judge Elbert H. Gary's collection,[5] a series of previous owners of the table was listed (the marquess of Tullibardine; Mrs. Mary Gavin Baillie-Hamilton; and Lady Harvey, London, from whom it was acquired by the Paris dealers Lewis and Simmons), but in none of these collections has it been documented. In the twentieth century it was sold twice at public auction, both times fetching record prices for a piece of French furniture: at the Gary sale it was acquired by the dealer Joseph Duveen (1869–1939), and at the sale of the Martha Baird Rockefeller collection in 1971, it was acquired by Jack and Belle Linsky.[6]

[William Rieder, 2006]

Footnotes:
1. For a more detailed discussion of this table and a partial bibliography, see The Metropolitan Museum of Art. The Jack and Belle Linsky Collection in The Metropolitan Museum of Art. New York, 1984, pp. 210–12, no. 128 (entry by William Rieder). See also William Rieder. "A Table for Madame de Pompadour." Magazine Antiques 151 (January 1997), pp. 226–29.

2. Jules Guiffrey, ed. "Inventaire de Jean-François Oeben." Nouvelles archives de l'art français, 3rd ser., 15 (1899), pp. 298–367.

3. Jean Cordey, Inventaire des biens de Madame de Pompadour: Rédigé après son décès. Paris, 1939.

4. Ronald Freyberger. "The Judge Elbert H. Gary Sale." Auction 2, no. 10 (June 1969), pp. 12–13.

5. Judge Elbert H. Gary sale, American Art Association, New York, 21 April 1928, lot 271.

6. Martha Baird Rockefeller sale, Sotheby's, New York, 23 October 1971, lot 711.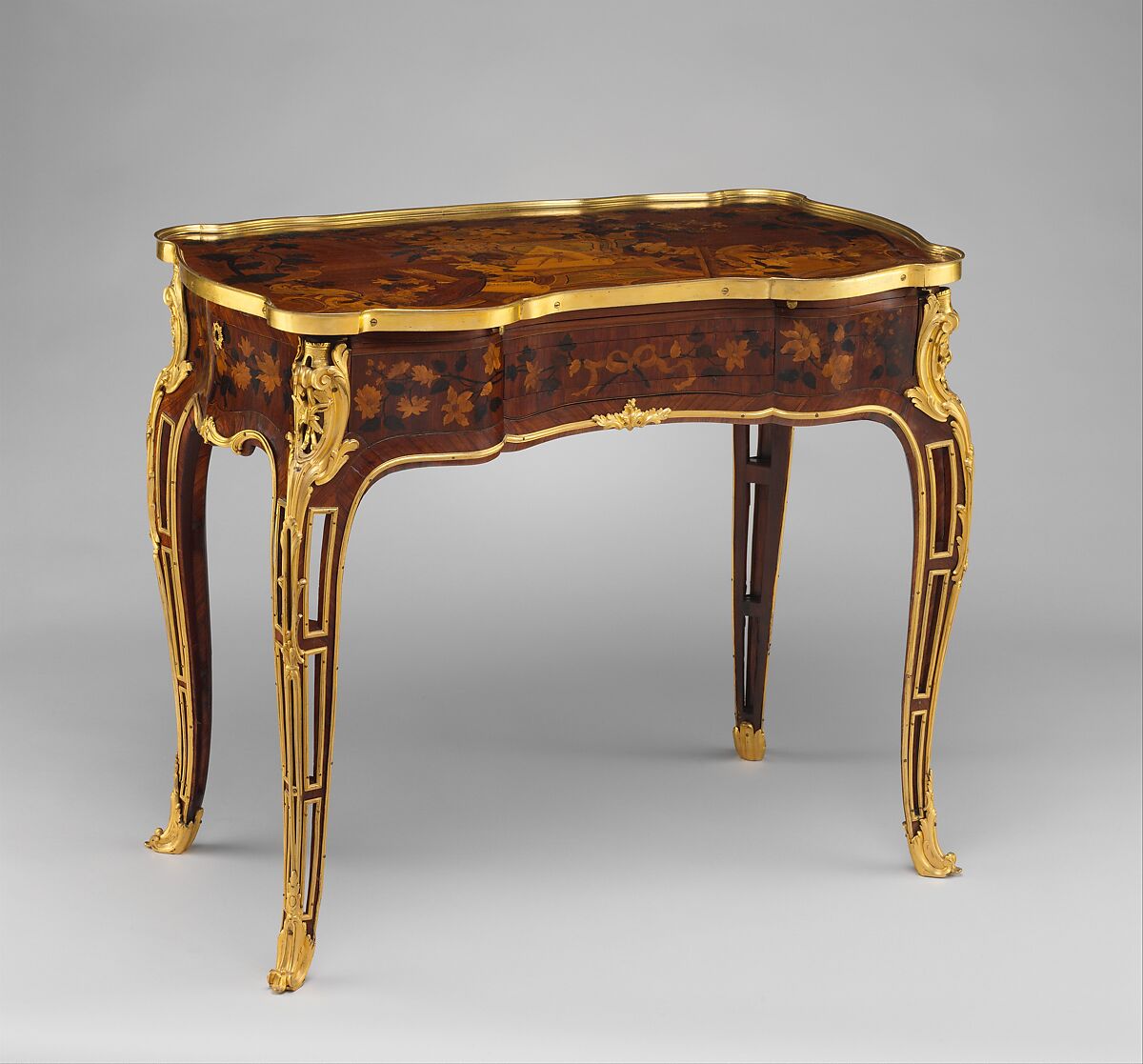 This artwork is meant to be viewed from right to left. Scroll left to view more.