Ada Rehan
John Singer Sargent American

Not on view
Born Delia Crehan in Limerick, Ireland, Ada Rehan (1860–1916) moved to America at a young age and first appeared on stage when she was sixteen years old. A misprint on a theater bill rendered her name Ada C. Rehan (instead of Crehan), and the name stuck. In 1879, she joined Augustin Daly's company, and became renowned on both sides of the Atlantic for playing in Shakespeare's comedies and in contemporary plays.

In this portrait, which was commissioned by an American admirer, Sargent accentuates the actor's imposing stage presence, though she is not in character. Set against a massive Flemish-style tapestry, she appears almost as if she is part of the procession. That Sargent shows her in the grand manner and scale typical of paintings of royalty points to changing ideas of celebrity in the late nineteenth century.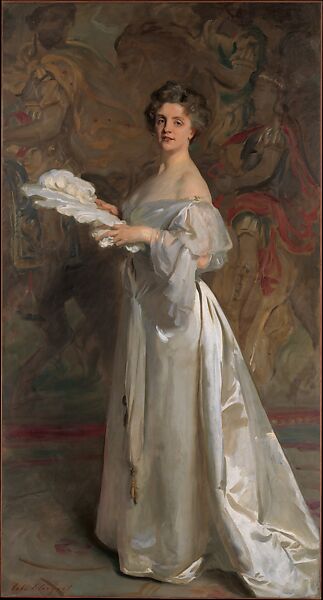 This artwork is meant to be viewed from right to left. Scroll left to view more.