"La Perse"
Designer Paul Poiret French
Textile designed by Raoul Dufy French

Not on view
In his memoir The King of Fashion (1931), Poiret wrote, "Am I a fool when I dream of putting art into my dresses, a fool when I say dressmaking is an art? For I have always loved painters, and felt on an equal footing with them. It seems to me that we practice the same craft, and that they are my fellow workers." Dismissing the sibling rivalries that have always dogged the fine and applied arts, Poiret believed that art and fashion were not simply involved but indivisible. This belief was central to Poiret's vision of modernity, which, to a large extent, was achieved through his deployment of art discourse.
As well as presenting himself as an artist and patron of the arts, Poiret promoted his fashions as unique and original works of art in and of themselves. He did this by marshaling the visual and performing arts, and by working with artists associated with avant-garde modernism. Among Poiret's various collaborations, the most enduring was with Raoul Dufy, whose career as a textile designer he helped launch. Dufy's flat, graphic patterns were ideally suited to Poiret's planar, abstract designs, a fact that is palpable in such signature creations as "La Perse" coat, "La Rose d'Iribe" dress, and the "Bois de Boulogne" dinner dress, which is made from a fabric that Dufy designed in conjunction with the silk manufacturer Bianchini-Férier.
Dufy's boldly graphic designs reflected Poiret's preference for the artisanal. The postwar embrace of an industrial and mechanical modernity was antithetical to Poiret. However, in the years before the war, the art of the workman, such as Dufy, or the self-schooled, such as Henri "Le Douanier" Rousseau, whom Poiret so admired that he created a dress, "Homage à Rousseau," in his honor, was seen as modern in the repudiation of Belle Époque decadence and sophistication.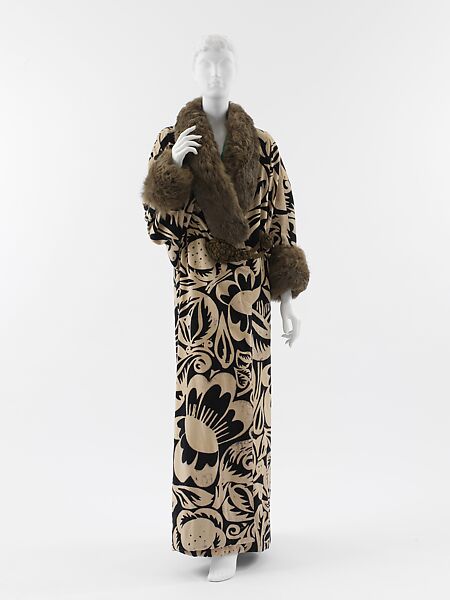 This artwork is meant to be viewed from right to left. Scroll left to view more.