Embroidered coverlet
Mary Breed American

Not on view
When the panels of this coverlet were embroidered in 1770, they were not meant to be constructed into a bed covering. Originally, they were narrow bed curtains and three bed valances, most likely stitched together in the early nineteenth century. Some of the embroidery was chopped away at the foot end so that the converted coverlet could accommodate bedposts.

When the coverlet came into the Museum's collection in 1922, it was attributed to Mary Breed, aged nineteen in 1770, who was said to have lived on Breed's Hill, Charleston (now Boston), Massachusetts. The eighteenth-century inscription embroidered on the piece, which read MARY BREED / AGE 19 Y 1770, is now mostly worn away but can be seen clearly in old photographs. That the piece was stitched on Breed's Hill, where the 1775 Battle of Bunker Hill took place, was particularly appealing to the collectors of the 1920s, who were interested in the historical resonance of all things colonial. However, with further study of American textile arts, it became evident that particular styles of eighteenth-century embroidery could be accurately assigned to specific areas in the American colonies. In a 1973 article on crewel wool-embroidered bed hangings, Anne Pollard Rowe found the Museum's Mary Breed coverlet problematic. A number of needlework pieces in the collections of other museums have the same embroidery style as this one. Called the "symmetrical style" by Rowe, it is characterized by sprays of flowers and trees that are symmetrical in composition. Each spray contains only one type of flower; birds, often in pairs, are also a prominent feature. Except for one set of valances, all the known pieces of bed hangings in this style can be documented to Connecticut, and two pieces especially close to Mary Breed's coverlet can be further documented to towns in New London County. Since the provenance of our piece was unquestioned, Rowe concluded that although the coverlet was the only one in the symmetrical style documented in Boston, "the mere presence of the symmetrical designs in Boston suggests a Bostonian source [for the entire style], but the exact method by which it may have been dispersed is uncertain." Most Boston embroidered bed hangings of the same period were considerably more formal and closer to English precedents than Mary Breed's coverlet.

After further puzzling over the piece, we decided to try to identify Mary Breed. Because we knew she was nineteen in 1770, it might be possible to track down the birth of a daughter to a Breed family in 1751. First we tried the Boston area, but no Mary Breeds were found to be born there at that time. Connecticut proved more fruitful; the records show that a Mary Breed was born on February 9, 1751, to John and Silence Breed of New London. This is the only recorded Mary Breed born in either Massachusetts or Connecticut in 1751, and since our coverlet much more closely resembles pieces from New London County than any from Boston, it is likely that our work was made in that location. We may never know where the Boston attribution originated, but because there was a Breed family of Boston and all the Breeds in New England at the time could have been related, perhaps a later owner of the piece became confused as to its true origin.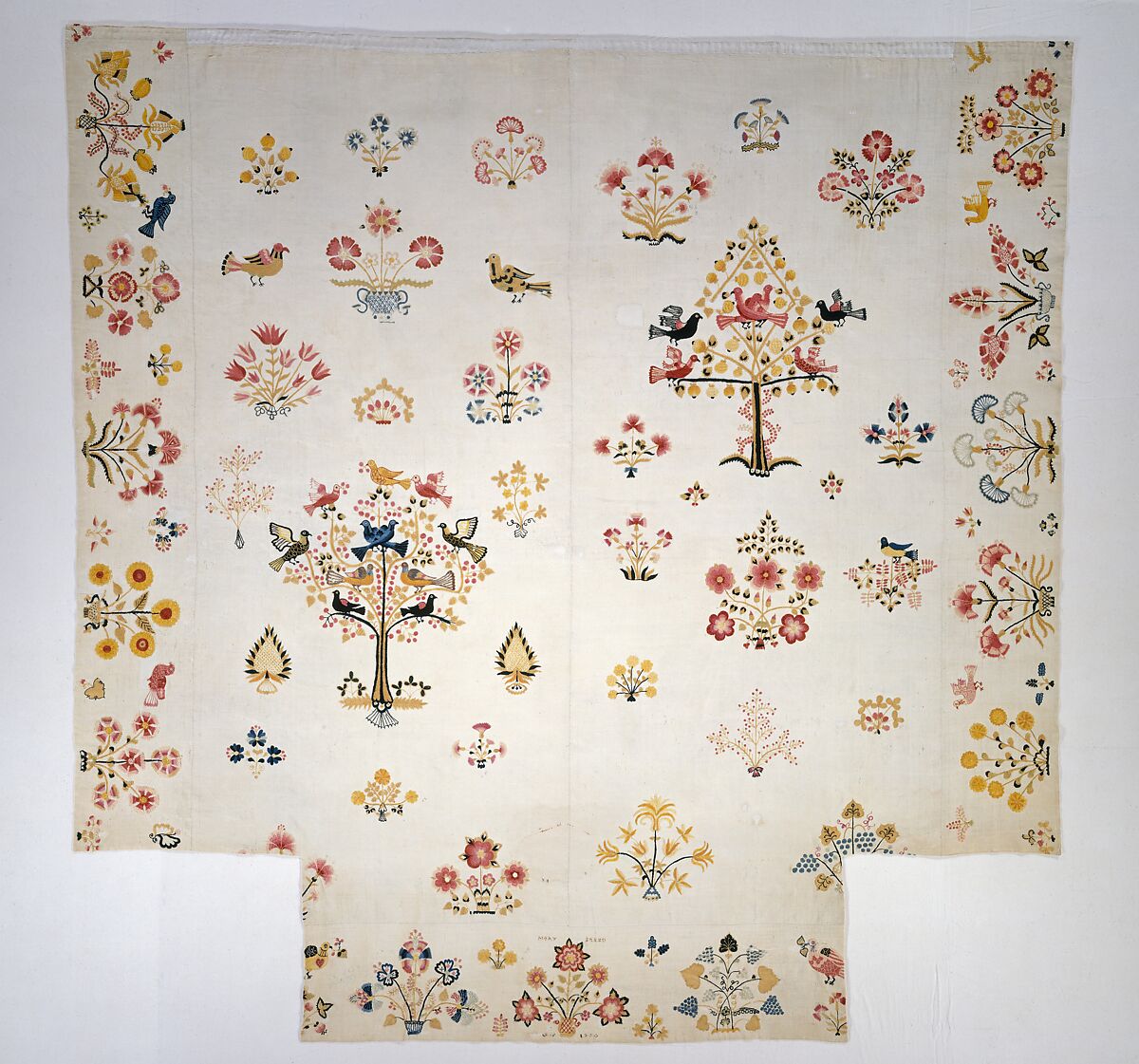 This artwork is meant to be viewed from right to left. Scroll left to view more.