On loan to The Met The Met accepts temporary loans of art both for short-term exhibitions and for long-term display in its galleries.
"Delphos"
Designer Mariano Fortuny y Madrazo Spanish

Not on view
The Delphos dress exemplifies Fortuny's ability to transform historic source material into garments with a wholly modern sensibility. Ancient Greek representations of the chiton, a tunic composed of rectangles of fabric, provided essential inspiration. The Delphos echoes the ancient garment's body-conforming drape, economy of construction, and columnar silhouette. Its name references the Charioteer of Delphi, a Classical bronze statue of a standing charioteer wearing a clearly depicted chiton. The Charioteer influenced the shape and cut of Fortuny's garment, and portrayals of tightly pleated chitons on Archaic korai figures offered a model for his fine pleating. The unlined pleated silk of the Delphos conforms to the individual wearer. Tight pleats offer enough elasticity to cling or expand according to the body's contours, creating a modern relationship between clothing and the body, in which clothing accommodates the figure rather than imposing its shape. Through its simple form and discreet ornamentation of Murano glass beads, the design equally achieved Fortuny's desired sense of timelessness.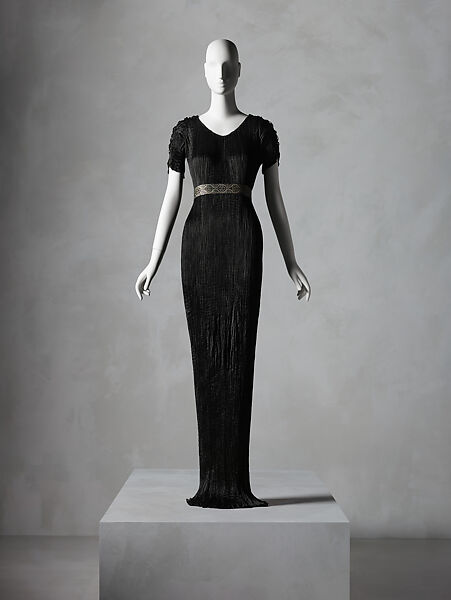 This artwork is meant to be viewed from right to left. Scroll left to view more.