Quilt, Presentation pattern
Designs attributed to Mary Hergenroder Simon American

Not on view
An extraordinary tour de force of quiltmaking, this Baltimore Presentation quilt decorated with vibrant floral wreaths, delicate baskets of fruits and flowers, and assorted birds, all superbly appliquéd onto the plain white backing with multicolored cottons, was likely designed by Mary Hergenroder Simon (1808-1877). Mary Simon is thought to have composed and basted quilt squares as kits, which she sold to Baltimore quilt makers between 1846 and 1854.

Although this type of quilt, in which each square is decorated with a different motif, is commonly called an Album quilt, a true Album quilt is made up of blocks that have been contributed by numerous different makers (see 1988.134). Because this quilt was designed as a complete composition and appears to have been stitched by a single person, most likely to commemorate a specific occasion, it is better described a Presentation quilt. We have no evidence, however, about to whom it was presented or on what occasion. Our quilt is almost identical to the Elizabeth Silver quilt in the collection of the Baltimore Museum of Art, which was commissioned by Elizabeth's parents, and after its completion, presented to Elizabeth as a wedding gift. Because that quilt is inscribed 1849, the same date has been assigned to the Metropolitan's work. Underneath the Baltimore Museum quilt's central basket is an inscription to Elizabeth Sliver from her parents. Our quilt once had such an inscription as well, but it was cut away before the piece was quilted, and a plain white patch of fabric was inserted in its place. Did another young woman, for whom this quilt was intended, suddenly break off her wedding plans? Because it came into the Museum's collection without a provenance, we may never know the true history of our beautiful Baltimore quilt.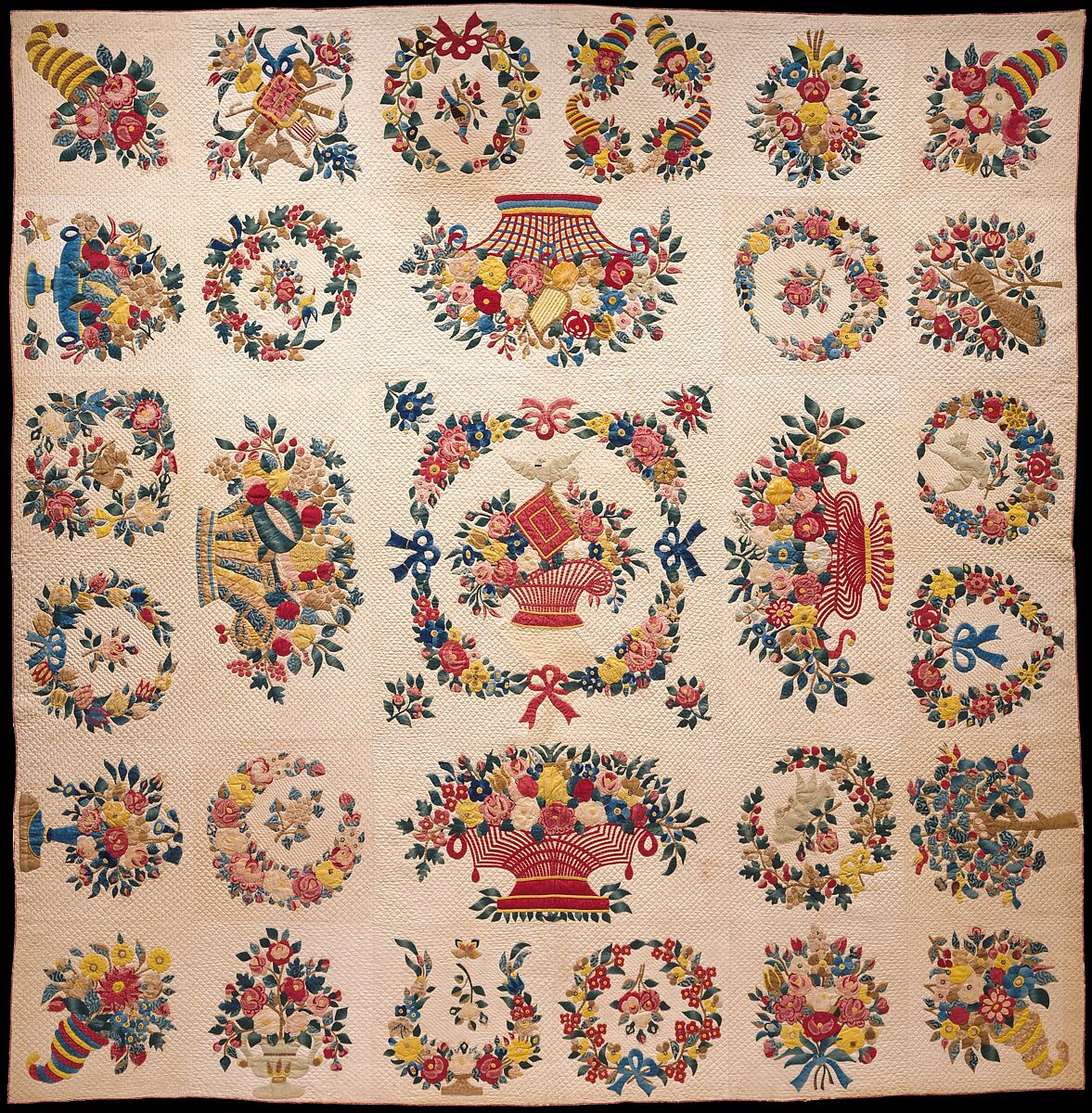 This artwork is meant to be viewed from right to left. Scroll left to view more.