Evening dress
Design House Myrbor French

Not on view
The French couture house Myrbor was opened in July 1922 by Marie Cuttoli, a French statesman's wife, on 17 rue Vignon in Paris. Only in operation until 1936, the house employed prominent European and Russian artists including Picasso and Matisse to create designs for the interior decorations and clothing which the house produced. Both Eastern European émigrés who worked as set designers with Leon Bakst, Natalia Goncharova, a Russian Futurist artist, and Sarah Lipska, of Polish origins, were among the house's coterie of artists. These two women executed designs for embroideries and, in Goncharova's case, garments, which extant fashion sketches document. Lipska's work is represented in the Brooklyn Museum collection in the form of embroidery samples. Both women's designs for Myrbor are characterized by abstract motifs and Cubist-inspired patterns which were fashioned in embroidery and appliqués applied in a distinctive open whip stitch.

A classic example of both Myrbor's design aesthetic and the 1920s drop-waisted silhouette, this dress incorporates both unique construction and decoration. The construction of the bodice, particularly the additional bodice panel, lends a sense of lightness to the garment, and would assist in creating the desired flat-chested silhouette of the period. The artistic abstract motifs combine several colors of silk and various textures of metallic, a characteristic often seen in Myrbor designs, and one that creates a multi-dimensional effect. The colors and shapes of the appliqués are jarring against the soothing celadon crepe ground, a clue as to the artistic hand involved in the design. Garments by Myrbor are rare, especially ones with labels, and they represent an important moment in fashion history.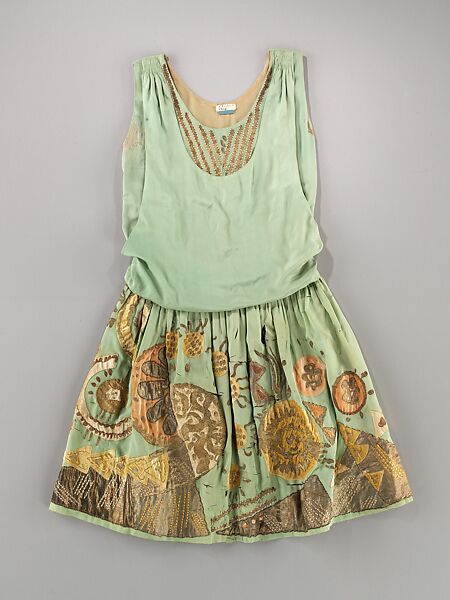 This artwork is meant to be viewed from right to left. Scroll left to view more.