Watch
Watchmaker: Nicolas Gribelin (the Younger?) French
Case maker: Probably Robert Vauquer, School of Blois French

Not on view
The back plate of the movement is signed Gribelin AParis, probably for Nicolas Gribelin, a member of a large family of clockmakers active in seventeeth-century Blois. He is recorded working in Paris as early as 1674 for Philippe, duc d'Orléans (1640–1701), brother of King Louis XIV (1638–1715).

With the invention of the balance spring in 1675, a few watchmakers attempted to use the balance alone for regulating the mainspring, doing away with the fusee. As timekeepers, movements such as this one that lack a fusee were not very successful, but the lacelike ornament of the silver cock and the delicate steelwork for winding the mainspring can be prized as much for their aesthetic qualities as for their usefulness. Like most seventeenth-century watches, this one is wound from the back of the movement with a key; thus the display of ornamental metalwork on the back plate of the watch was often as impressive as the dial.

While enamel painting in Blois flourished under the special protection of the French king's uncle, Gaston, duc d'Orléans (1608–1660), Paris, too, was an important center of production. The case of this watch was probably the work of an unknown Parisian enameler who adapted a now-lost painting depicting Anthony and Cleopatra by the French artist Sebastian Bourdon (1616–1671) for the miniature scene on the cover. Part of the landscape enameled on the interior of the case comes from a print by another French artist, Laurent de La Hyre (1606–1656).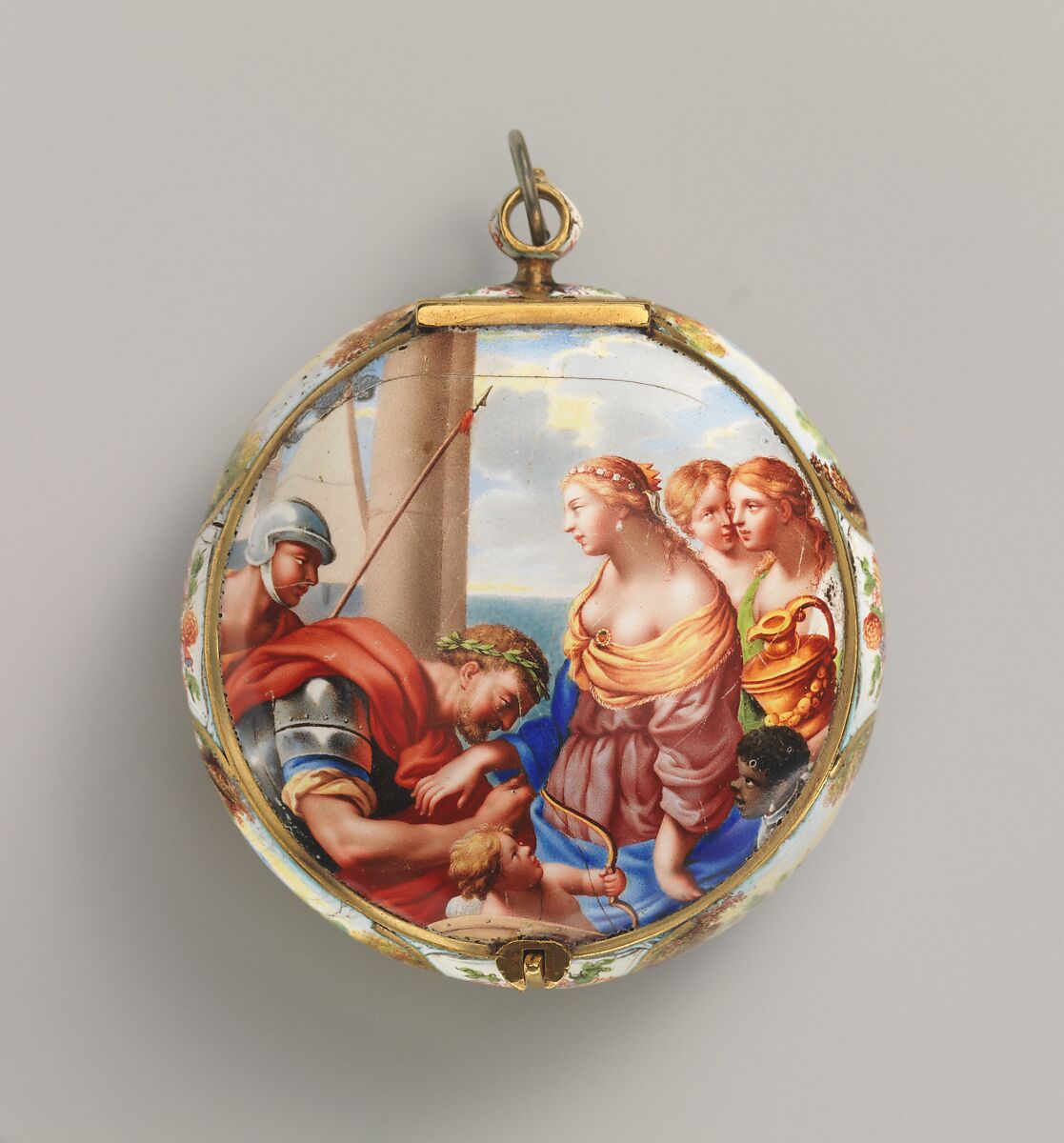 This artwork is meant to be viewed from right to left. Scroll left to view more.