Minerva from the "Doria Grotesques"
Probably designed in the workshop of Perino del Vaga (Pietro Buonaccorsi) Italian
Perhaps woven in the workshop of Joost van Herzeele Flemish

Not on view
Minerva, Roman goddess of art and science, stands as if on a stage in the center foreground of this composition, surrounded above and to the sides by curling plant tendrils, gamboling animals and putti, and elegant swags of drapery. In the cartouche above, Minerva receives offerings of a book and vessel.

This is one of two surviving tapestries of Minerva from the thrice-woven series of tapestries called the Doria Grotesques. Perino del Vaga designed the eight-piece sequence in about 1545 for the naval commander Andrea Doria to add to the substantial tapestry collection in his glorious palazzo in Fassolo, then just outside the port city of Genoa. The Grotesques, each featuring a different deity, showcased Perino's dexterity in this decorative field, combining respect for antique prototypes with Raphael-inspired Renaissance grace. Though designed in Italy, the three sets of Grotesques tapestries, all made for Doria, were woven 500 miles away in the Southern Netherlands, almost certainly in Brussels, where the most celebrated weavers in the world worked. The Met also owns Neptune from this series (2011.14): the tapestries were apparently created in different workshops, their weaving styles being quite dissimilar. This Minerva might have been part of the set woven for Doria in the workshop of Joost van Herzeele, whose weaver's mark remains visible on another, technically similar tapestry, Mars, which remains in Genoa.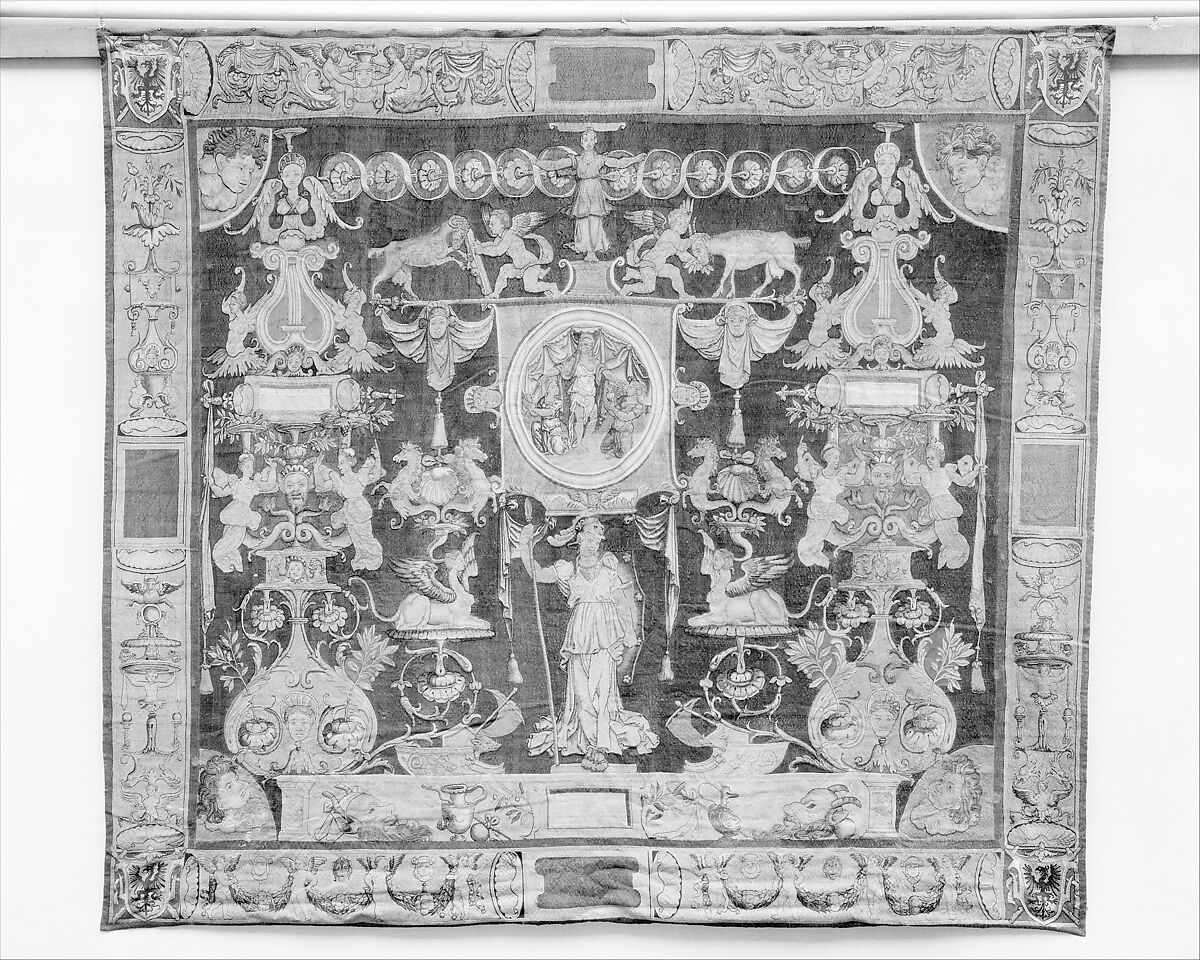 This artwork is meant to be viewed from right to left. Scroll left to view more.