Parure: tiara, necklace, and brooch
Cameos carved by Luigi Saulini Italian
Designer of Diadem (a) John Gibson British, born Wales

Not on view
Luigi Saulini learned hardstone and shell carving from his adopted father, Tommaso (1784–1864), and continued in the family trade from a successful shop in the Via del Babuino in Rome.

Cameo-laden parures that included tiaras became fashionable among Napoleon's sisters and the ladies of his court. The taste survived for at least a half century. A bit of paper that accompanied the set when Weil lent it to the Metropolitan Museum in 1929 stated that the mounts were designed by John Gibson (1790–1866), a British sculptor resident in Rome, and executed by Castellani, the Roman firm of goldsmiths. Saulini's studio was near Gibson's, and many artists turned to Castellani for mounts in the best "archaeological" style. Certainly an able hand modeled the tiara's acorns and oak leaves and the firm is not to be ruled out, but the leaves are pointier than in other oak jewelry known to be by Castellani.

The large stone in the tiara, despite the tradition probably not designed by Gibson, represents the toilet of Nausicaa, a rare subject even in ancient art. To ensure that Nausicaa, wise and beautiful daughter of King Alcinous of Phaeacia, would rescue the shipwrecked and travel-stained Ulysses as he slept in a bed of leaves at the mouth of the river Calliroe, Minerva directed her in a dream to go with her handmaids to the river to wash her family's linens. Here, though, her companions lavish their attention on the princess, fixing her hair, bringing her jewelry, and reflecting her beauty in a mirror. All but one of the other cameos copy ancient marbles. The bust in the brooch is of the Vatican's Apollo Belvedere. The three large stones in the necklace cite the statues Discobolus, Cupid and Psyche, and Cupid Stringing His Bow, the first in the Museo Nazionale in Rome, the last two in the Musei Capitolini. The unsigned nude youth with a hoop and a paddle on the clasp is after a long-lost ancient intaglio Johann Joachim Winckelmann singled out in his Thoughts on the Imitation of Greek Works in Painting and Sculpture, published in 1755. Its design survives in copies by Giovanni Pichler and others.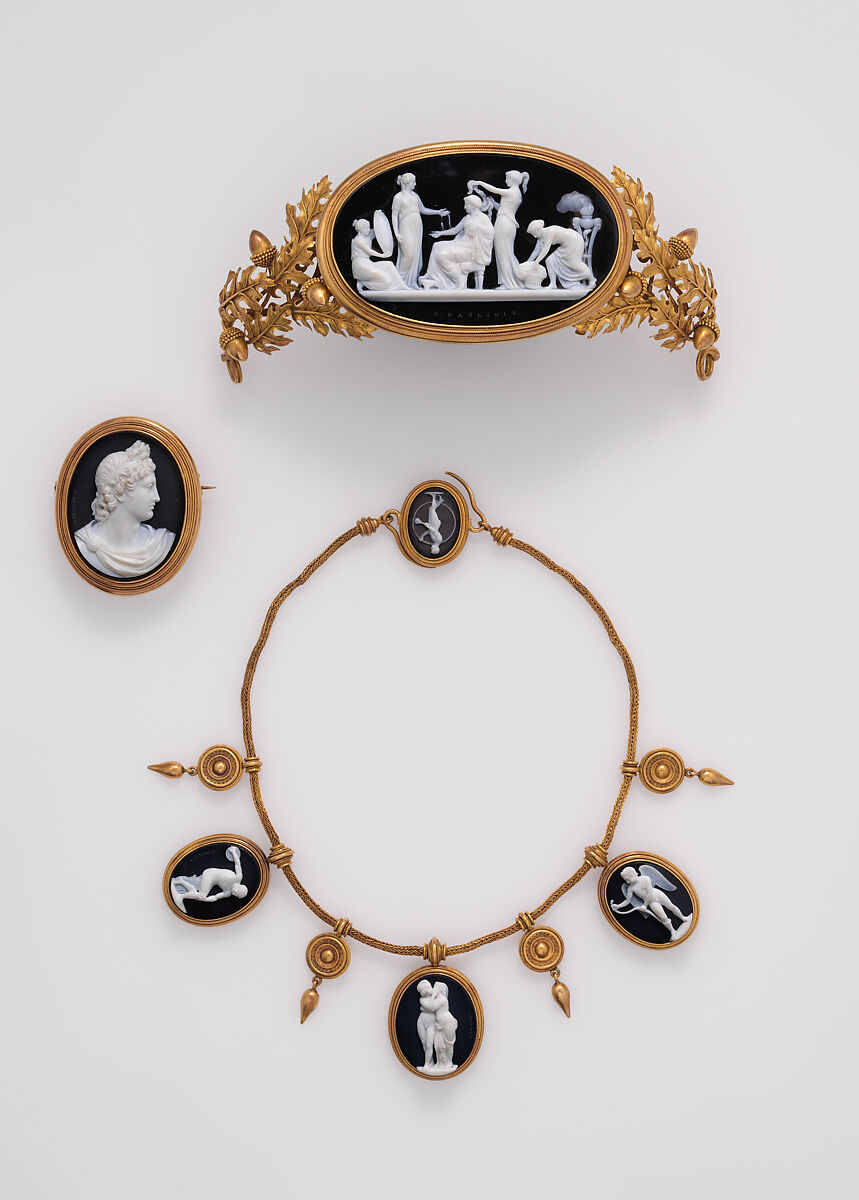 This artwork is meant to be viewed from right to left. Scroll left to view more.