Saint Peter
On view at The Met Fifth Avenue in Gallery 550
In spite of its small scale, the statuette is striking for its sense of monumentality and movement. Saint Peter strides forward, his left foot extending almost beyond the edge of the base, creating a series of deeply undercut, sharp folds in the mantle that envelops the figure. The apostle is absorbed in a book held in his left hand, the top middle finger marking a page, as if he were suddenly overtaken by an urge to read a passage. The scowling brows, incised pupils, hooked nose, curly hair, and full beard that emphasizes the bony face are masterfully modeled and tooled. Equally carefully studied are the muscles of the right arm and the articulation of the hand that holds the keys. Although intended to be viewed frontally, the statuette was fashioned in the round: the back is polished, and the silky mantle is elegantly draped so as to accentuate the sense of a figure in motion. The nearly flawless cast exemplifies the artist's technical skill in metalwork.[1]

The Saint Peter entered The Met in 1952 identified as a seventeenth-century Roman work. It has recently been reattributed to the Neapolitan transplant Cosimo Fanzago by the present author. Born in a small town near Bergamo, Fanzago was mainly active in Naples, where he died after a long and illustrious career as a sculptor and architect, and where his workshop became a mainstay of artistic production. He produced the statuette to flank a gilt-bronze tabernacle, enriched with lapis lazuli, jasper, and pietre dure and destined for the church of Las Agustinas Recoletas in Salamanca, Spain. The Saint Peter was one of many works in different mediums commissioned in Naples from Fanzago and other artists—including painters, craftsmen, and silversmiths—by Don Manuel de Zuñiga, count of Monterrey and viceroy of Naples. All were executed there and shipped to Spain in late 1637.

The tabernacle is still extant on the high altar of the church in Salamanca. The Saint Peter is recorded in a Spanish inventory in 1676[2] and cited by eighteenth- and nineteenth-century sources together with its pendant, an equally striking gilt bronze Saint Paul, presently in a private collection in New York (fig. 165a). The pair complement each other in stance, gesture, and expression.

Our statuette is an invaluable example of Fanzago's work in bronze, since much of his considerable oeuvre of metalwork has been lost or irreparably damaged. Of the surviving bronze statuettes, the Saint Peter and its pendant Saint Paul are among the best preserved. They were conceived probably between 1635 and 1636, a time when Fanzago was working on his major monumental marble statues. The two small-scale apostles show a new quest for movement, a more dynamic interaction between figure and space, and a more synthetic and effective treatment of complex masses of drapery. It is as though Fanzago experimented here with stylistic directions that would emerge full-blown in his larger marble projects at the beginning of the 1640s.
-PD'A

Footnotes
(For key to shortened references see bibliography in Allen, Italian Renaissance and Baroque Bronzes in The Metropolitan Museum of Art. NY: The Metropolitan Museum of Art, 2022.)


1. The statuette is remarkably thin and even appears to have been cast in one piece. R. Stone/TR, December 7, 2006.
2. Archivo Histórico Provincial de Salamanca, PN 4439, Matias de Zamora, 1676, c. 1679v.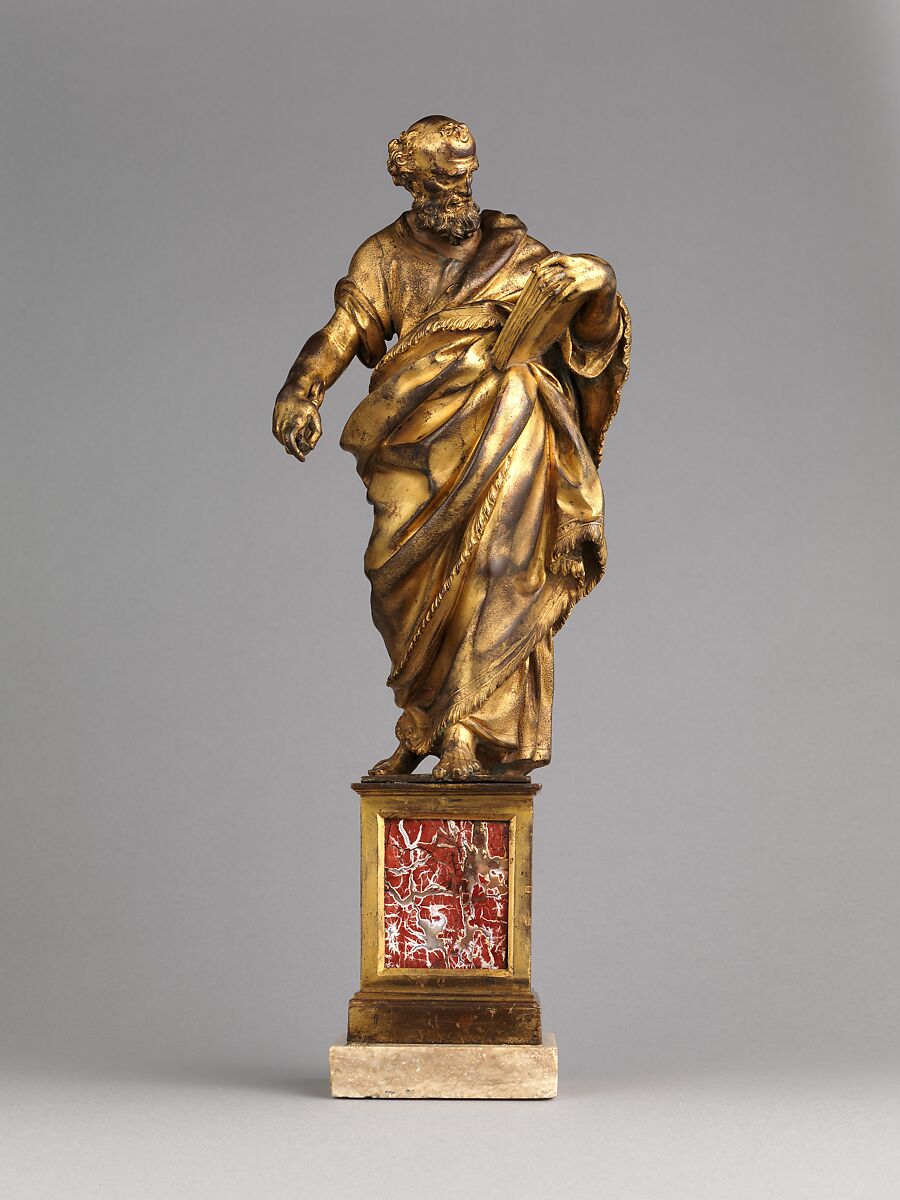 This artwork is meant to be viewed from right to left. Scroll left to view more.