Carpet (tapis)
Manufactory Savonnerie Manufactory

On view at The Met Fifth Avenue in Gallery 528
The initial goal of the Savonnerie manufactory was to imitate knottedpile carpets from the Near East, which were much admired in Europe, but during Louis XIV's reign the workshop established its own style. The field of this particular carpet still shows a dependence on Persian designs in its use of differently shaped compartments that are linked by strapwork. In a fusion of traditions, the naturalistic blossoms that fill these medallions as well as the cream-colored ground between them are purely European in nature. The broad border has a dense floral pattern against a black ground, which includes vases, baskets, and bowls of flowers similar to those found on so-called Louis XIII carpets. Among the depicted blooms are tulips and crown imperials, popular flowers that had been introduced to Western Europe from the Near East during the late sixteenth century.

That carpets were not always treated with respect is borne out by a remark of the British traveler and diarist Mary Berry (1763–1852). Describing a visit in 1802 to the Hôtel d'Elboeuf, the Parisian residence of Jean-Jacques-Régis de Cambacérès (1753–1824), Second Consul and author of the Napoleonic Code, she noted some "beautiful carpets, to which one's attention was every minute disagreeably called by all the men indiscriminately spitting upon them."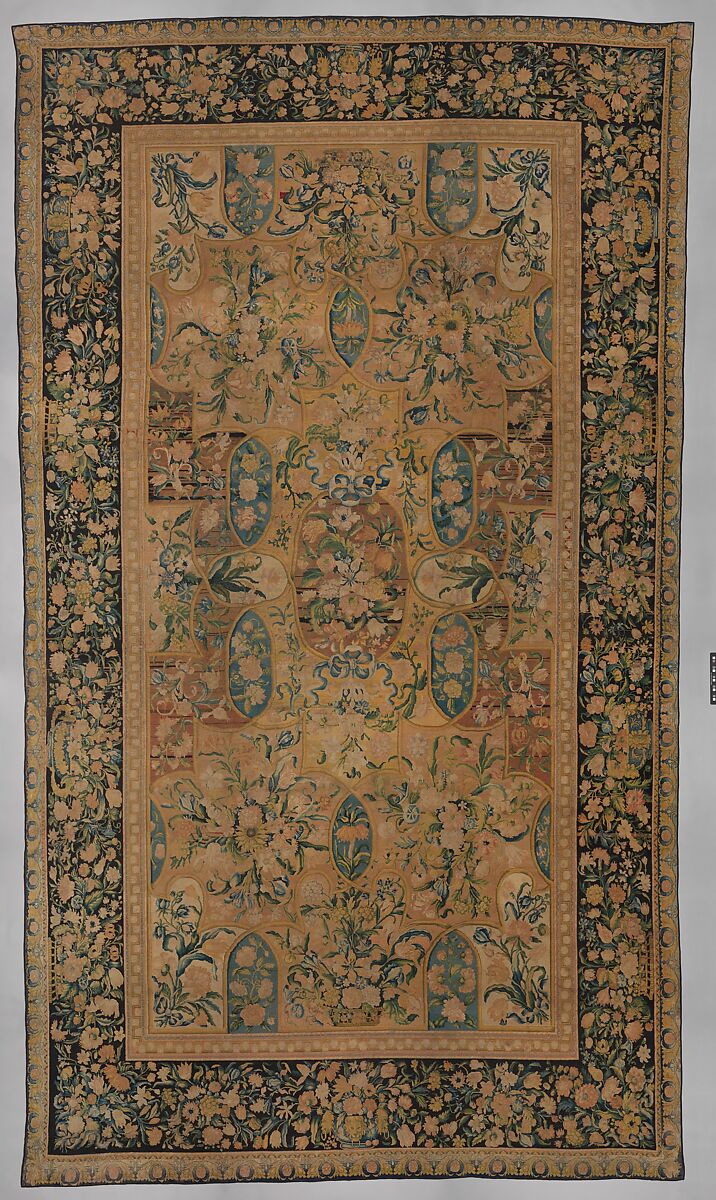 This artwork is meant to be viewed from right to left. Scroll left to view more.