Commode
André Charles Boulle French

On view at The Met Fifth Avenue in Gallery 542
In 1708, the prototypes for this commode, then called a pair of bureaux, were delivered to the Grand Trianon by André-Charles Boulle. The duc d'Antin, director of the king's buildings, wrote to Louis XIV: "I was at the Trianon inspecting the second writing desk by Boulle; it is as beautiful as the other and suits the room perfectly."[1] Not until the Trianon inventory of 1729 were the pieces described as "commodes." (They are often called commodes Mazarines because they stood during the nineteenth century and the first third of the twentieth in the Bibliothèque Mazarine in Paris.)[2] From the beginning, the design proved to be immensely popular, although it has also been criticized for an "awkward treatment of forms," meaning, in particular, the four extra spiral legs that were required to support the weight of the bronze mounts and marble top.[3] Nevertheless, the Boulle workshop made at least five other examples of this expensive model, including the Metropolitan's. Traditionally, they have been dated between 1710 and 1732, the year of Boulle's death; by 1730, however, the decorative style of the Sun King's long reign had been supplanted by the lighter forms of the Régence and early Rococo, and a date of 1710–20 is probably more accurate.

It seems strange that the duc d'Antin and probably Boulle himself should have called this new type of chest a bureau, yet they may have seen it in connection with the bureau plat, a flat-topped desk with a large writing surface that was currently being developed. A very fine example of the celebrated Boulle bureau plat is the one made for Louis-Henri de Bourbon (1692–1740), prince de Condé, for the Château de Chantilly.[4]

The design of the commode reflects the view of the late Louis Quatorze period that court art should be characterized by opulence and swagger. John Morley has pointed out that "the extraordinary way in which its body is, as it were, slung between the eccentric legs is somewhat reminiscent of carriage construction."[5] Indeed, if the tapering spiral supports behind the paw feet could be removed, the resemblance would be even more striking. Like one of the splendid carriages that rolled down the road to Versailles––a moving "billboard" for the glorification of its owner[6]––this commode was intended to impress.

A look at some details reveals the unsurpassed skill and artistic imagination of the Boulle workshop. The three-dimensional acanthus-leaf scroll mount on the upper drawer was a signature ornament of Boulle's, one that he employed on many pieces.[7] Its design is echoed in the light-catching two-dimensional brass-and-tortoiseshell marquetry on both drawer fronts. This refinement extends the movement along the surface of the piece and heightens the bulging appearance of the body, as if some power within was pressing the surface outward. This effect of surface tension is one of the reasons why Boulle's pieces dominate the space around them, becoming the focal point of any interior. Extraordinary are the female figures with paw-and-acanthus feet that support the sarcophagus-shaped body.[8] The sensitive finishing of the bronze surface of these sculptures is especially noticeable in the matted, feathery look of the wings, which is achieved by chiseling, and in the sheen of the burnished areas.

André-Charles Boulle, who was named King's Cabinetmaker, Chaser, Gilder, and Engraver in 1672,[9] headed an important workshop at the Louvre. He did not invent the metal-and-tortoiseshell marquetry technique named for him, but he perfected it, and it bestows upon his creations a unique look, raising them to a level of artistry where furniture becomes sculpture. Through his etchings Boulle publicized his exquisitely fashionable line of products, both stimulating and reflecting a new taste for luxurious furnishings.[10] Every collector of grand French furniture has acquired a "Boulle," either an original workshop example or one of the countless copies that were made during the late-eighteenth, nineteenth, and twentieth centuries.[11]

[Wolfram Koeppe 2006]

Footnotes:
1. "J'ai été à Trianon pour voir le second bureau de Boulle; il est aussi beau que l'autre et sied à merveille à cette chambre"; quoted in The Metropolitan Museum of Art. The Jack and Belle Linsky Collection in The Metropolitan Museum of Art. New York, 1984, p. 206, no. 126 (entry by William Rieder).
2. They were installed at the Château de Versailles in 1932.
3. James Parker in Olga Raggio, James Parker, Clare Le Corbeiller, Jessie McNab, Clare Vincent, and Alice M. Zrebiac. "French Decorative Arts during the Reign of Louis XIV, 1654–1715." The Metropolitan Museum of Art Bulletin 46, no. 4 (Spring 1989), pp. 20–21. See also Louis XIV: Faste et décors. Exh. cat., Museée des Arts Décoratifs. Paris, 1960, p. 19, nos. 84, 85, pl. XXXV; Jean-Pierre Samoyault. André-Charles Boulle et sa famille: Nouvelles recherches, nouveaux documents. Hautes études médiévales et modernes 40. Geneva, 1979, pp. 68, 84–85; and Daniel Meyer. Versailles: Furniture of the Royal Palace, Seventeenth and Eighteenth Centuries. Vol. I, Prestigious Royal Furniture. Trans. Ann Sautier-Greening. Dijon, 2002, pp. 54–57, no. 9.
4. Pierre Arizzoli-Clémentel. Versailles: Furniture of the Royal Palace, Seventeenth and Eighteenth Centuries. Vol. 2. Dijon, 2002, pp. 42–45, no. 6.
5. John Morley. The History of Furniture: Twenty-five Centuries of Style and Design in the Western Tradition. Boston, 1999, p. 154, fig. 275.
6. Rudolf H. Wackernagel. Der französische Krönungswagen von 1696–1825: Ein Beitrag zur Geschichte des repräsentativen Zeremonienwagens. Neue Münchener Beiträge zur Kunstgeschichte 7. Berlin, 1966.
7. Peter Hughes, The Wallace Collection: Catalogue of Furniture. 3 vols. London, 1996, vol. 2, p. 644, no. 138. I am most grateful to Yannick Chastang, London, for bringing this detail to my attention when we examined the commode, in the company of Mechthild Baumeister, Conservator, Department of Objects Conservation, Metropolitan Museum, in March 2004.
8. The screws with which they are attached to the body are unusually large. They can be seen as a particular workshop feature, as they repeatedly recur on pieces by Boulle. For a similar sarcophagus-shaped commode, see ibid., vol. 2, pp. 632–38, no. 136.
9. "ébéniste, ciseleur, doreur et sculpteur du roi"; Alexandre Pradère. Les ébénistes français de Louis XIV à la Révolution. Paris, 1989. English ed.: French Furniture Makers: The Art of the Ébéniste from Louis XIV to the Revolution. Trans. Perran Wood. London, 1989, p. 67.
10. Ibid., pp. 66–108.
11. For copies, see Claudio Paolini, Alessandra Ponte, and Ornella Selvafolta. Il bello "ritrovato": Gusto, ambienti, mobili dell'Ottocento. Novara, 1990, pp. 382, 393; and Theodore Dell. "French Furniture: Eighteenth and Nineteenth Centuries (Part I)." In Frick Collection, The Frick Collection: An Illustrated Catalogue, vol. 6, Furniture and Gilt Bronzes: French, ed. Joseph Focarino, pp. 3-240. New York, 1992, pp. 233–46.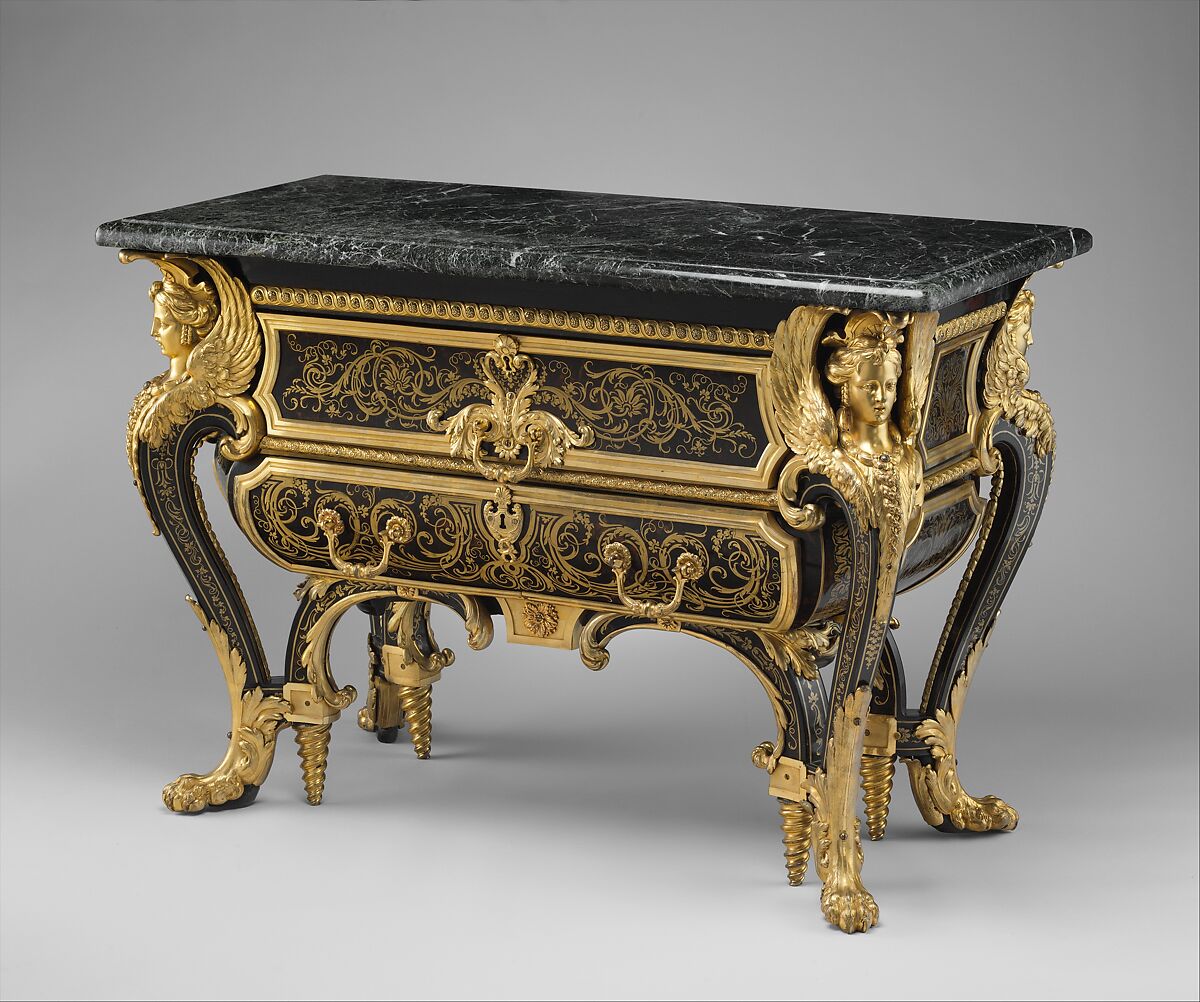 This artwork is meant to be viewed from right to left. Scroll left to view more.