Microscope
Optical elements by Claude-Siméon Passemant

On view at The Met Fifth Avenue in Gallery 525
Qualifying both as a work of art and as a scientific instrument, this microscope exemplifies beautifully the broad interests of mid-eighteenth century amateurs who dabbled in the sciences to explore the mysteries of the natural world. This compound microscope contains three convex lenses in its inner cylinder, which fits into a wooden tube covered with green shagreen, an animal or fish skin, in this case from the tropical stingray Dasyatis (or Trygon) sephen. The three white "pearls" visible on the shaft of the microscope originally marked the center of the ray's back and hide. Polished and often tinted green, the attractive granular surface of ray- and sharkskin was fashionable in mid-eighteenth century France for the decoration of small cases, snuffboxes, and other luxurious objects.

In order to use the instrument, the ornamental gilt-bronze finial must be unscrewed, thus giving access to the eyepiece and allowing the owner to look at a specimen under magnification. Claude-Siméon Passemant, who was scientific instrument maker to Louis XV and worked in lodgings in the Palais du Louvre, provided the optical elements. Known for the creation of clocks, celestial and terrestrial globes, telescopes, and barometers, Passemant signed the base "Passemant au Louvre." The metalworker responsible for the graceful tripod stand with its C-scroll and inverted C-scroll decoration in gilt bronze has not been identified. Still functional, this piece may have belonged to the king himself, who was interested in physics, chemistry, and botany. A series of prints depicting scientific instruments in the royal collection kept at the Château de la Muette shows three different views of a microscope that is very similar, if not identical, to this one.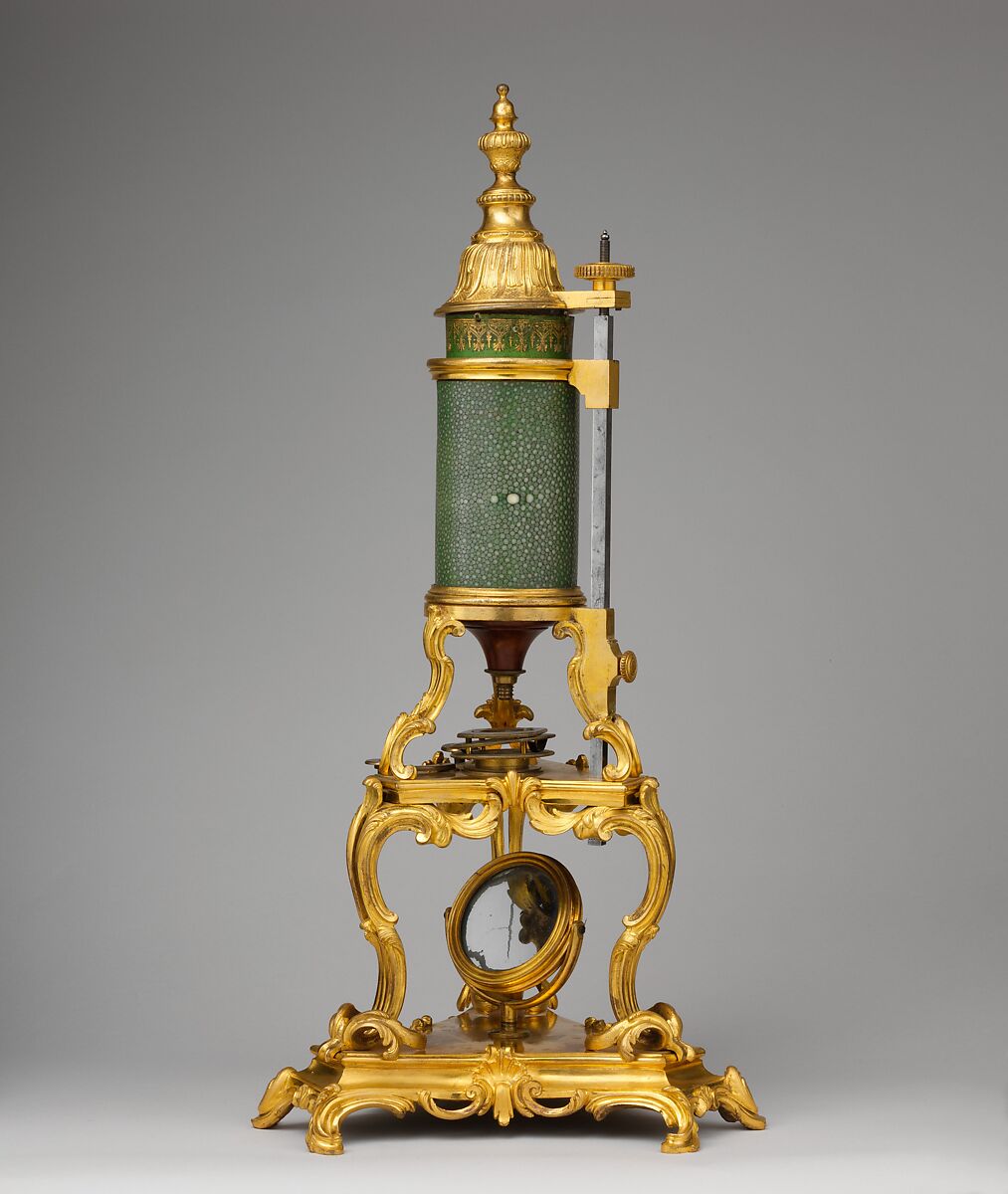 This artwork is meant to be viewed from right to left. Scroll left to view more.