Table
Attributed to Pierre Gole

On view at The Met Fifth Avenue in Gallery 531
When it was sold from Mentmore Towers, Buckinghamshire, in 1977, this exceptional table was described as in the manner of Leonardo van der Vinne. A talented artist of Flemish or Dutch origin, Van der Vinne made marquetry furniture at the Medici court in Florence during the second half of the seventeenth century.[1] In the mid-1980s, however, the table was reattributed to Pierre Gole,[2] based on documentary evidence and after comparison with a few extant pieces thought to be by the same hand.

Gole, who was born in Bergen, near Alkmaar, the Netherlands, went to Paris about 1643 and there was apprenticed to Adriaan Garbrand (also recorded as Adrien Garbrant), a cabinetmaker known for his work in ebony.[3] Having married Garbrand's daughter Anne in 1645, Gole eventually took over the workshop. He continued in the manner of his father-in-law, making large, elaborate cabinets veneered with ebony.[4] On 26 September 1651 Gole was named menuisier en esbène ordinaire du roi (maker of ebony furniture, or ébéniste, to the king).[5] It was not until the mid-1650s that this talented master began to specialize in exquisite floral marquetry, a new and colorful type of veneer decoration that put an end to the fashion for solemn ebony furniture. Gole was one of the first cabinetmakers to work in this new technique and may, in fact, have introduced it in Paris. Gole supplied two cabinets decorated with flowers, birds, and insects in ivory, tortoiseshell, and various kinds of woods to Cardinal Jules Mazarin (1602–1661). They were mentioned in the inventory drawn up after Mazarin's death in an entry that, most exceptionally, included the maker's name.[6] Chief minister to Louis XIV (1638–1715), Mazarin was a great connoisseur who amassed an impressive art collection. The cardinal clearly favored Gole's work because, not long before his death, he commissioned the artist to make two important cabinets as gifts to the king in memory of himself.[7]

Working primarily at his own shop in the rue de l'Arbre-Sec but at times also at the Manufacture Royale des Meubles de la Couronne, in the Hôtel des Gobelins, where, beginning in 1662, furnishings for the royal residences were produced, Gole received many commissions from the crown. A well-known tapestry at the Château de Versailles recording a royal visit to the manufactory on 15 October 1667 shows the chief artists employed there displaying examples of their work.[8] In the foreground three craftsmen are carrying a precious table for inspection by the king. Decorated with elaborate marquetry in a tortoiseshell ground, the table is thought to be the work of Gole, who himself is, almost certainly, depicted behind it. The table in the tapestry may have been one of the many pieces by Gole that were destined for Versailles, a hunting lodge that Louis XIV enlarged and transformed into his principal residence and in 1682 made the seat of his court and government.

Since nothing is known about the early history of the Museum's table, one can only guess that it was among the more than one hundred tables, often supplied with a pair of matching candlestands (guéridons), that Gole made for the crown.[9] Its rectangular top is veneered with tortoiseshell and divided by decorative bands of ivory and ebony into different segments, in the manner of pietre dure (hardstone) mosaic works, by which it may have been inspired (fig. 24). The central motif consists of a four-lobed cartouche containing a stylized bouquet tied with a bow-knotted ribbon. The flowers, executed in different woods and ivory, do not overlap and have been almost symmetrically arranged. In an attempt to heighten the sense of naturalism–and to enrich the vivid color scheme that intensifies the resemblance to pietre dure–green-tinted ivory was chosen for the leaves. Gole was the only cabinetmaker working for the French crown to make such extensive use of this exotic material, both colored and in its natural state.[10]

Several of the ornamental borders appear to be characteristic features of the artist's oeuvre. Examples are the band of ivory and tortoiseshell laurel leaves running along the edge of the tabletop and the large and small circles of ivory and ebony on the frieze and along the sides of the double-Y-shaped stretcher that joins the legs.[11] The ebony and ivory decoration on the stretcher seems to be composed of the leftovers from the decorations on the frieze, which are more beautiful and legible, suggesting that the ébéniste made frugal use of the expensive materials. The four tapering, columnar legs, which are also considered to be typical of Gole's work, end in ebony bun feet decorated with ivory stringing. They display simulated fluting of ivory above and floral marquetry below. The Tuscan capitals, the ring moldings or so-called astragals, and the bases–all of which are crafted of gilded bronze–must have been ordered elsewhere, for Gole's workshop did not have a foundry.

The Museum's table is thought to date about 1660 because a very similar table was listed in Mazarin's inventory of 1661. Since it was not mentioned in an inventory of the cardinal's possessions drawn up in 1653, the table must have entered his collection after that year. The description of Mazarin's table includes a reference to a marquetry butterfly above the central bouquet, possibly about to alight on one of the flowers.[12] This creature is not present on the Museum's piece, which does, however, include a mothlike insect in one of the outer borders.

During the nineteenth century this richly decorated piece of furniture was at Mentmore Towers, the stately mansion built by the architect Joseph Paxton (1801–1865) for Baron Mayer Amschel de Rothschild (1818–1874). It was probably among the many French furnishings that the baron acquired for Mentmore, but this is not documented. In 1874 his only daughter, Hannah (1851–1890), inherited the house as well as her late father's fortune. She and her husband, Archibald Philip Primrose, the fifth earl of Rosebery (1847–1929), a liberal politician who served as England's prime minister in 1894–95, added considerably to the Mentmore collections, making them world renowned.[13] The table could have been one of their purchases. A catalogue of the contents of Mentmore published in 1884 listed in the library a French "table inlaid with marqueterie" of "the Louis XIII period." This may possibly have been the one now attributed to Gole.[14]

Footnotes

1. Catalogue of a sale by Sotheby Parke Bernet on behalf of the executors of the sixth earl of Rosebery, Mentmore, Buckinghamshire, vol. 1, 18–20 May 1977, pp. 276–77, lot 875.
2. Lunsingh Scheurleer 1984, pp. 336–37, figs. 17, 18. The table was first published in an entry by James Parker in Metropolitan Museum of Art 1986, pp. 28–29, and most recently in Lunsingh Scheurleer 2005, pp. 81, 90–91, 251, figs. 44, 50, 51.
3. For information about Gole, see Lunsingh Scheurleer 2005.
4. One of these pieces is thought to be in the collection of the Rijksmuseum, Amsterdam. See Lunsingh Scheurleer 1993, pp. 82, 84, fig. 2; and Baarsen 2000b, pp. 48–53, figs. 55–59.
5. Ronfort 1985, pp. 36, 38.
6. Lunsingh Scheurleer 1980, p. 380.
7. Ibid., pp. 380, 384. These cabinets have not been preserved.
8. The tapestry belongs to the ambitious Story of the King series woven at the Gobelins Manufactory starting in 1665; Meyer 1980a, pp. 109–16.
9. A list of furnishings supplied by Gole to the crown is given in Lunsingh Scheurleer 2005, pp. 231–38.
10. A list of furnishings supplied by Gole to the crown is given in Lunsingh Scheurleer 2005, pp. 231–38.
11. These borders are also found on a cabinet on stand attributed to Gole in the collection of the Victoria and Albert Museum, London; see Wilk 1996, pp. 66–67 (entry by Carolyn Sargentson). See also a cabinet in the Rijksmuseum, Amsterdam; Baarsen 2000b, pp. 52–55, figs. 60–62.
12. "Une table d'escaille de tortue profilée et presque toute couverte d'ornemens d'ivoire, au milieu de laquelle est un grand ovale à quatre angles dans lequel est un bouquet de diverses fleurs de bois et d'ivoire liez d'un ruban de bois au dessus duquel est un papillon aussy de bois; avecq son pied à quatre collomnes d'escaille de tortue profilées d'ivoire par la moitié et l'autre moitié de fleurs de bois, dont les bases, astragalles et chappitaux sont de cuivre doré. Longue de trois pieds six poulces, large de deux pieds quatre poulces." This description of Mazarin's table in the 1661 inventory is quoted in Lunsingh Scheurleer 1984, p. 336.
13. See Sir Francis Watson's introduction to the Mentmore sale catalogue, vol. 1, pp. ix–xiii.
14. Mentmore 1884, vol. 2, p. 63, no. 72. In addition, "numerous tables of marqueterie and boule" stood against the walls of the Gallery; Mentmore 1884, vol. 2, p. 152.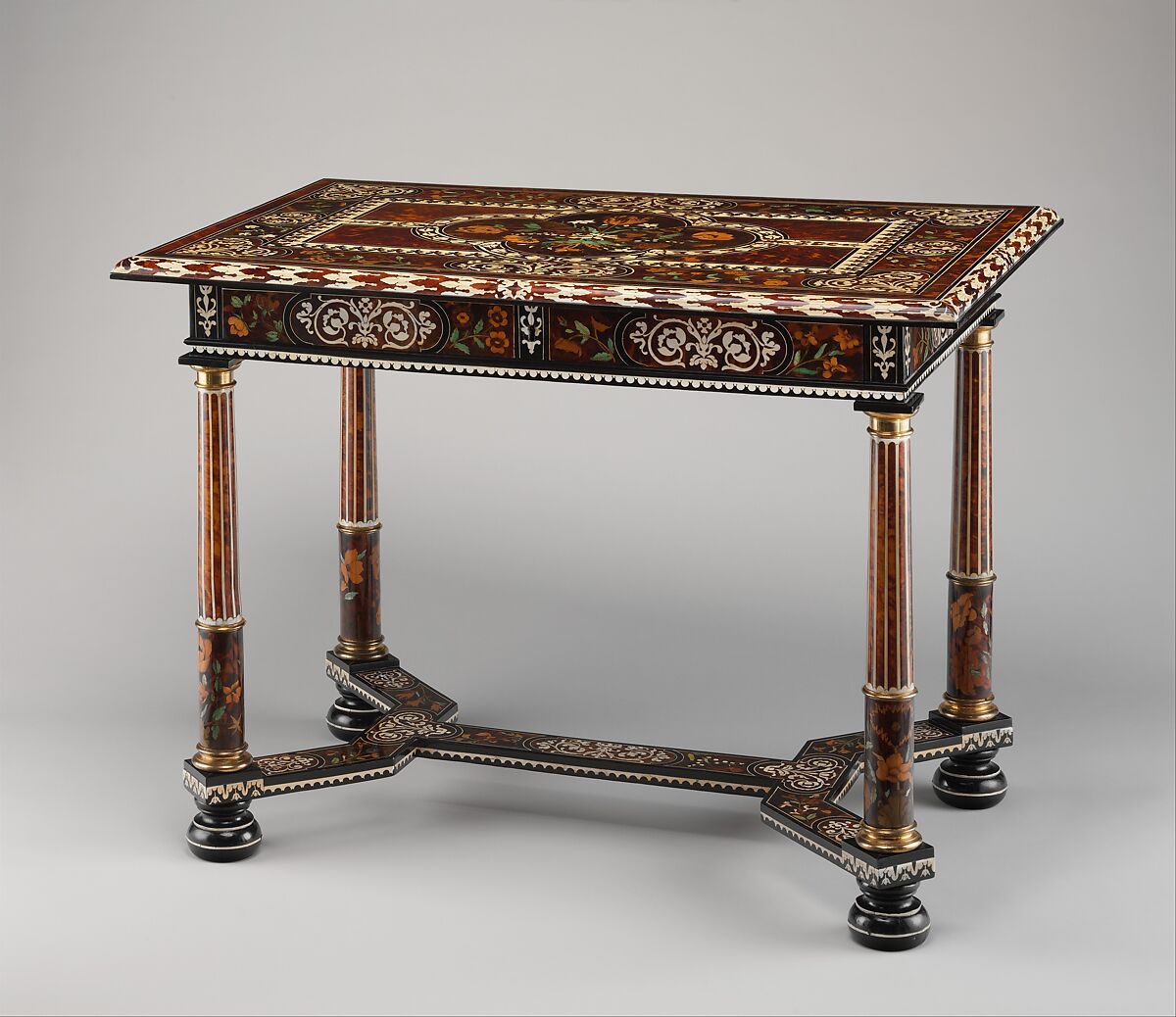 This artwork is meant to be viewed from right to left. Scroll left to view more.