Side chair
After a design by Christopher Dresser British, Scottish
Chubb & Sons

Not on view
This ebonized chair with gilt, incised decoration reflects the changes in furniture ornamentation and construction that occurred in the second half of the nineteenth century. Design reformers called for a reduction of heavily carved furniture. Exuberantly rendered naturalistic or architecturally derived decoration that was typical of mid-century furniture was deemed immoral, fallacious, and gaudy–it was also difficult to clean since it trapped dust and dirt. Shallow, incised ornamentation was considered more appropriate.

Most commercial furniture decorated with glued, machine-carved elements was objectionable to design reformers. In his effort to reform "bad taste" in furniture design and interior decoration, Charles Locke Eastlake condemned excessive decoration and unnecessary affectation, advocating ornamentation suitable to the object it adorns and insisting that the least amount of embellishment be employed. While this chair exhibits many of the qualities required by Eastlake, it also fulfills the conditions demanded by its designer, Christopher Dresser. Although Dresser had called Eastlake "the apostle of ugliness," occasionally he agreed with him and considered Eastlake's popular book, Hints on Household Taste (1868), worth reading. Dresser also admonished heavy carving and declared in his Principles of Decorative Design (1873) that details and decorative enrichment must be subordinate to the work as a whole.

Dresser illustrated this chair in his 1873 publication (fig. 27) as "in the manner of an Egyptian chair." He stressed the importance of construction, commenting that a chair soundly designed allows the user to sit confidently–unlike many contemporary examples, including Eastlake's. Although Dresser accepted the position that some aspects of the chair illustrated here were not perfectly correct, he did approve of it from a stylistic and historical perspective. The stylized palmettes and foliage reflect his interest in Egyptian motifs as well as botanical forms.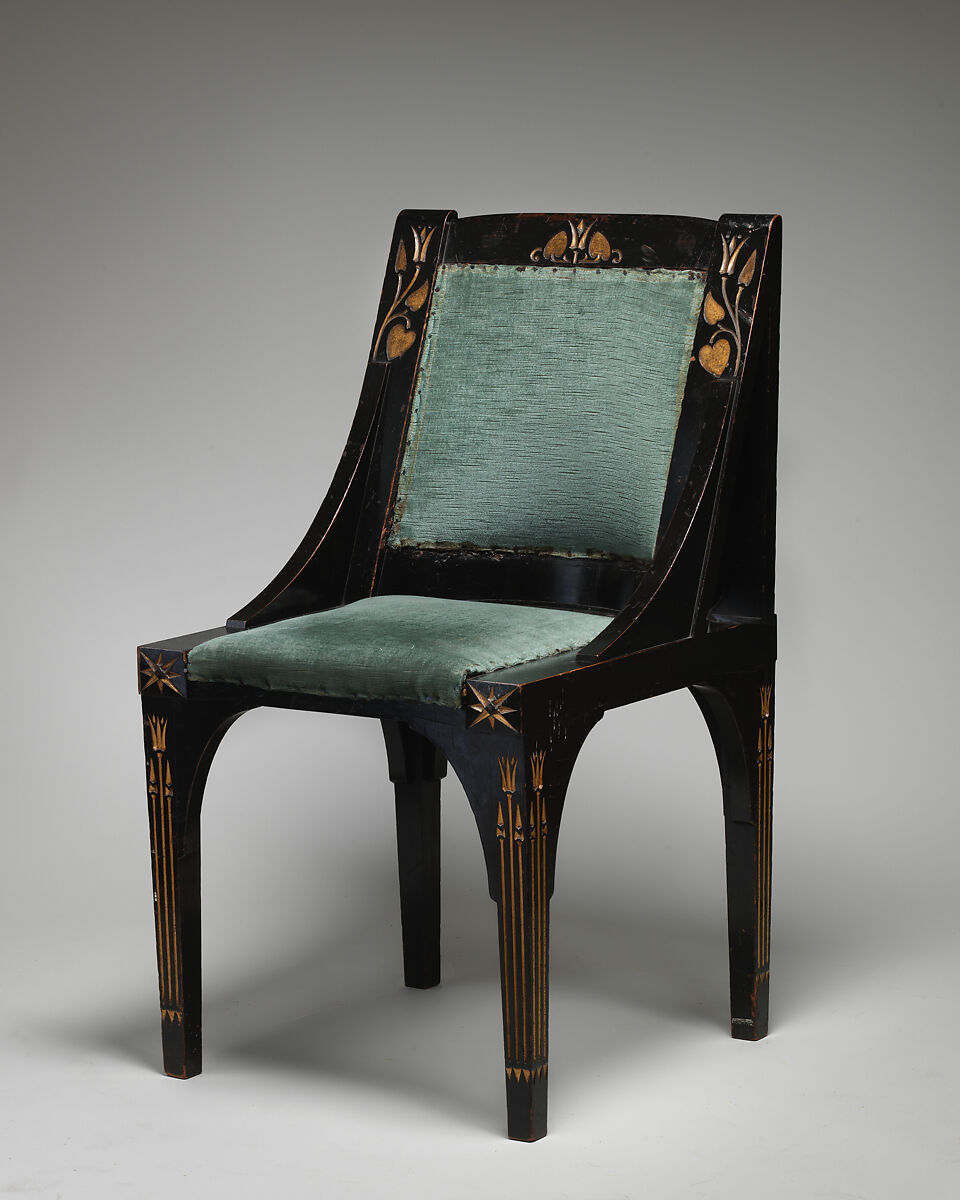 This artwork is meant to be viewed from right to left. Scroll left to view more.