Curb Bit
On view at The Met Fifth Avenue in Gallery 373
This adorned ceremonial horse bit was probably made for an important figure of the Royal court of Naples, at this time ruled by the French family of Anjou.

The iron mouthpiece, according to contemporary equestrian manuals, was designed for horses with a hard mouth and widely-split lips. The U-shaped curb bar, attached to the mouthpiece and pierced with trefoils and quatrefoils, was placed around the lower jaw. It would have pressed the sensitive chin of the horse when the reins were pulled. The long gilded shanks are decorated with several four-sided knobs bearing dragons and birds on enameled backgrounds. The remaining large side boss is decorated with a square shield bearing a coat of arms: barry Or and Sable (gold and black), placed in a quatrefoil, and surrounded by gilded birds on a blue and red enameled background. The other boss, preserved in the musée de Cluny, in Paris, bears the arms of another family: Azure (blue), a bend between a star and a crescent Or. These two coat of arms are also visible on the hooks' tabs at the top that were hanging the bit from the bridle, as well as on both sides of the right swivel rein ring (the left swivel was replaced during its working life).

The barry Or and Sable arms probably belongs to the Ceva family, which was close to the Angevin rulers at that time. One of its members, Giovanni, is known to have been the stratigoto (an official judge) of King Robert I of Anjou (1277-1343) in the city of Salerno. We do not have more information about his life, but it is not impossible that the bit belonged to either him or one of his close relatives. The second coat of arms possibly belongs to a branch of the Benoist family, which originated from the south of France.

The association of these coat of arms would have symbolized the marital alliance of these two families. Therefore this bit could have been made at the occasion of a wedding, and then used by one the spouses during parades or other official festivities and ceremonies taking place at the Neapolitan court. The ornamental parts of the bit were made by a French workshop in Naples or by local goldsmiths working in the French taste.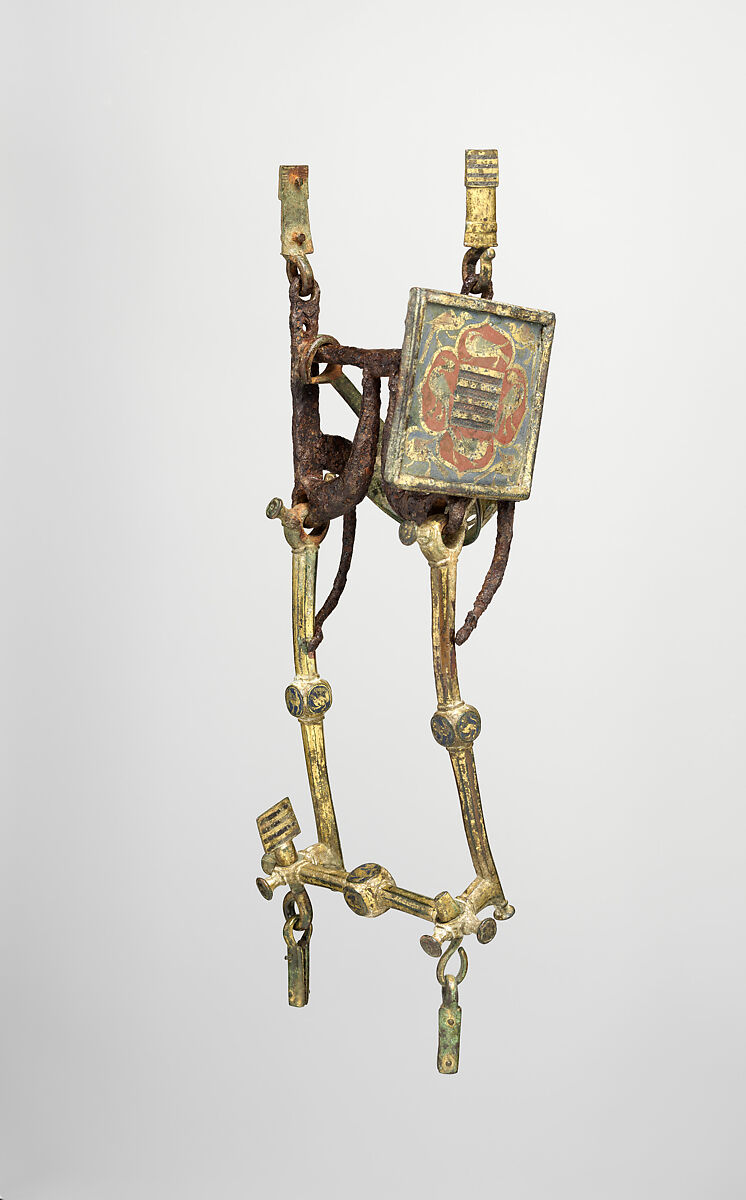 This artwork is meant to be viewed from right to left. Scroll left to view more.