Fragments of a textile with Medici emblems
Not on view
This fragment is all that remains of a spectacular example of the weaver's art. A red satin fabric, visible only in the outline of the design, was used as a foundation for a sumptuous pattern composed of glittering metal threads. Gold and silver metal strips were wound around colored silk threads to create the flexible threads that were then woven into pile loops. This is not technically classed as a velvet because the loops are made from metal thread wefts, not from supplementary silk warps, as in a true velvet.

The design is the same as that seen on the back of the birth tray commissioned for Lorenzo de' Medici (see 1995.7): the three feather/plumes encircled by a diamond ring above a scrolling ribbon containing the word SEMPER, meaning "always." The feathers on the textile were originally silvery-white, red, and green, but the silver metal thread has tarnished, leaving the feather on the left side looking dull gray.

Though we cannot be sure of the original dimensions of the textile, it was probably woven as a long border, with a repeating pattern of the Medici device, which may have alternated with other symbolic emblems relating to the family. A valuable textile such as this, specifically woven for the Medici family, would most likely have been reserved for use during important family events, such as marriages, or used on an important piece of furniture, such as the best bed in the household or a canopy covering a ceremonial chair. The device of the three feathers encircled by the ring above the motto SEMPER was used to decorate a variety of objects; other examples include a maiolica bowl, horse trappings, and ceremonial headgear.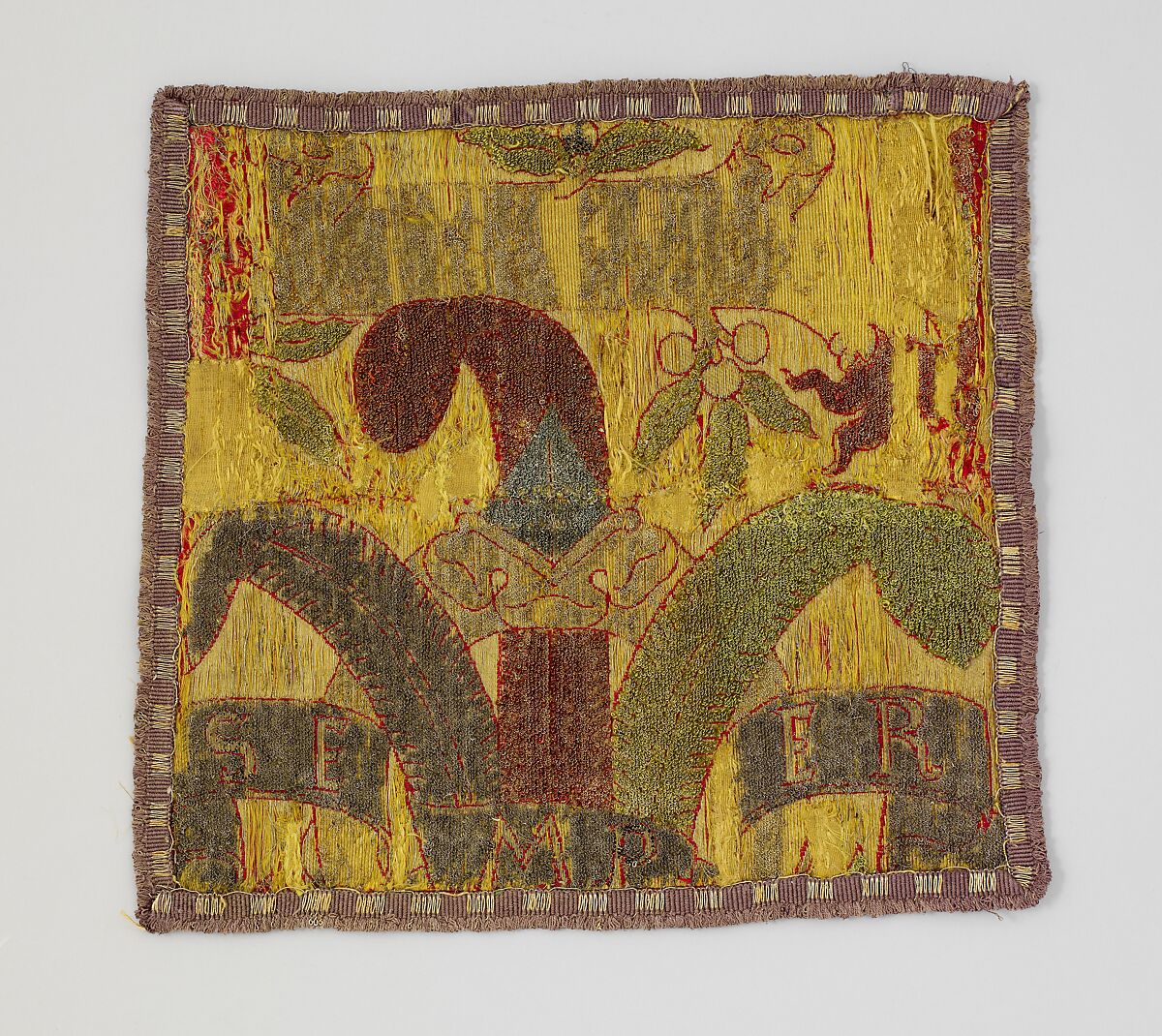 This artwork is meant to be viewed from right to left. Scroll left to view more.