Woman from the French Colonies
Charles-Henri-Joseph Cordier French
Pedestal attributed to designs by Charles-François Rossigneux French

On view at The Met Fifth Avenue in Gallery 556
Charles cordier combined two personal interests —  the new science of ethnography and polychrome sculpture —  to produce an entirely original category of work. In 1848, following training at the Petite École (École Spéciale de Dessin et de Mathématiques) in Paris and with the sculptor François Rude, he exhibited, when only twenty-one, at the Paris Salon. His first submission, a plaster bust of Saïd Abdallah of the Darfour tribe, coincided with the abolition of slavery in France and its colonies, established by law on April 27 of that year. In his unpublished "Mémoires," he wrote, "My art incorporated the reality of a whole new subject, the revolt against slavery and the birth of anthropology." [1] Three years later, he was named ethnographic sculptor to the Musée d'Histoire Naturelle in Paris, and in that capacity he traveled to Algeria (1856), Greece (1858 – 59), and Egypt (1865). Sketches and models made during the voyages inspired a series of portraits of the people of those and other countries that would become the mainstay and lasting achievement of his career.

As a young student in Paris, Cordier was also aware of the ongoing academic debate as to whether ancient Greek and Roman sculpture was colored or not. Antoine-Chrysostome Quatremère de Quincy's reconsideration of the fifth-century-b.c. gold-and-ivory statue of Olympian Jupiter (destroyed) had brought about a more accurate knowledge of polychromy in antique art when published in 1814.[2] Ancient Roman statues composed of variously colored marbles, such as the Old Fisherman (also known as Dying Seneca; Musée du Louvre, Paris), and Renaissance mixed-media works by Nicolas Cordier, such as Moor (ca. 1600, now Versailles), both then at the Palais du Louvre, drew his attention. [3] His 1856 mission to Algeria gave him the opportunity to study African physical types; on that trip he also found onyx deposits in recently reopened ancient quarries and, inspired by historical example, began to use the material in his sculpture. The Negro of the Sudan (1856, Musée d'Orsay, Paris) was the first work in which he fit a bronze head into an onyx bust and turban. Cordier was not alone in his taste for color in sculpture: his contemporary Jean-Léon Gérôme in France and the younger Vincenzo Gemito in Italy and Alfred Gilbert in England were similarly inclined. But Cordier was the most consistent in combining colored sculpture and ethnographic subjects.

Cordier's most lavish multimedia busts of ethnic people found favor with collectors at the highest social level, for example, Napoléon III and Queen Victoria, who were no doubt drawn to them because of their own colonialist interests. [4] For such costly commissions he would create a model that could be varied with different stones and paints. The Goat Tender of the Colonies (La Capresse des Colonies), for instance, features a brilliantly striated chunk of Algerian onyx-marble that evokes a vibrantly colored costume; it contrasts with the darkly patinated bronze head and shoulders that are inserted into the stone. Smooth flesh and nubbly hair are set off by gold and enameled earrings. For another version of The Goat Tender, in the Musée d'Orsay, Paris, Cordier selected a less variegated marble for the drapery and he complemented its golden hue by gilding the turban. [5]

The Goat Tender's alert, upturned face and coquettish smile contrast with the sober, downturned countenance of The Jewish Woman of Algiers (La Juivre d'Alger). For the latter, a predominantly white onyx-marble is matched with a white enamel fired into the bronze floral pattern of the blouse. Brightly colored enamels make stripes in the turban and in the brooches that pin it to the hair. Inset amethyst eyes gleam against the smooth surface of the woman's bronze skin. For a different version in the Musée des Beaux-Arts, Troyes, Cordier used red enamel for the blouse, which he matched by painting part of the marble cloak red and gold. [6] For grand sculptures such as these, he delighted in varying the colors and effects.

As Cordier's busts were increasingly sought by collectors, he began to create pairs, generally male and female, as decorative ensembles. The Goat Tender (first version exhibited in 1861) was paired with The Negro of the Sudan (first shown in 1856) in an exhibition in London in 1862. [7] The Jewish Woman of Algiers was paired after 1866 with The Arab Sheik of Cairo, in examples in the Van Gogh Museum, Amsterdam, and in two now-lost pairs.[8] By contrast, the Metropolitan's group presents a same-​sex pair representing different countries and races of the African continent.

The Museum's two busts were exhibited in 1863 in the Exposition de la Société Artistique des Bouches-du-Rhône, Marseilles, and purchased there by the Cercle des Phocéens, a gentlemen's gambling club in that city.[9] The first owners of the busts may have viewed them as decorative representations of the opposite sex, but Cordier's idea in creating them was to illustrate the universality of beauty. In his words, "Because beauty is not the province of privileged race, I give to the world of art the idea of the universality of beauty. Every race has its beauty, which differs from that of other races. The most beautiful Negro is not the one who looks most like us, nor the one who presents the most pronounced characteristics associated with his race. It is the individual in whom are united such forms and traits, and a face that reflects with harmony and balance the essential moral and intellectual character of the Ethiopian race." [10]

At the time of their purchase, the Cercle des Phocéens acquired pedestals for the busts, evidently based on designs by Charles-François Rossigneux. These neo-Rococo matching pedestals in red and white marble are decorated with gilt-bronze decorations of sprays of flowers —  one with horn, flute, panpipes and thyrsus, the other with torch and bow. Cordier used this design for other pedestals. Having himself designed a number of torchères and atlantids to ornament interiors in the Second Empire style, he was mindful of the need to integrate his sculpture with the decor of the room where it would stand. As he wrote in 1864, "Polychrome sculpture is not made for gardens, but for interiors that are already lavish." [11]

Footnotes

1. "Mémoires et notes écrits par Charles Cordier, statuaire, chevalier de la Légion d'honneur, né à Cambrai le 1er novembre 1827, décédé à Alger le 19 avril 1905," copy in the archives, Documentation du Musée d'Orsay, Paris, p. 10; translated in Margerie 2004b, p. 15.

2. Quatrèmere de Quincy 1814. See Blühm 1996, pp. 15 – 22.

3. See Papet 2004, esp. pp. 53 – 54, figs. 20a, 21.

4. Busts of Saïd Abdallah and The African Venus were purchased by Queen Victoria and are now in Osborne House, East Cowes, Isle of Wight; Durand-Révillon and Margerie 2004, p. 205, nos. 480, 481. The version of The Goat Tender of the Colonies illustrated here as figure 64 was purchased for Emperor Napoléon III in July 1861; on that work, see note 5 below.

5. Ibid., p. 151, no. 64 (ill. p. 56)

6. Ibid., p. 183, no. 331 (ill. p. 62).

7. Ibid., p. 152, nos. 70, 71.

8. Colour of Sculpture 1996, pp. 172 – 74, nos. 48, 49, for the pair in Amsterdam; see also Durand-Révillon and Margerie 2004, p. 154, nos. 86 – 91, for the dating.

9. They were numbers 343 and 344 in the exhibition; Margerie 2004c, p. 231.

10. Cordier 1862, p. 66; translated in Margerie 2004b, p. 28.

11. Cordier to the comte de Nieuwerkerke, translated in Margerie 2004a, p. 133 (entry of April 1864). Similar pedestals were chosen for The Goat Tender and Negro of the Sudan (Durand-Révillon and Margerie 2004, p. 152, nos. 70, 71). See also the photograph by Léon Cordier of his father's stand at the Exposition Universelle of 1867, showing a similar pedestal supporting Arab Sheik of Cairo (in Facing the Other 2004, p. 81).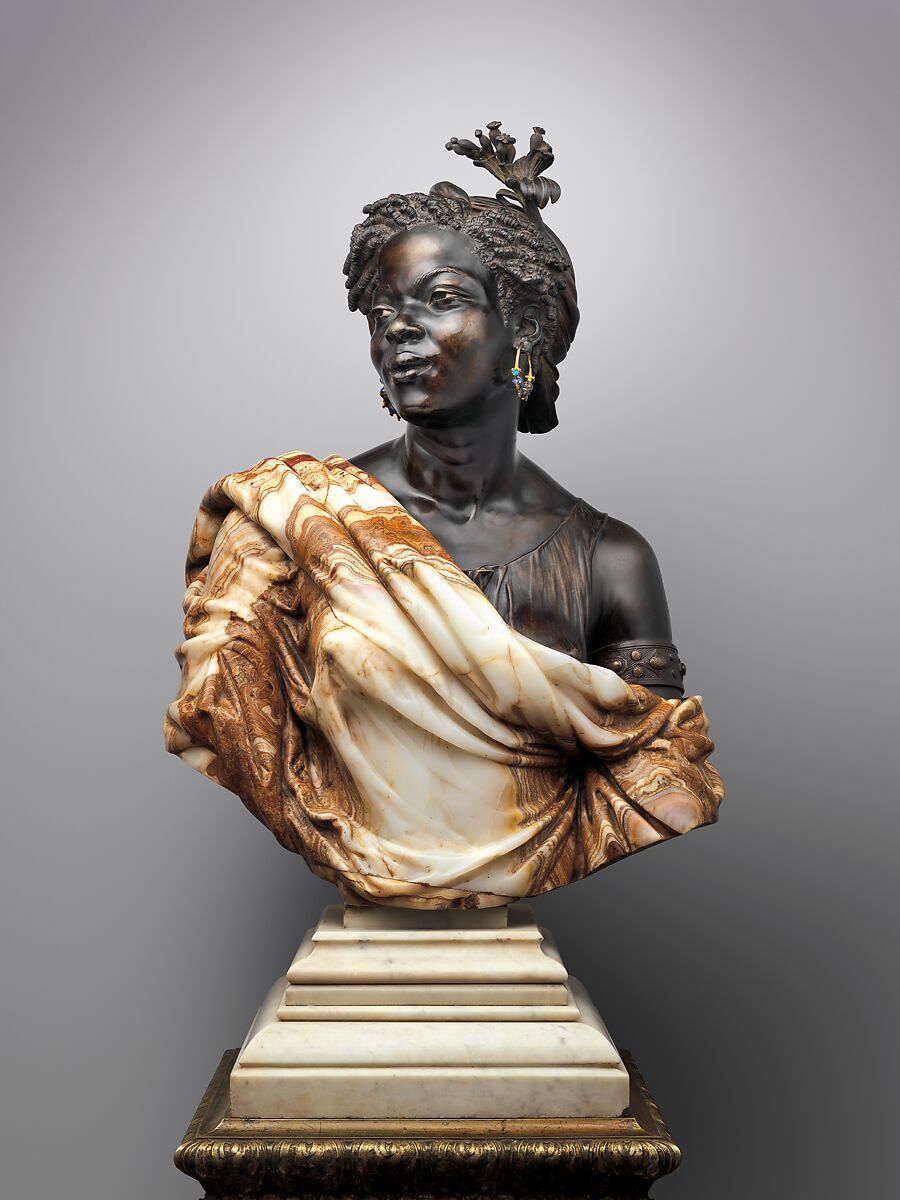 This artwork is meant to be viewed from right to left. Scroll left to view more.