Game table
David Roentgen German

On view at The Met Fifth Avenue in Gallery 547
An advertisement in the periodical Annonces, affiches et avis divers for January 8, 1781, listed the furniture for sale in the Parisian shop of David Roentgen. Among the various pieces mentioned were tables for playing quadrille, trictrac, and other games, executed in mahogany and well finished and polished like marble, a description that would fit an ingeniously crafted table like this one in the Museum's collection. Fitted with a triple top, the multifunctional piece can be converted from a console table (when closed ) to a felt-covered cardor game table with an inlaid check-ered surface for chess and to a leather-lined desk for reading and writing, complete with a ratcheted book rest. Furthermore, it harbors a box rising on springs with a backgammon board that can be taken out for separate use. The table also includes two tambour-covered compartments for the storage of cards, counters, and other paraphernalia. One of the back supports has a gateleg mechanism that can be adjusted to hold the hinged leaves at different angles. With the attention to detail typical of Roentgen's Neuwied workshop— one of the most productive and successful in Europe — the surfaces of the Museum's table were veneered with figured mahogany resembling veined marble.

Born and active in the Rhineland, the enterprising Roentgen sold furniture all over Europe, including Versailles. In 1780 he became a mem-ber of the Parisian guild of cabinetmakers, and the following year he opened his own store in the French capital. Roentgen rarely signed his pieces, and although this table is typical of his output it bears the stamp of the French cabinetmaker Pierre Macret (1727–ca. 1796 ). Macret stopped making furniture in 1771; however, he may have repaired or sold this multifunctional table (and stamped it at that time) before retiring from business in 1787. Macret's stamp indicates that this sophisticated piece of Neoclassical furniture was in Paris during the eighteenth century and may, in fact, have been made specifically for the French market.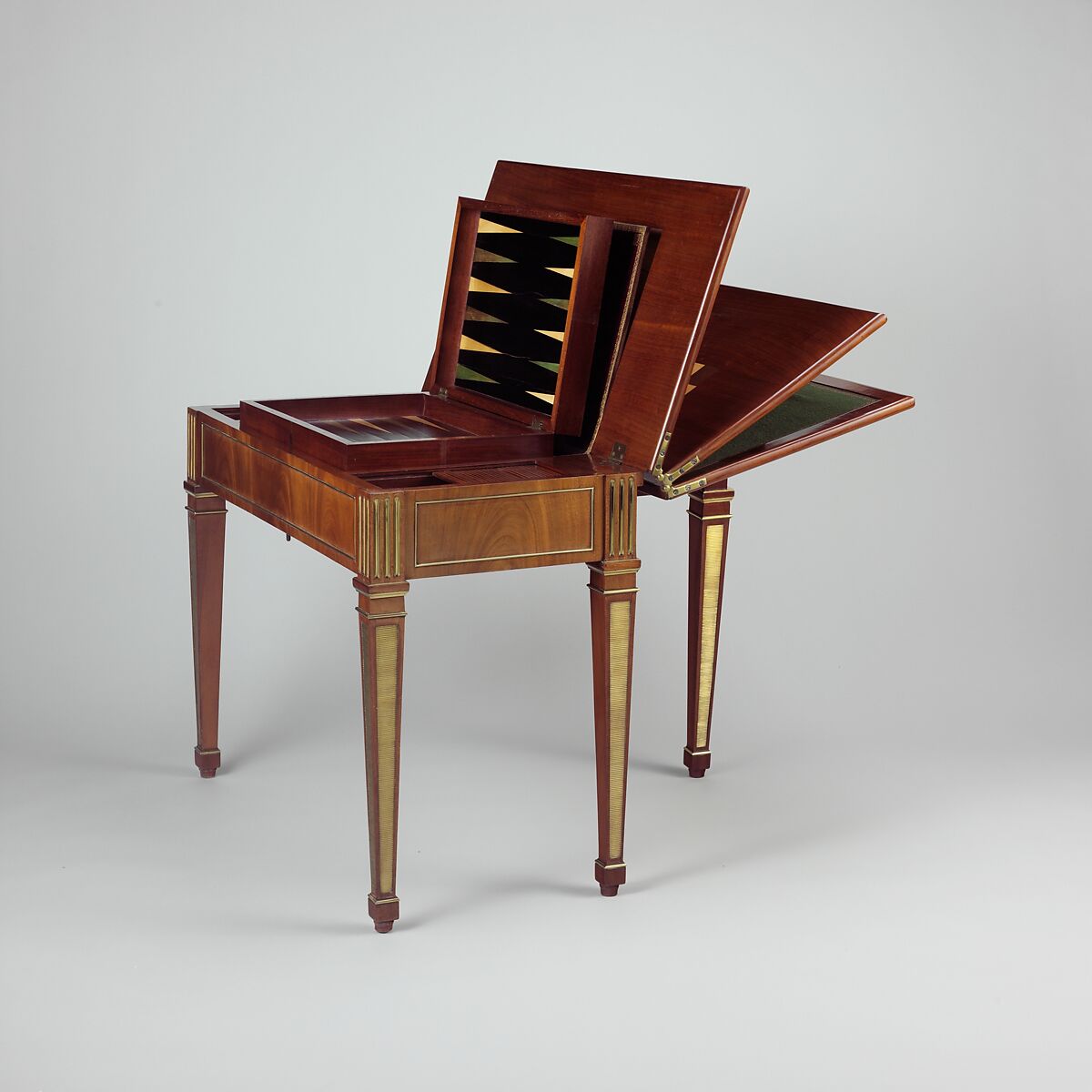 This artwork is meant to be viewed from right to left. Scroll left to view more.