Glass garland bowl
On view at The Met Fifth Avenue in Gallery 166
Colorless, translucent purple, translucent honey yellow, translucent cobalt blue, opaque yellow, and opaque white.

Vertical, angular rim; convex curving side, tapering downwards; base ring and concave bottom.

Four large segments of colorless, purple, yellow, and blue, and applied to the interior of the bowl at the center of each segment a hanging garland, comprising an inverted V-shaped white string above a U-shaped swag made up of a mosaic pattern formed from polgonal or circular sections of four different composite canes: one in a yellow ground with a white spiral, a second in a purple ground with yellow rods, the third in a colorless ground with white lines raditating from a central yellow rod, and the fourth in a blue ground a white spiral. The four different canes are arranged in pairs side by side but the order in which they are placed differs in each swag. On interior, a single narrow horizontal groove below rim.

Intact, except for one small chip in rim; pinprick and larger bubbles; dulling, pitting of surface bubbles, faint iridescence on interior, and creamy iridescent weathering on exterior.

This cast glass bowl is a tour-de-force of ancient glass production. It comprises four separate slices of translucent glass-purple, yellow, blue, and colorless-of roughly equal size that were pressed together in an open casting mold. Each segment was then decorated with an added strip of millefiori glass representing a garland hanging from an opaque white cord. Very few vessels made of large sections or bands of differently colored glass are known from antiquity, and this bowl is the only example that combines the technique with millefiori decoration. As such it represents the peak of the glass worker's skill at producing cast vessels.
#1072. Glass garland bowl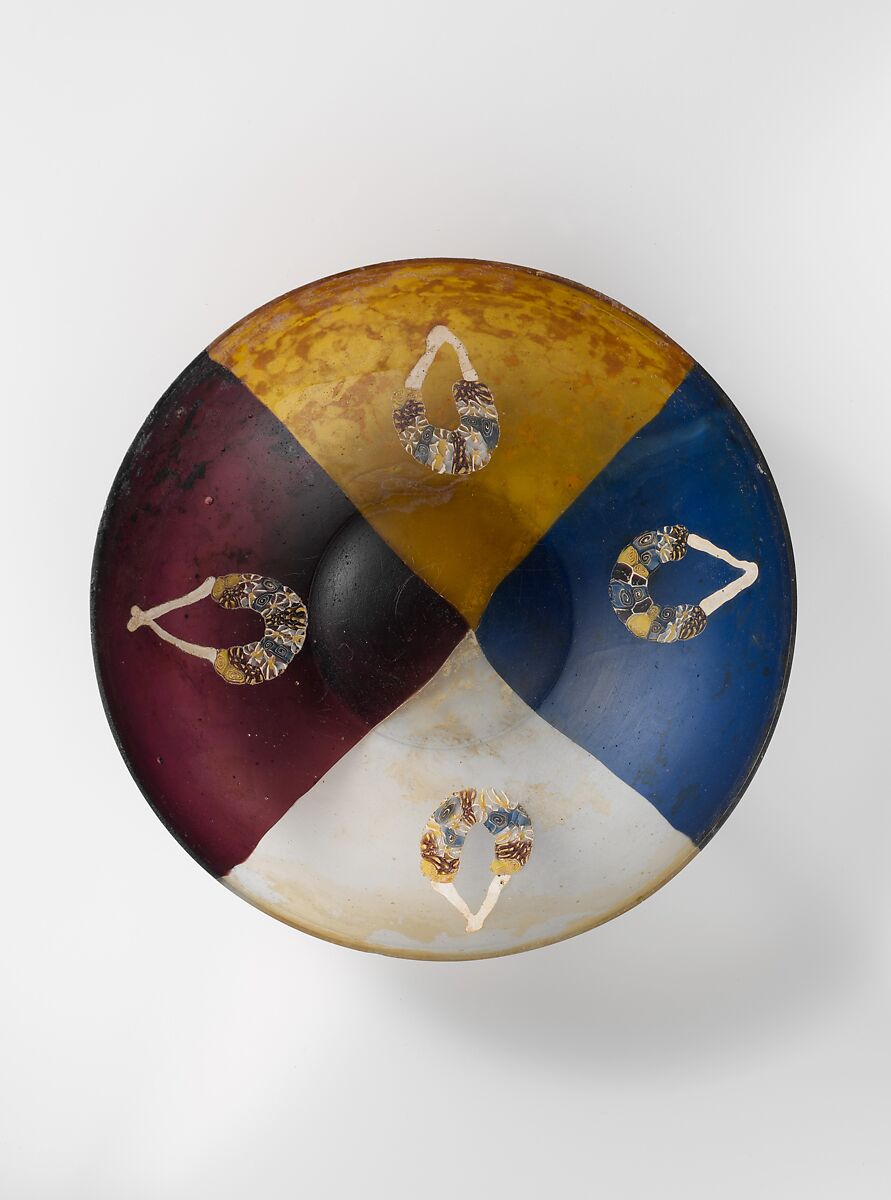 This artwork is meant to be viewed from right to left. Scroll left to view more.