Glass bottle in the shape of a fish
On view at The Met Fifth Avenue in Gallery 171
Translucent blue green.
Rim folded out, round, and in; tall cylindrical neck, expanding slightly downward, with horizontal tooled indent around base; uneven sloping shoulder; lentoid body, molded in the shape of a fish, ending with its mouth as a slightly pointed bottom.
Dorsal fin along one edge, showing eleven spikes on proper left side and nineteen smaller and less distinct spikes on right side; small protrusion on other edge, perhaps also indicating a small fin under belly of fish; four-part fins at sides, with three crescent-shaped gills between scales on body and plain face; almond-shaped eyes with relief pupils; mouth with angular ridges and prominent lips; crescent-shaped and knob-like scales arranged in rows on body .
Broken and repaired on neck , with part of rim missing, numerous cracks on proper left side of body; pinprick bubbles; some pitting, dulling, and faint iridescence on exterior; thick soil encrustation and iridescent weathering on interior.

Only a small number of Roman mold-blown bottles in the shape of a fish are known, but they constitute an interesting group for a number of reasons. So far thirteen examples have been recorded. Finds range from Cyprus and western Asia Minor to the Black Sea coast of Moesia and Judaea, while other examples have been found in the West and even in the Persian Gulf. It is likely that the center for production was located in one of the coastal regions of the eastern Mediterranean (the Syro-Palestinian littoral or, possibly, western Asia Minor), whence the vessels could have been easily dispersed by means of maritime trade.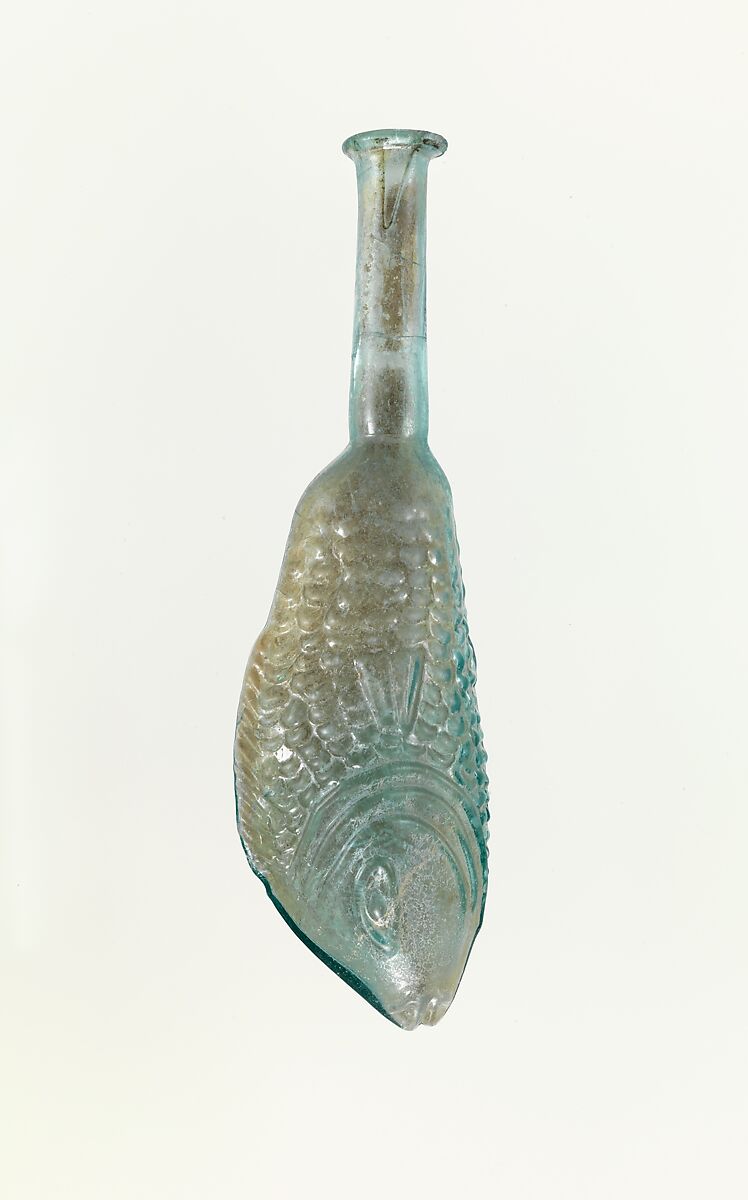 This artwork is meant to be viewed from right to left. Scroll left to view more.