Helmet
Not on view
This helmet is distinctive both for the quality of its workmanship and for the lively character of its engraved and gilt decoration. Because of its overall form and the style of its ornament, it appears to be an early example of helmet types that are usually associated either with the later part of the Ming dynasty (1368–1644) or the more familiar ceremonial helmets of the Qing dynasty (1644–1911).

The gilding of the fittings consists of two layers: silver foil burnished onto a crosshatched ground, over which a layer of gold was applied, probably by mercury gilding. This unusual two-stage technique gives the gilding its deep golden yellow luster. It also serves to highlight the crisply engraved ornament, which embellishes the helmet's finial, brim, and brow plate. In the center of the brow is the figure of Buddha Shakyamuni seated on a lotus throne. The Buddha is flanked by the four lokapala, the heavenly guardians of the four directions. Lively dragons, one on each side of a flaming pearl, appear on the finial and brim, a standard motif on virtually all later Chinese ceremonial helmets. Here, however, the design is rendered with a freshness and originality that are unknown on later, more stereotypical examples. Therefore, the innovative nature of the decoration, combined with the skillful construction of the helmet, suggest that this is a very early example of its type. Like some other rare examples of Chinese art, its survival is apparently due to its preservation in Tibet, where it may have been sent from China during the Ming or Qing dynasties as a gift to a high-ranking secular or religious official.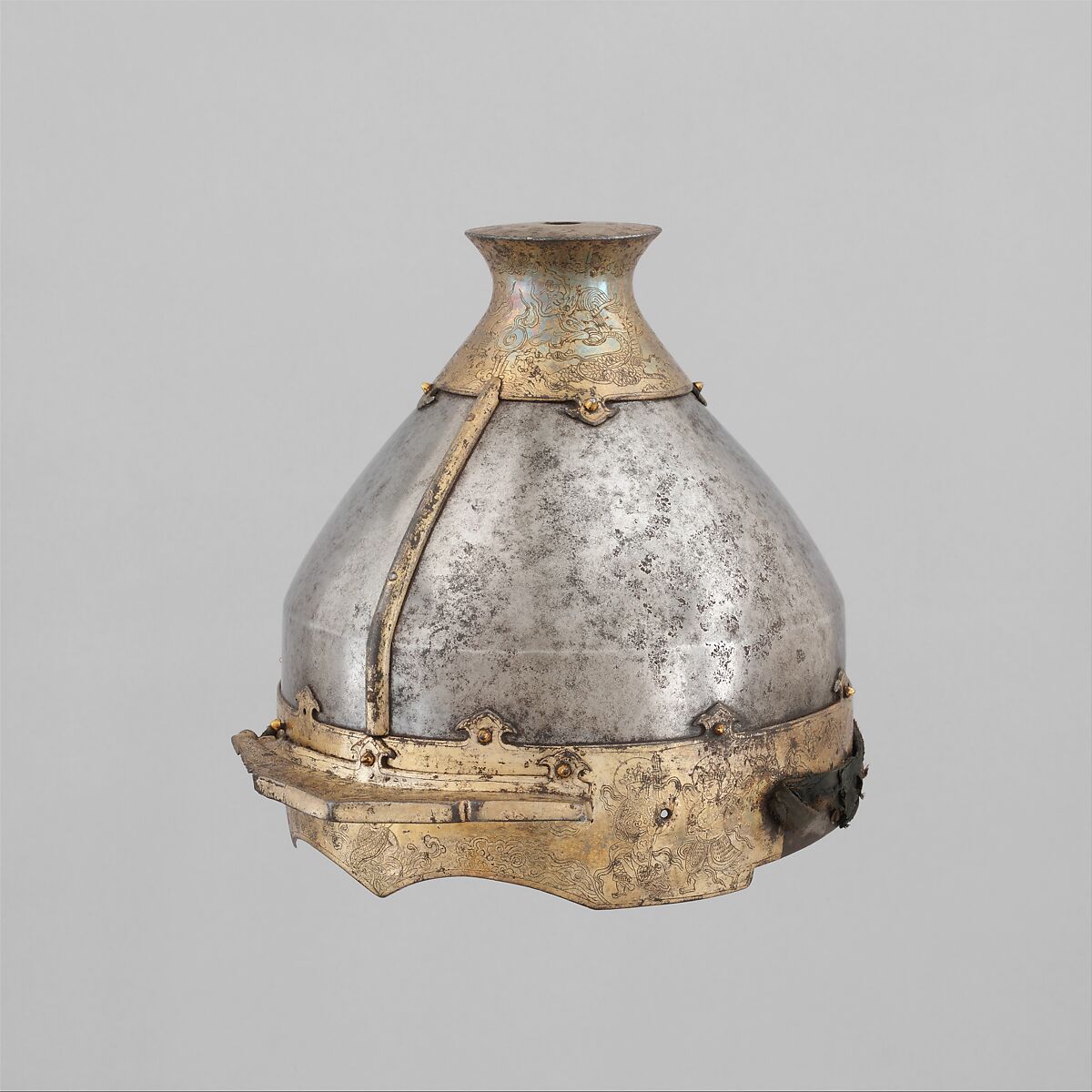 This artwork is meant to be viewed from right to left. Scroll left to view more.