Armor (Gusoku)
Helmet signed by Bamen Tomotsugu Japanese

On view at The Met Fifth Avenue in Gallery 377
With Tokugawa Ieyasu (1543-1616) winning the decisive Battle of Sekigahara in 1600 and unifying all the local warlords under his rule, Japan returned, after a century of military conflicts, to peace and stability. This entailed, however, a significant decrease in the production of arms and armor, and by the end of the seventeenth century only higher ranking Samurai, e.g., Daimyō (feudal lords), were able to afford new, custom made suits of armor.

Accordingly, only few lineages of armorers survived. The Bamen School was one of them, tracing its origins to the turbulent late sixteenth century. Legend has it that some of their masters produced excellent shaffrons (Japanese: bamen) whereupon their employer, the Honda clan, allowed them to use the term as the name for their school. Tomotsugu, the maker of this armor, was active at the turn of the eighteenth century and the last great master of the Bamen School. The helmet bowl is made from 84 ridged iron plates and the cuirass consists of eight vertical plates connected with ornamental rivets, an interpretation referred to as byō-toji okegawa-dō. The armor is endowed with shakudō (gold-copper alloy) crests of three whirling commas which are associated with the Okabe family, the feudal lords of Kishiwada (present day Kishiwada City in Osaka Prefecture).

One of the key features of this armor is its extremely rare color scheme of the lacings of the kusazuri (skirt). Usually, the color of the lacing changes between rows, e.g., grading from bright at the belt to dark at the bottom, this pattern then repeated on each of the skirt's segments. Here, however, the colors change between the seven segments, starting at the right waist in white, becoming gradually darker going around the torso, i.e. red, yellowish-green, and black. To create symmetry, the neck guard (tare or suga) duplicates the red lacing of the central skirt element, whereas the shoulder guards (sode) and neck guard (shikoro) of the helmet are completely laced in white and only pick up red color accents along their bottom rows.

Not only is the workmanship of this armor and its materials of the highest quality, the suit also represents a fine specimen of late tōsei-gusoku (modern armors) from a time before medieval armor styles were revived.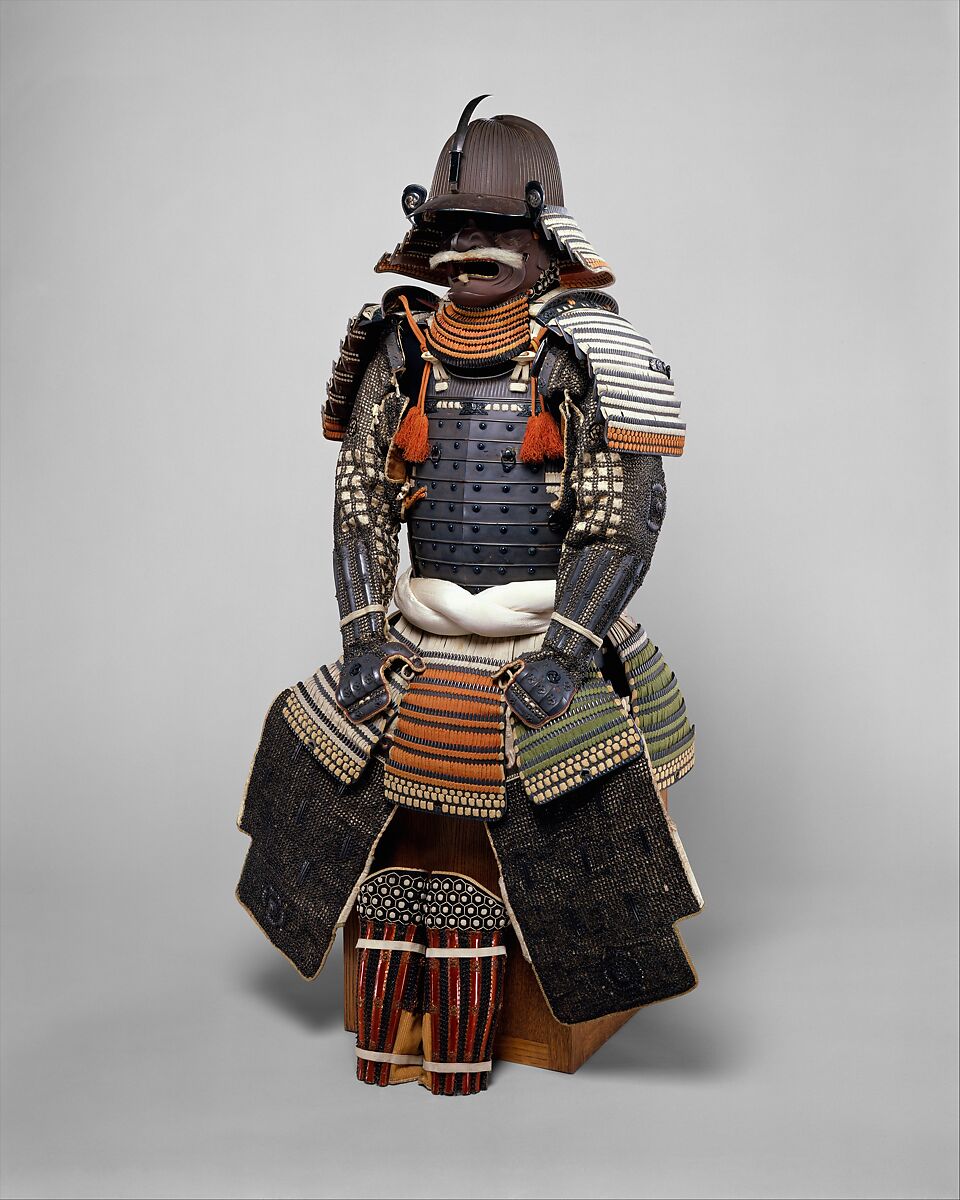 This artwork is meant to be viewed from right to left. Scroll left to view more.