Marble portrait head of the Emperor Constantine I
On view at The Met Fifth Avenue in Gallery 169
Constantine the Great was the first Christian emperor of Rome, and his reign had a profound effect on the subsequent development of the Roman, later Byzantine, world. By 325 he had succeeded in reunifying the empire, having defeated the last of his former tetrarchic colleagues, the eastern emperor Licinius. He thereafter aimed to establish a new dynasty and to found a new capital, named Constantinople after himself. Christianity played an important role not only in Constantine's personal life and success, but also in the program of reform and renewal that he had planned for the Roman Empire.
Although the court and administration no longer resided at Rome, Constantine was careful not to neglect the old imperial city and adorned it with many new secular and Christian buildings. The most famous of these is the triumphal arch, the Arch of Constantine, which still stands near the Colosseum. Similarly, the fragments of a colossal statue that now adorn the courtyard of the Museo del Palazzo dei Conservatori in Rome, probably once stood in imposing grandeur in the main hall of the Basilica of Maxentius, a building that was completed by Constantine. Both of these works contain re-used material from earlier monuments, a practice that was not only economical but probably was also intended to shed reflected glory of the emperor by associating his reign in a very direct and practical way with that of famous "good" emperors from the past. The long face, neatly arranged hairstyle, and the clean-shaven appearance of this portrait head are a deliberate attempt to evoke memories of earlier rulers such as Trajan, who in the later third and fourth centuries was seen as an ideal example of a Roman emperor. Certainly, by the time that the head was set up, as part of either a bust or, more probably, an over life-sized statue, Constantine had adopted an official image that was intended to set him apart from his immediate predecessors.
#1203. Marble portrait head of the Emperor Constantine I, Part 1
Playlist

1203. Marble portrait head of the Emperor Constantine I, Part 1

1204. Marble portrait head of the Emperor Constantine I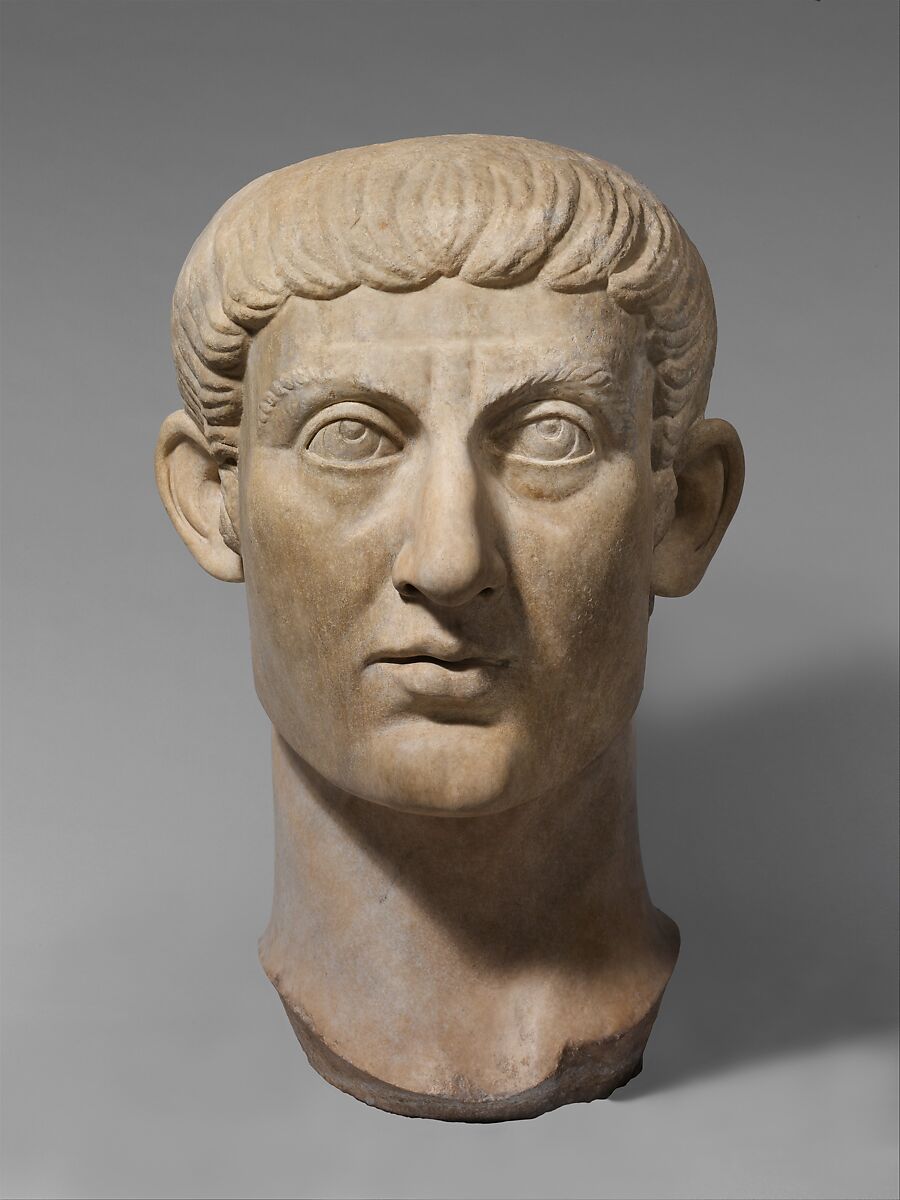 This artwork is meant to be viewed from right to left. Scroll left to view more.