Blade and Mounting for a Dagger (Tantō)
Blade inscribed by Uda Kunimitsu Japanese

Not on view
Uda Kunimitsu lived in Uda in Yamato (present-day Nara Prefecture) and later moved to Ecchū (present-day Toyama Prefecture). He is recorded as working in the early to mid-fourteenth century. There were three generations of Kunimitsu swordsmiths who were active from the early fourteenth to the mid-fifteenth century, spanning the late Kamakura period to the mid-Muromachi period. Uda Kunimitsu was the first-generation swordsmith of the family and founder of the Uda School. Although there are a small number of surviving swords signed by Uda Kunimitsu, until the authentication of the inscription on this tantō in 1998 there were no known works by him that were both signed and dated. This tantō, therefore, provides an important foundation for the study of the entire Uda School.
The shape of the tantō has a very slight curvature, with proportions that are wider and somewhat larger than a typical tantō of the early fourteenth century, but which became more common later in the century. The surface texture of this blade combines the appearance of a wood grain with a straight grain. The edge is tempered with a narrow straight line bordered by a double line, characteristics that show the influence of the Yamato School of swordsmiths.
The unsigned mountings, which were made for this tantō in the nineteenth century, are subtle and elegant. The ribbed scabbard is covered in black lacquered shark skin. The metal fittings on the hilt and the scabbard are made of silver and are beautifully chiseled with billowing waves. These are completed by the menuki (grip ornaments), which are gilt copper, and the tsuba (sword guard), which is shakudō (a copper and gold alloy patinated bluish black) inlaid with gold.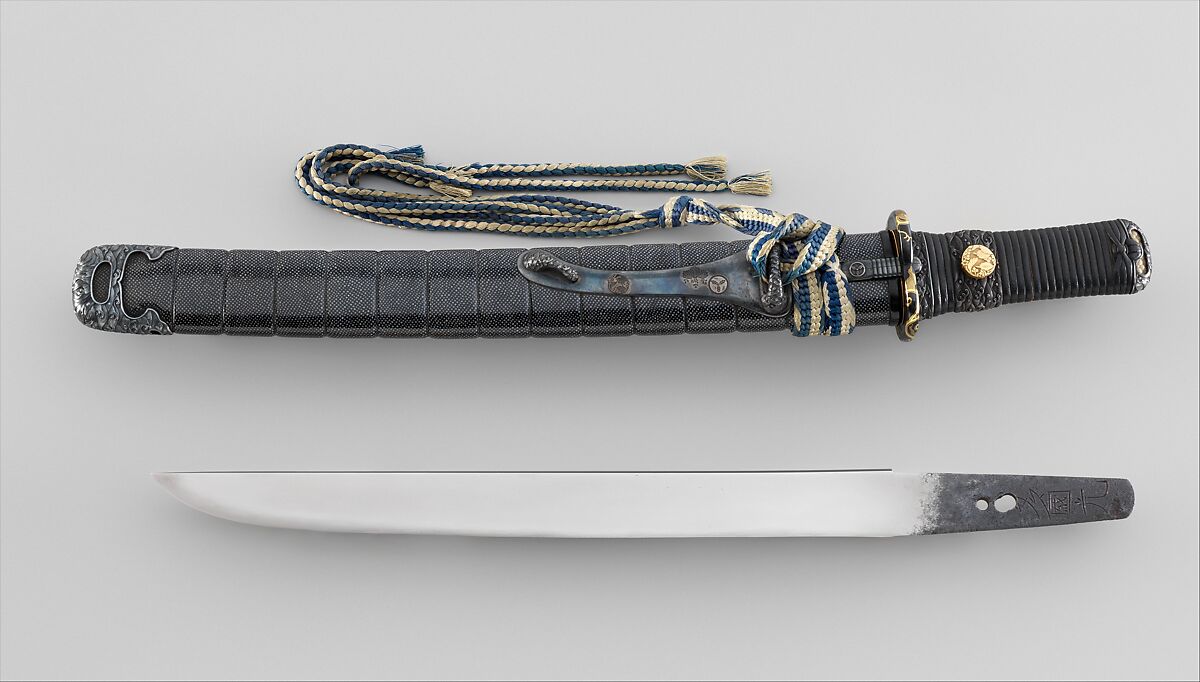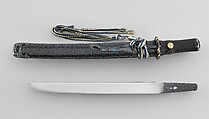 This artwork is meant to be viewed from right to left. Scroll left to view more.