Badge of the Cincinnati Medal
Designed by Pierre Charles L'Enfant

On view at The Met Fifth Avenue in Gallery 704
In 1783 officers who had served in the Continental Army under General George Washington formed The Society of the Cincinnati, primarily for the purpose of maintaining personal relationships after the end of the Revolutionary War. The order adopted its name from Lucius Quintius Cincinnatus, a Roman statesman who took up arms for the good of the republic, but gladly relinquished power and returned to farming when the crisis had passed.

The Society designed an order "by which its members shall be known," which included the figure of Cincinnatus with:
"Three senators presenting him with a sword and other military ensigns; on a field in the background his wife standing at the door of their cottage, near it a plough and instruments of husbandry. Round on the whole, 'Omnia Reliquite Servare Rempublicam'. On the reverse, sun rising, a city with open gates, and vessels entering the port, Fame crowning Cincinnatus with a wreath inscribed 'Virtutis Praemium'. Below, hands joined, supporting a heart with the motto, 'Esta Perpetua'. Round the whole, 'Societas Cincinnatorum Instituta, A.D. 1783'."
The commission to design this elaborate insignia was given to Major Pierre Charles L'Enfant, who envisioned the emblem as a medallion on the breast and back of a bald eagle suspended from oak and laurel leaves. L'Enfant then travelled to Paris to oversee the production of the medals.

This is one of the original Society of the Cincinnati medals, fabricated during L'Enfant's visit to France. Crafted of yellow gold and embellished with colored enamels, it would originally have hung from a blue ribbon edged in white. The medal was made for Major Samuel Nicholas of Philadelphia and descended in his family until its acquisition by the Metropolitan Museum in 1935.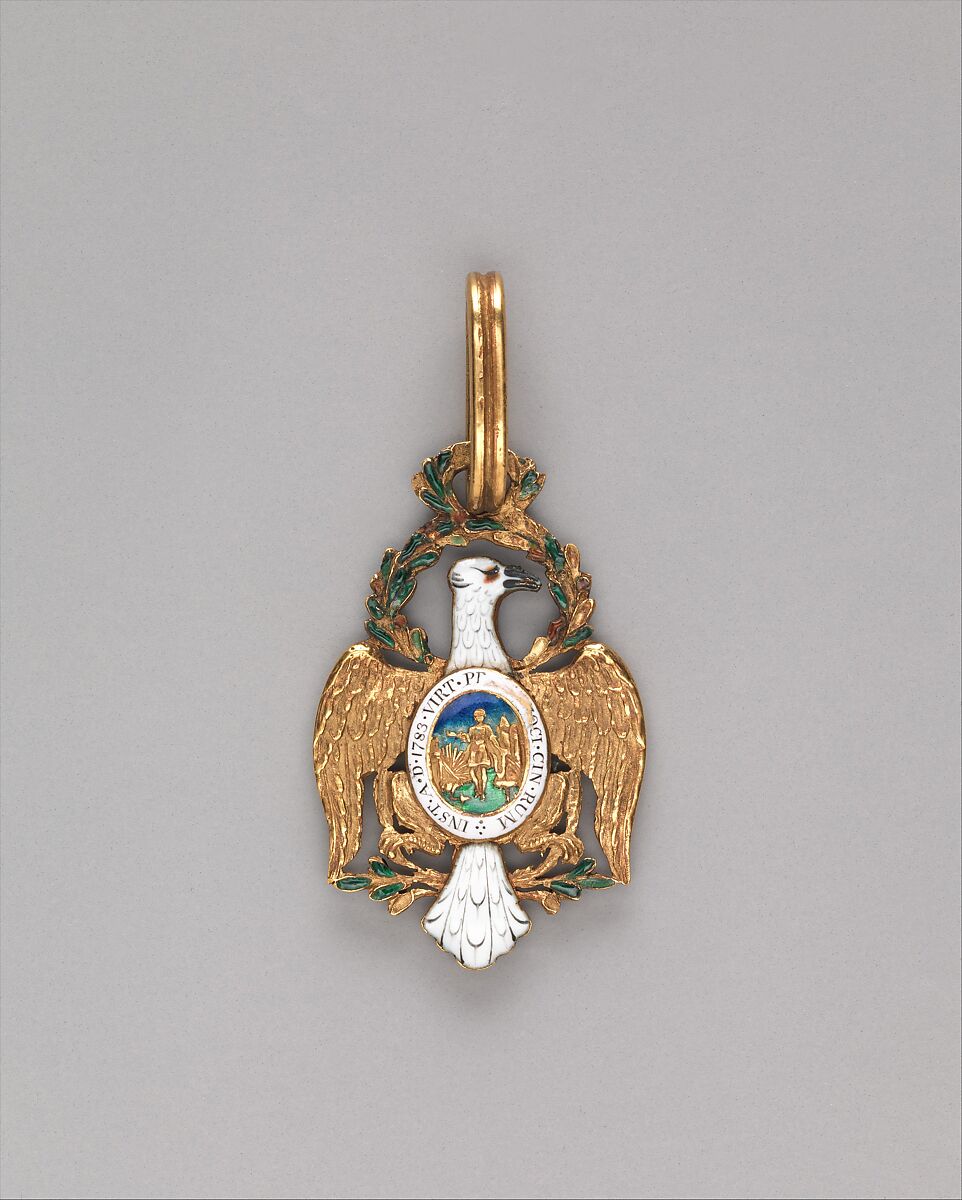 This artwork is meant to be viewed from right to left. Scroll left to view more.