Chahk
Not on view

This monumental depiction of Chahk from the northern lowlands highlights the rain god's warlike aspect. Clutching the handle of a large axe, he is shown with an open mouth and pronounced cheeks, as if shouting or threatening, evoking the power of a tropical storm. The two holes in the axe shaft served to attach a blade or blades, now missing. Maya kings were sometimes depicted impersonating Chahk, brandishing weapons much as the god brandished the forces of thunder and lightning.


Farmers in the relatively dry plains of Yucatán continue today to perform ceremonies in honor of multiple rain deities who are still known by the name of Chahk. The gods are presented with food, drink, candles, and tobacco, and are offered carefully prescribed prayers, all in hopes of receiving much needed rains.


Chahk
México
Siglo IX
Piedra caliza


Esta representación monumental de Chahk proviene del norte de las Tierra Bajas y destaca el aspecto guerrero del dios de la lluvia. Se presenta empuñando el cabo de una gran hacha, con la boca abierta y los pómulos marcados, como si estuviera gritando o amenazado, con un gesto que evoca el poder de una tormenta tropical. Los dos agujeros presentes en el cabo ayudaban a sujetar la hoja u hojas del hacha, ahora perdidas. En algunas imágenes, los reyes mayas figuran como personificaciones de Chahk, blandiendo armas del mismo modo en que el dios empuñaba truenos y rayos.

Actualmente, los campesinos de las planicies de Yucatán, que son relativamente secas, continúan celebrando ceremonias en honor a múltiples divinidades pluviales que aún se conocen con el nombre de Chahk. En estos rituales se ofrendan comida, bebida, velas y tabaco a las deidades, y se les dedican plegarias cuidadosamente aprendidas con la esperanza de recibir a cambio las anheladas lluvias.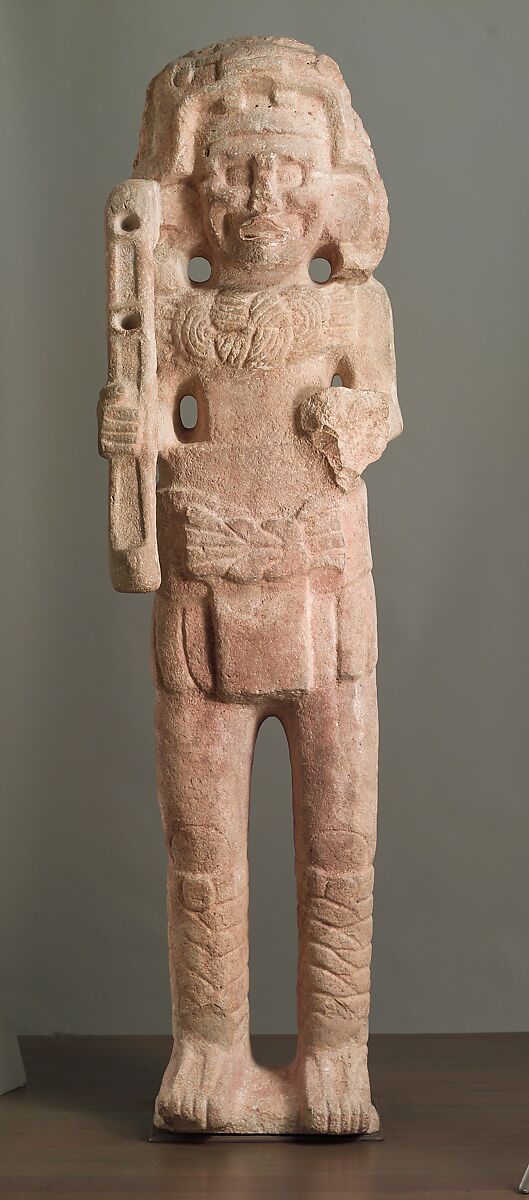 This artwork is meant to be viewed from right to left. Scroll left to view more.