Pendant
Not on view
This bright green jade pendant depicts a Maya ruler wearing the headdress of a supernatural being. The lower half of the highly polished stone is a naturalistic face of a Maya lord whose lips are slightly parted, as if about to speak. The face seems to emerge from the gaping jaws of the deity depicted in the headdress. The iconography of the jade ties it strongly with Maya beliefs about rulership, particularly its connection with divine powers (see 2007.134).

The apex of the work terminates in a visual element that is common in artists' depictions of crown jewels worn by Late Classic period (ca. A.D. 550 – 900) kings and queens, especially in the 7th and 8th centuries. In fact, the pendant itself was likely a pectoral or a crown jewel, the centerpiece of a royal diadem, such as those found in the tombs of important historical figures. Fiber run through drill holes on the reverse side would have affixed the jewel to a bark paper or cloth fiber diadem, and multiple drill holes along the jaw of the ruler's portraits would have allowed beads to dangle below. Red pigment in the drill holes indicates it was once part of a funerary assemblage, which the Maya often dusted with red minerals upon burial, as a king or queen took his or her jewels into the next life.

The work is exceptional for its relative size, the beauty of the apple-green jade (the shade most preferred by the Maya), and the outstanding sculptural qualities of the work. The richly volumetric carving sets this work apart from known, flatter compositions. There are two other pendants of comparable quality and imagery. The first was created for a ruler at Piedras Negras, Guatemala, and later deposited in the Great Cenote at Chichen Itza, Mexico; it is now in the collections of the Peabody Museum at Harvard University. The second was excavated from Burial 77 at Tikal, which likely held the final ruler of the city before its abandonment in the 9th century.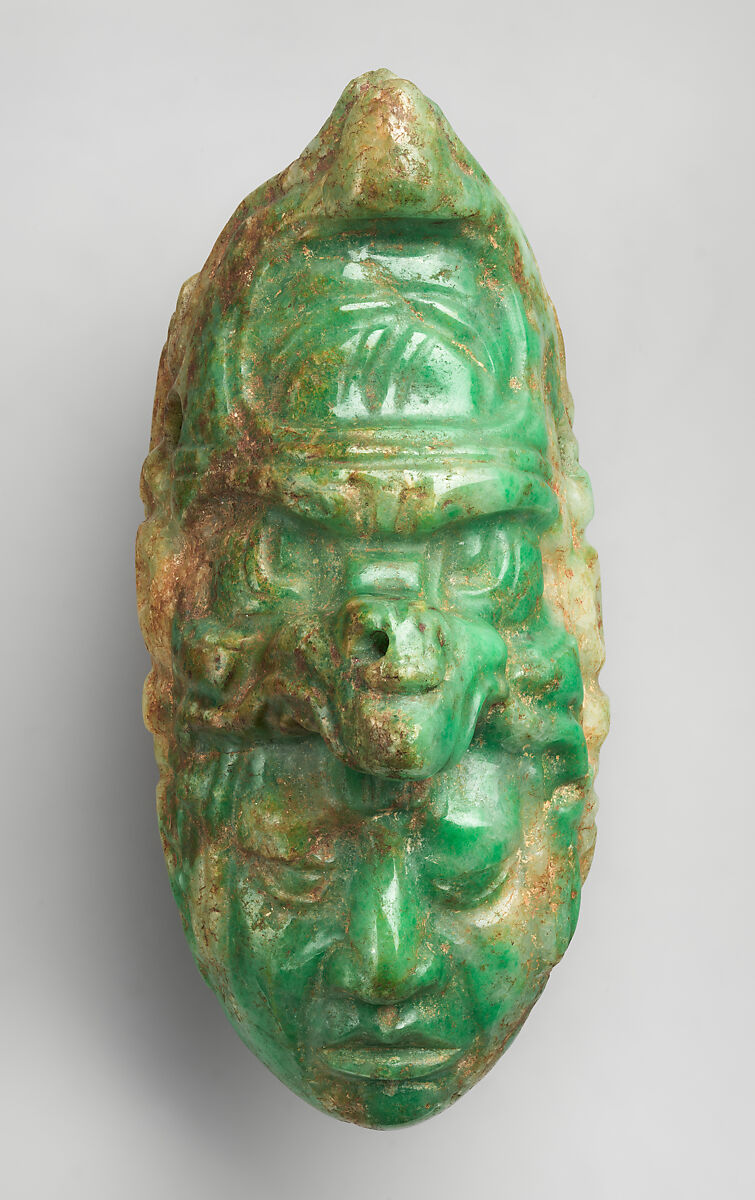 This artwork is meant to be viewed from right to left. Scroll left to view more.