Vessel: Footed Base
Not on view
The Tellem are believed to have arrived at the rocky Bandiagara Escarpment in present-day southern Mali sometime during the eleventh century A.D. By the fifteenth to sixteenth centuries, the Tellem population was devastated, possibly due to famine caused by drought or Songhai and Mossi slave raids. Their cultural legacy, however, profoundly influenced the Dogon, a people who succeeded them and continue to populate the Bandiagara to this day. Although the origins of the Dogon remain unclear, they are not direct descendents of the Tellem, who appear to have left no distinct ancestors. The name by which they are remembered, "Tellem," is a Dogon word signifying "We found them."

Three- and four-footed pottery bowls like this one have been found in caves directly below Tellem burial caves in the Bandiagara cliffs. Stylistically distinct from other forms of Tellem pottery, this type of bowl is believed to have been made specifically for funerary purposes. The brown and white specks on the base of this bowl, possibly from the sacrificial remains of funerary rites, may reflect this, although it is also possible that these are the result of more recent usage by the Dogon.

The Tellem made bowls like this one by shaping clay over a convex mold, expanding the sides with coils of clay after the curved bottom was formed. Following the completion of the bowl shape, a three- or four-footed base was attached for support. Textured decoration, incised or impressed into the clay using fiber cord, completed the design.

Footed pottery bowls were not unique to the Tellem, and their wide geographical distribution is a testament to the early intercultural trade and migration that linked diverse populations over vast distances in West Africa. The oldest examples of this pottery type date to the seventh century and were found in Niani, a former capital of the Mali empire located in modern-day Guinea. Footed bowls were dispersed throughout the ancient trading networks of this region, particularly along the Niger River, which linked Niani with Timbuktu in northern Mali.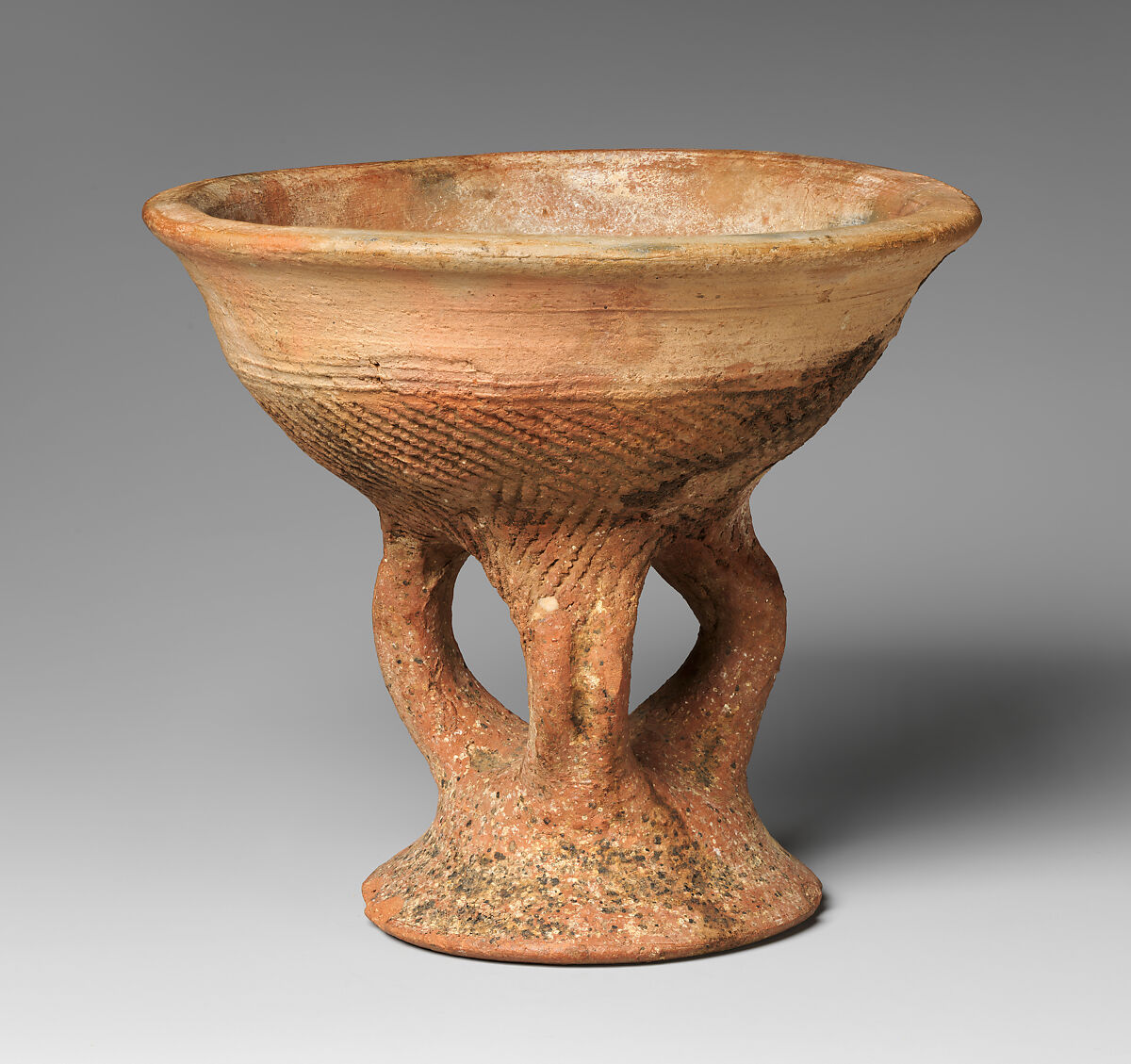 This artwork is meant to be viewed from right to left. Scroll left to view more.