Pipe: Rifle
Not on view
The Chokwe peoples occupy the broad expanse of open savanna in present-day Angola and Democratic Republic of Congo. During the eighteenth and nineteenth centuries, Chokwe chiefs became increasingly involved in trade with Europeans who sought rubber, wax, and ivory as well as African slaves for their colonies in the New World. Slaves were often exchanged for firearms, and these were employed in raids on neighboring peoples that produced more captives to sell to European traders. Local leaders who prospered from this exchange frequently commissioned prestige items from local artisans to indicate their wealth and power. This tobacco pipe is one such item that demonstrates the degree to which warfare, the slave trade, and elite arts were intertwined at this time. The pipe itself was the prerogative of individuals who could afford expensive imported tobacco, generally by trading slaves, while the rifle refers to the means by which such slaves were acquired.

Although the pipe is smaller than lifesize, it is large enough to incorporate many details of the real firearms on which it was modeled, including the trigger, double hammers, and brackets on the stock to hold the ramrod, now missing. After lighting the tobacco in the bowl behind the pipe's "hammers," the chief sucked the smoke through the "barrel." Significantly, the ramrod mounts indicate that the type of weapon depicted is a muzzle-loaded rifle. When this type of weapon is fired, smoke and sparks spew from its barrel. This visible evidence of the gun's deadly power is evoked metaphorically by the tobacco smoke produced when the pipe is in use.

The brass furniture tacks that cover the pipe are a common element found on other forms of Chokwe chiefly regalia such as royal seats and scepters. Brass was a rare and expensive material generally imported into this region from outside of Africa. Its appearance on royal items served not only to beautify them and increase their value, but also to emphasize their owners' successful trade relationships with foreign powers.
Exhibitions
"Caribbean: Crossroads of the World." Museo del Barrio, New York, 06/12/2012 - 01/06/2013; Perez Art Museum, Miami, 04/18/2014 - 08/17/2014.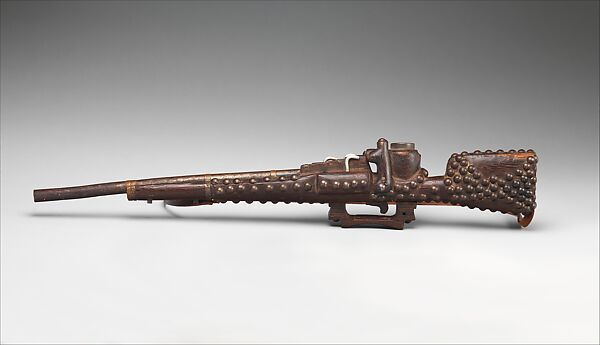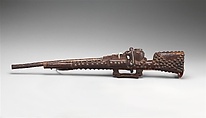 This artwork is meant to be viewed from right to left. Scroll left to view more.