Whistling vessel
Not on view
A master Maya potter modeled a vignette with three characters onto the body and lids of this ceremonial vessel. The main form of the vessel is composed of two identical cylindrical chambers connected by a central hollow bridge, each of which rests on two squarish supports. This style of ceramic, recognizable by a very fine reddish or gray paste fired with a reddish-black clay slip, is known from what is now northern Guatemala and Southern Campeche, Mexico. Artists who specialized in this highly polished blackware style in the 5th-6th centuries achieved great feats in gouged and incised designs, often on very thin walls or lids. Such a fine vessel would have been used on very special feasting or ritual occasion, perhaps later buried in the tomb of its owner by his or her descendants.

In this scene, a large supernatural bird known as the Principal Bird Deity (PBD) perches on one lid (which is actually a false lid, fused with the chamber), and faces a kneeling humanlike figure. A spherical chamber of a whistle is hidden inside the head of the bird, visible through an Rx radiograph image, and sounds when water is poured into the opposite chamber. The bird's large beak and caruncle protrude from its open mouth, which connects to the interior chamber of the vessel. From the beak hangs a stylized double-headed serpent. The bird's glittering eyes are square and marked with an L-shaped pupil, a convention that Maya artists used to depict deities with supernatural vision. The spray of feathers of the serpent-wings are modeled and incised, as are the scaley legs and talons. The bird is decked out in jade jewels: a diadem, circular earflares, and a large necklace with a central pendant.

A kneeling figure on the other removable lid presents the bird with a bundle in devotional tribute. He wears a loincloth, a feathered, jeweled headdress, nose ornaments, ear ornaments, and a necklace. He stares at the bird in reverence, stoic in his encounter with this resplendent being. The young man's submissive position may be a trap laid to bring down the portentous bird. Despite his impending defeat, this majestic creature was revered as an avian manifestation (or a spiritual companion, way) of the god Itzamnaaj, the old celestial god. A feline or simian creature, also wearing a necklace, bridges the two chambers of the vessel and seems to climb up the side towards the two figures on top.

This vessel may be part of a series of three double-chambered blackware vessels featuring different scenes involving the PBD; one was excavated from a tomb at Calakmul, Mexico. Religious narratives from the late first millennium BC until the colonial period feature this creature, which has a large hooked raptor beak grabbing a serpent and animate wings in the form of stylized serpents. Artists depicted the PBD descending from the sky, perching on trees, receiving offerings from humanlike figures, or even being shot by a blowgun.

Further reading

Bardawil, Lawrence. "The Principal Bird Deity in Maya Art- an Iconographic Study of Form and Meaning." In The Art, Iconography, and Dynastic History of Palenque, Part III (Proceedings of the Segunda Mesa Redonda de Palenque), edited by Merle Greene Robertson, 195-209. Pebble Beach: Pre-Columbian Art Research, The Robert Louis Stevenson School, 1976.

Bassie-Sweet, Karen. Maya Sacred Geography and the Creator Deities. Civilization of the American Indian Series. Norman: University of Oklahoma Press, 2008. See especially pp. 140-149.

Chinchilla M., Oswaldo. Imágenes de la Mitología Maya. Guatemala City: Museo Popol Vuh, Universidad Francisco Marroquín, 2011. See especially pp.109-123 (written by Michael D. Coe).

Chinchilla M., Oswaldo. Art and Myth of the Ancient Maya. New Haven and London, 2017.

Chinchilla M., Oswaldo. In Lives of the Gods. Divinity in Maya Art, edited Oswaldo Chinchilla M., James a Doyle, and Joanne Pillsbury, 57-84. New Haven and London: The Metropolitan Museum of Art, 2022. See especially pp. 62-71, Pl. 39.

Christenson, Allen J. Popul Vuh: The Sacred Book of the Ancient Maya. Norman: University of Oklahoma Press, 2007.

Coe, Michael D. "Hero Twins: Myth and Image." In Maya Vase Book: a Corpus of Rollout Photographs of Maya Vases 1 (1989): 161-84.

Cortez, Constance. The Principal Bird Deity in Preclassic and Early Classic Maya Art. MA Thesis, Department of Art and Art History, University of Texas at Austin, Austin. 1986.

Fields, Virginia M., and Dorie Reents-Budet, eds. Lords of Creation: The Origins of Sacred Maya Kingship. Los Angeles: Los Angeles County Museum of Art, 2005. See specially pp. 44-45, 147, 148-150 (Cat. 50-51), 169 (Cat. 66).

Hellmuth, Nicholas M. Monster Und Menschen in Der Maya-Kunst: Eine Ikonographie Der Alten Religionen Mexikos Und Guatemalas. Graz: Akademische Druck- u. Verlagsanstalt, 1987.

Henderson, Lucia R. Bodies Politic, Bodies in Stone: Imagery of the Human and the Divine in the Sculpture of Late Preclassic Kaminaljuyú, Guatemala. PhD Dissertation, University of Texas at Austin, Austin. 2013. See especially pp. 354-381.

Martin, Simon. The Old Man of the Maya Universe: A Unitary Dimension to Ancient Maya Religion. Maya Archaeology 2, Charles Golden, Stephen Houston, and Joel Skidmore, eds., pp. 186-227. San Francisco: Precolumbia Mesoweb Press, 2015.

Parsons, Lee Allen. "Altars 9 and 10, Kaminaljuyu, and the Evolution of the Serpent-Winged Deity." In Civilization in the Ancient Americas, Essays in Honor of Gordon R. Willey, edited by Richard M. Leventhal, 145-56. Albuquerque: University of New Mexico Press, 1983.

Schele, Linda, and Mary Ellen Miller. The Blood of Kings: Dynasty and Ritual in Maya Art. New York and Fort Worth: G. Braziller and the Kimbell Art Museum, 1986. See especially p. 122, Pl. 35.

Taube, Karl A. A Representation of the Principal Bird Deity in the Paris Codex. Research Reports on Ancient Maya Writing, No. 6. Washington, D.C.: Center for Maya Research, 1987.

Taube, Karl A., William A. Saturno, David Stuart, and Heather Hurst. The Murals of San Bartolo, El Petén, Guatemala; Part 2: The West Wall. Ancient America, No. 10. Barnardsville: Boundary End Archaeological Research Center, 2010.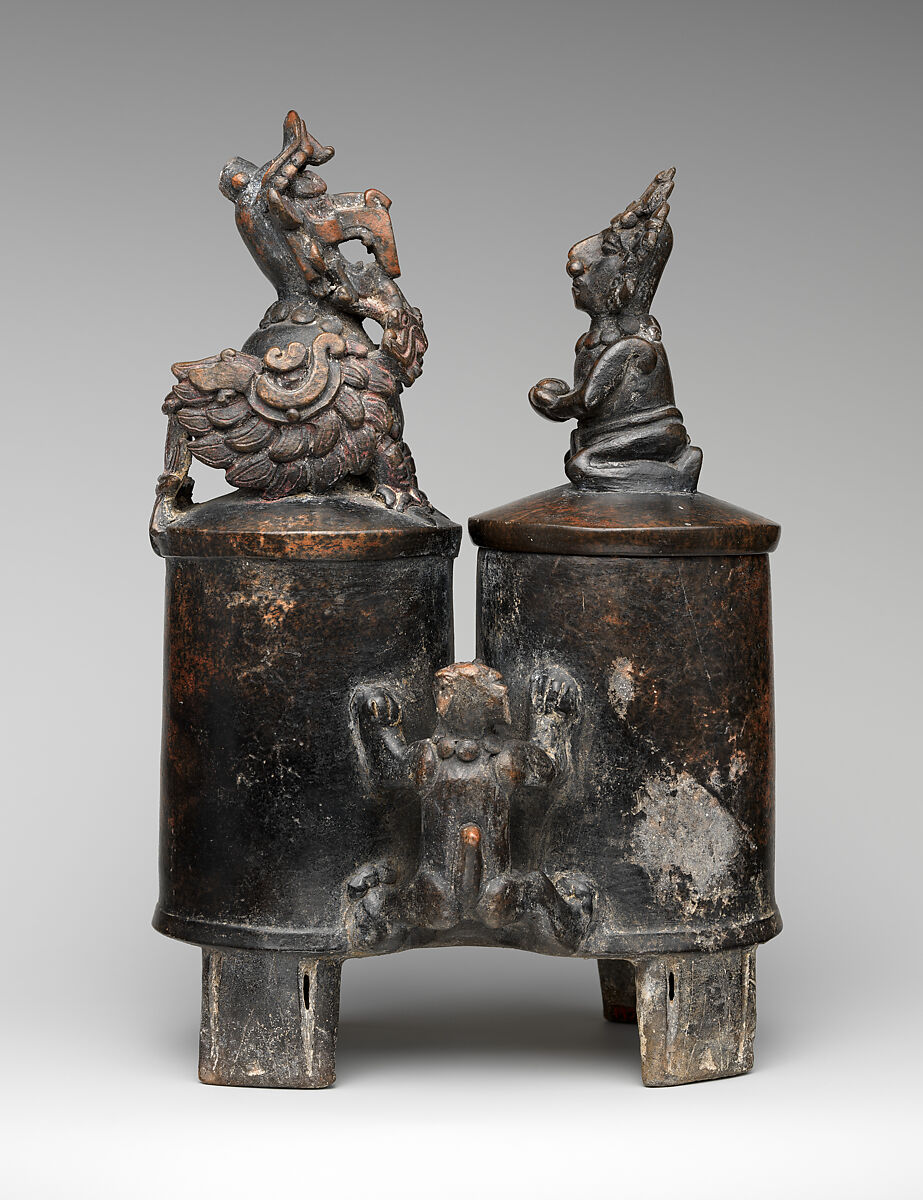 This artwork is meant to be viewed from right to left. Scroll left to view more.